The San Francisco Giants will on August 16 organize their 10-year World Series Championship reunion, but one prominent former player has not been invited.
Aubrey Huff, a key player, will miss the ceremony, the team has announced.
The Giants sent a statement to the The Athletic confirming this decision, and saying they had already informed Huff about it.
The statement added that Huff had become unwelcome thanks to his social media activity – specifically "multiple comments that are unacceptable and run counter to the values of our organization."
On Twitter, comedian Nicole Arbour interpreted this to mean Huff was being ostracized by his former team for supporting US President Donald Trump.
This is NUTS. @aubrey_huff was uninvited to the @SFGiants reunion for supporting @realDonaldTrump on his Twitter.??‍♀️

WTF is happening to America!?!?
That's the PRESIDENT.
You should support him!

And discriminating against someone for a different political opinion is pure wrong. https://t.co/HU67AhALrb

— Nicole Arbour (@NicoleArbour) February 18, 2020
"And discriminating against someone for a different political opinion is pure wrong," Arbour wrote.
Some Twitter users who commented on the news and the post, however, said that the decision wasn't about politics, as the likes of Madison Bumgarner, a baseball player and a Republican, are still invited, along with prominent Republican donors.
The decision, some argued, had to do with Huff's expressions of "misogyny and vulgarity."
The former baseball player in November expressed his support of Trump by tweeting a picture of a gun range and saying he was training his children how to use a gun "in the unlikely event Bernie Sanders beats Donald Trump in 2020."
Another tweet last month – that Huff posted but then changed his mind and deleted – was "an offensive post about Iranian women."
However, most of his tweets seem to have been about his pro-Trump and conservative positions.
Huff's reaction to the Giants' decision to exclude him from the reunion was "shock and disappointment."
"If it wasn't for me, they wouldn't be having a reunion. But if they want to stick with their politically correct, progressive bullshit, that's fine," he told The Athletic.
Huff then once again took to Twitter this week to post a statement saying that he was trying to be satirical, not sarcastic in his "locker-room humor on Twitter" – and that Giants CEO Larry Baer informed him he wouldn't be able to attend the reunion because organizers didn't approve of his Twitter posts – and because of his political support of Trump.
My response to @SFGiants

@mlb @realDonaldTrump pic.twitter.com/tDs8L8kGNi

— Aubrey Huff (@aubrey_huff) February 18, 2020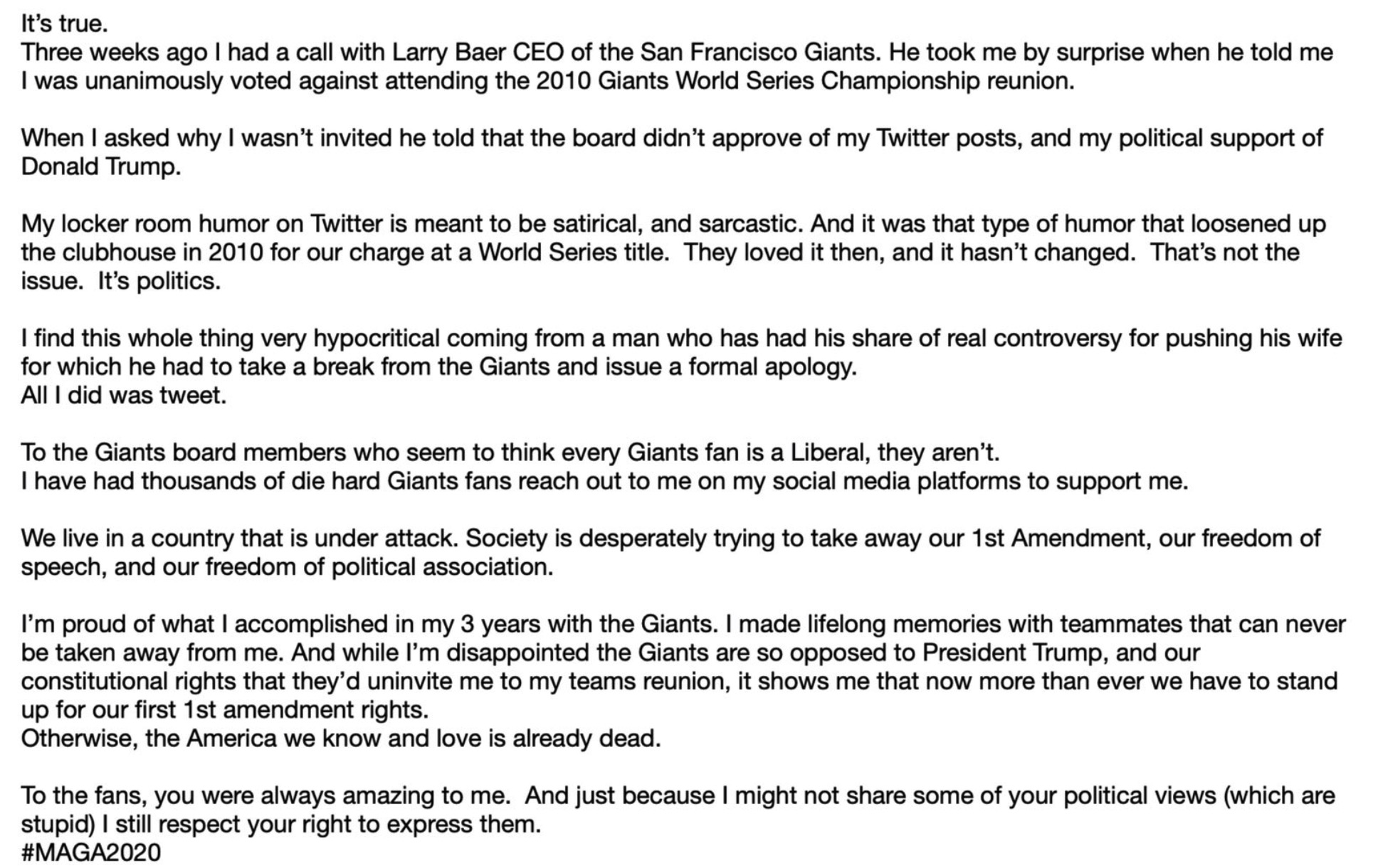 Huff also called Baer out for hypocrisy, considering that the CEO in the past had to issue a formal apology for "pushing his wife."
That is an example of real controversy, Huff said, adding, "All I did was tweet."