Baby Yoda, an unexpected cultural phenomenon character from Disney+'s new Star Wars show, The Mandalorian, is receiving almost double the number of social media engagements as any 2020 Democratic primary candidate.
NewsWhip data, provided directly to Axios, has revealed that all of the major candidates are being beaten on social media by the new Star Wars character.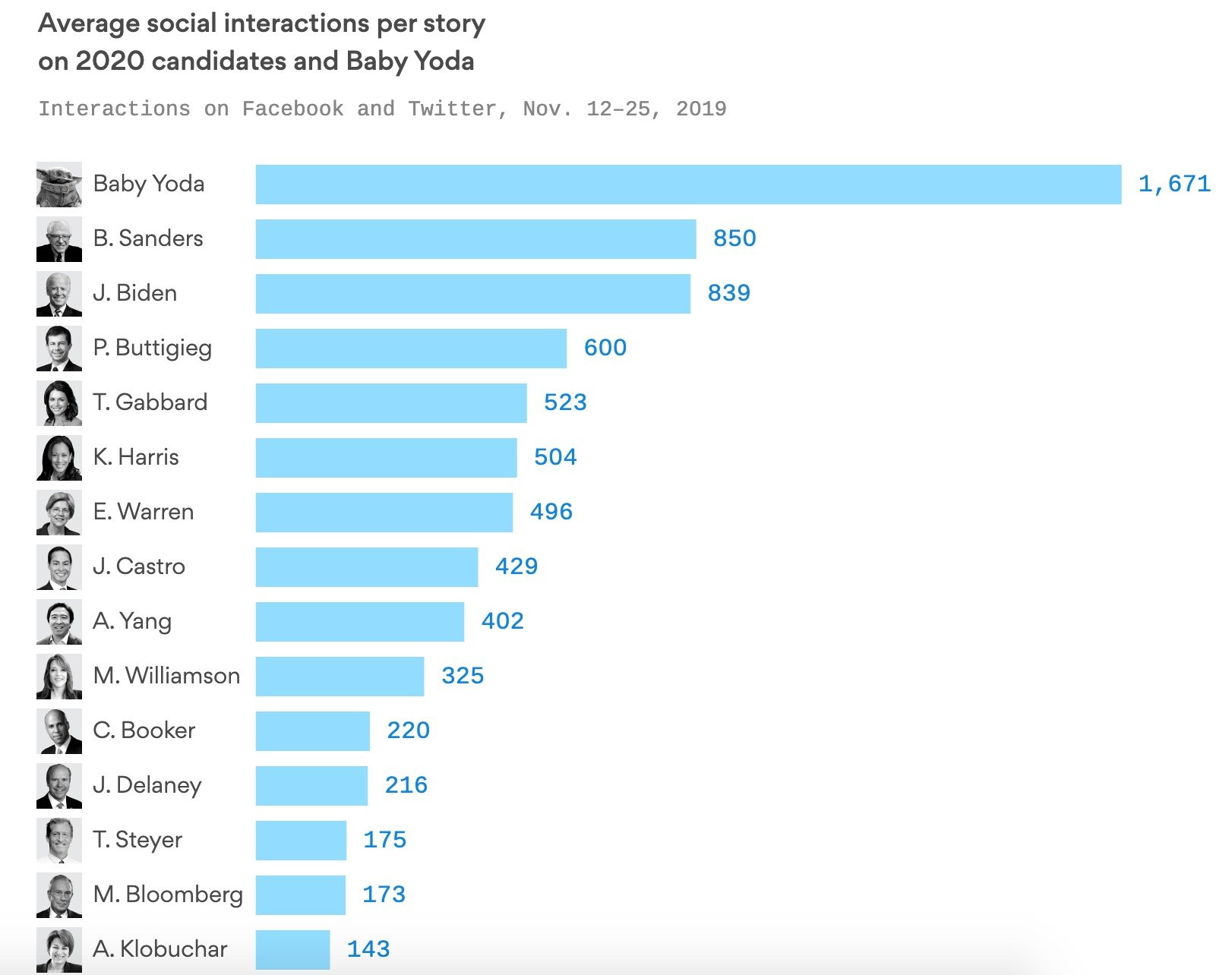 Baby Yoda has been featured in several memes since his reveal during the new Disney streaming show and the viral success of the character and the meme appears to have taken even Disney – often not shy about draining every last drop of money out of fans – by surprise, as they didn't have merchandise on hand to capitalize on the viral success of the character.
Axios are framing Baby Yoda's rise as a problem for late entry Democratic candidates – Michael Bloomberg (who you've probably heard of) and Deval Patrick (who you probably haven't).
That's because both Bloomberg and Patrick based their candidacy on the notion that the public would be desperately wanting a fresh face in the mix and that they could use social media to edge closer to being a frontrunner.
But, if social media engagements are anything to go by, the public was looking for a fresh face – only one that's green and has big eyes and pointy ears.
The scale of engagement for Baby Yoda is massive when you consider that he only ranks 10th in terms of the number of articles written about him. Baby Yoda has only had 1,368 articles written about him – one of which was our article on how copyright issues were getting Baby Yoda GIFs taken down.
Bloomberg ranks second among the Democrats with 7,650 articles written about him while Patrick is in fourth place with 4,044.
Keep in mind that this engagement is only based on the interactions related to articles about Baby Yoda and doesn't include the tons of Baby Yoda memes and GIFs that everyone's seen this month – meaning Baby Yoda's true reach and viral status would likely dwarf the engagement of all of the Democratic contenders combined.