A former CNN man who used to work for the network's host Lou Dobbs now positions himself as competition to The Drudge Report – what has long been considered a leading alternative US news aggregation website.
And the web traffic results seem encouraging, according to this tweet from the Citizen Free Press account.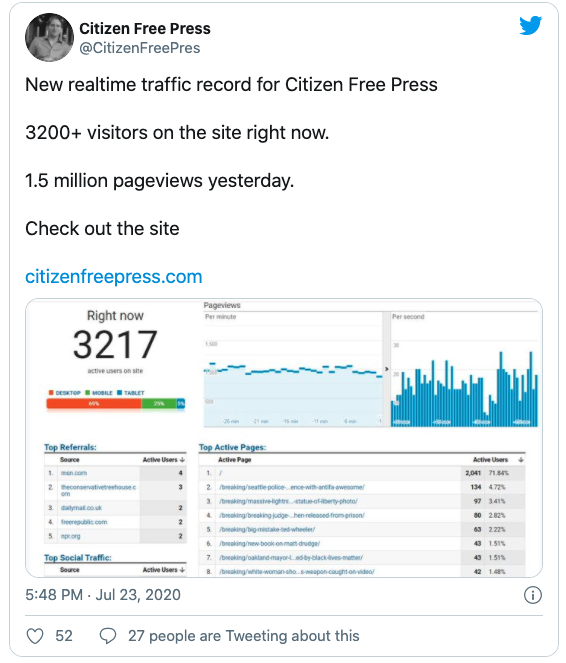 While the desktop share is still high compared to mobile among active users, the site reported 3200+ visitors at the time the tweet went out on July 23 – and 1.5 million pageviews the day before.
The site itself provides the type of news that corporate US media actively ignore, as they remain gripped by the fever of partisan allegiances, pandemics, and the terror of the very thought of being caught "on the wrong side" of cancel culture.
But how is any of this even happening? Why is a site like this emerging and achieving growth in 2020?
There was a time not so long ago, when centralized tech and information behemoths actively promoted the idea of "the death of the website" as such – and certainly, "the death of the news aggregation websites." Not to mention web-based RSS feeds – the shuttering of Google Reader was supposed to take care of that.
This, to many, signaled a dystopian web future, where users and publishers would move all their content, and "consume" all of it, too, exclusively on centralized platforms like Twitter and Facebook, while surrendering all control to corporations and their whimsical at best and propagandist at worst echo-chambers created by algorithms that these giants program to suit their agendas.
But times are changing. Sooner than many had expected, countries and societies got engulfed in existential crises which reflected on political and ideological scenes, and eventually produced "unexpected" election results.
And quickly, the backlash of the establishment hit free speech and expression on the internet in the form of growing censorship.
As a result, we are witnessing a resurgence of publishers and users trying to take back control of their own content and, when all is said and done, their own lives.