In the day and age of the internet, real-world protests are often accompanied by online cyber-attacks. Considering the current circumstances where Geroge Floyd's death has triggered protests all over the country, the internet too is witnessing its fair share of protests and attacks – mostly in the opposite direction, in an attempt to silence and takedown campaigners.
On the weekend after Floyd's death on May 25, the web security services' provider Cloudflare saw a huge surge in cyberattacks. It is worth noting that Black advocacy websites were the ones to be attacked majorly in this case. Based on the statistics released by Cloudflare, it became clear that there was a huge rise in DDoS attacks wherein cyberattackers send multiple HTTP requests to bring a site down.
Cloudflare said that it was "blocking attacks in the many 10s of billions per day, but even with that scale it's clear that during the last week there have been even more attacks than before. And those attacks grew over the weekend". While April's last weekend saw about 116 billion HTTP requests for cyberattacks, the weekend following Floyd's death saw 135 billion HTTP cyberattack requests.
Comparing the above two figures, it becomes apparent that there was a 17% rise in the number of HTTP requests for cyberattacks in general. What's more, May 31, Sunday, saw the most number of cyberattacks when compared to the previous month's Sunday.
Diving deeper into the analytics of the cyberattacks, it was found that the observed increase in cyberattacks was mostly directed towards advocacy groups. "In fact, those groups went from having almost no attacks at all in April, to attacks peaking at 20 thousand requests per second on a single site," wrote Cloudflare.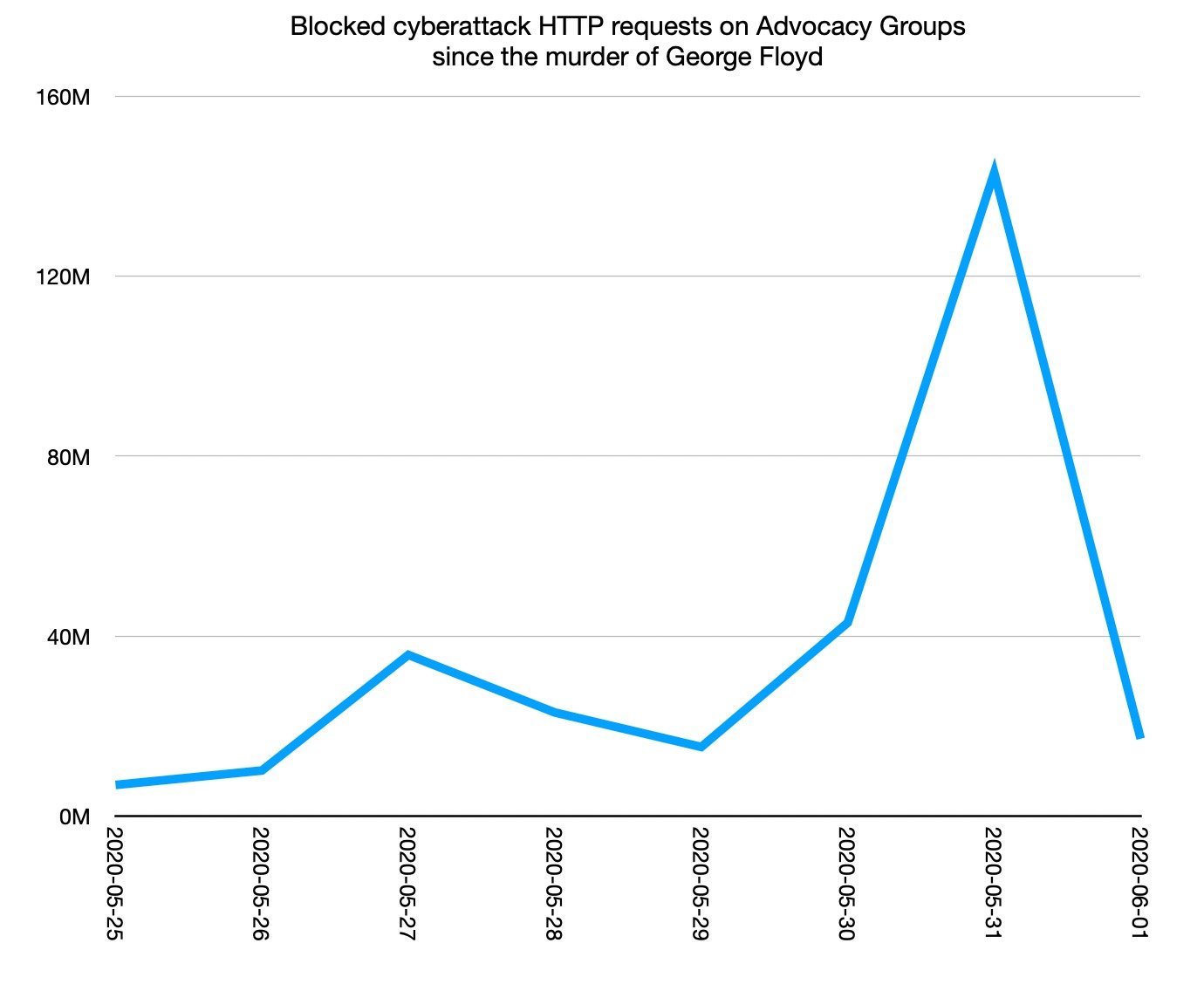 But it's not just anti-racism advocacy groups that are being targeted, the US military and other government websites have also seen a four-fold and two-fold increase in cyber attacks, respectively.
Cloudflare's "Project Galileo", which is intended to protect the websites of advocacy groups from cyberattacks, has reportedly protected several websites from crashing in the past few days. The company said that it had observed a massive increase in the number of cyberattacks against the organizations it protects under the project.
"Cloudflare remains committed to making sure that they can continue to function in the face of these attacks, regardless of their resources or the size of the attack. If you know of an organization or group helping to fight racism that needs Project Galileo's protection, please let them know we're here and ready to help," wrote the company.