Epic Games has responded to Apple and Google's ban of its Fortnite app by suing the tech giants with the lawsuits accusing both companies of using their control of mobile app stores and payment systems to stifle competition and innovation.
The series of events leading to the lawsuits began when Epic Games launched its "Epic direct payment" system on mobile along with a permanent 20% discount on mobile purchases of its in-game currency, "V-Bucks," via this system.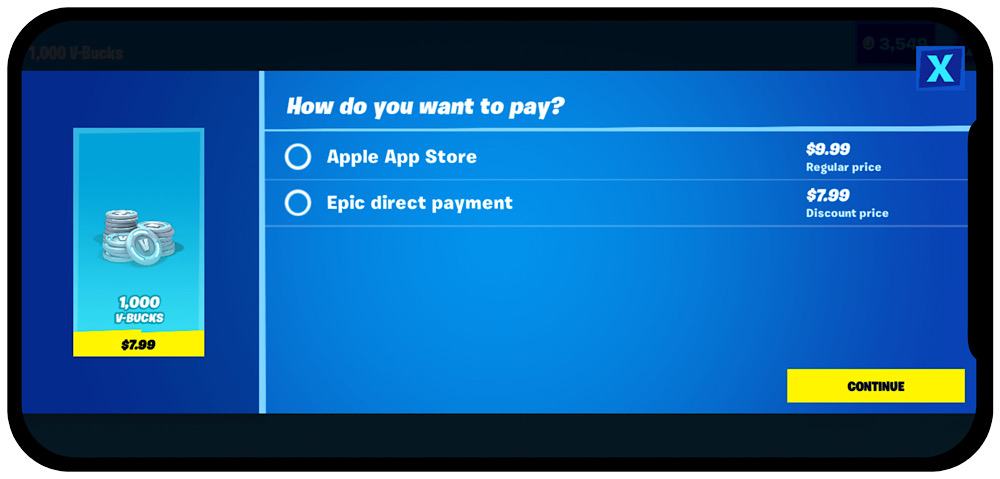 Apple's notoriously strict mobile App Store rules require app developers that sell digital apps or subscriptions to use the App Store payments system which charges a 30% fee that then drops to 15% after the first year. Developers that don't want to pay this fee are expressly forbidden from mentioning or linking to alternative payment methods in their app.
Google's mobile Play Store for Android charges the same fees and has similar rules around in-app purchases for games but developers can distribute their apps outside of the Play Store.
When launching this system and announcing the discount, Epic Games took aim at the 30% fee charged by Apple and Google by noting that Epic direct payment provides the best deal and that "if Apple or Google lower their fees on payments in the future, Epic will pass along the savings to you."
A few hours later, Apple banned Fortnite from its App Store – a move that prevents iOS users from downloading the game.
After the Apple ban, Google followed suit and also banned Fortnite from its Play Store. Unlike with the Apple ban, Android users can still download Fortnite directly from Epic Games or via the Samsung Galaxy Store on Samsung devices.
In response, Epic Games filed antitrust lawsuits against both Apple and Google alleging that both have engaged in "anti-competitive" and "monopolistic" practices when distributing mobile apps and processing mobile payments via their app stores.
We obtained a copy of the Apple lawsuit for you here.
We obtained a copy of the Google lawsuit for you here.
Epic Games argues that Apple's restrictions and fees have caused "sweeping harms" to app distributors, app developers, and consumers and makes the case for removing some of the restraints Apple imposes on the App Store in order to allow competing app stores and payment systems:
"But for Apple's illegal restraints, Epic would provide a competing app store on iOS devices, which would allow iOS users to download apps in an innovative, curated store and would provide users the choice to use Epic's or another third-party's in-app payment processing tool."
The Google lawsuit accuses the company of eliminating competition in the distribution of Android apps using "myriad contractual and technical barriers."
It also references Microsoft being "forced to open up the Windows for PC ecosystem" after its antitrust lawsuit and describes this as an example of the open system Android could become "if not for Google's anti-competitive behavior."
Additionally, the lawsuit takes aim at the way Google forces developers to use its payment processing system if they distribute apps through the Play Store:
"Because Google has a monopoly in the Android App Distribution Market, app developers cannot practically avoid this anti-competitive tie by electing app distribution through an alternative channel."
The lawsuits are likely to amp up the scrutiny of the app stores from House lawmakers who are already reportedly looking closely at the way Apple extracts fees from developers as part of their Big Tech antitrust investigation.
Epic Games is one of the largest companies to legally challenge the mobile app store duopoly held by Apple and Google and with more than 350 million players, many of whom will no longer be able to update their copies of the game because of the recent Fortnite app store bans, it also has a large community that can shine a light on the many issues that are created when two companies maintain a stranglehold over how apps are distributed and how users pay for those apps.