Comedian JP Sears has announced that his presence on Facebook may soon come to an end, having received a warning from the social media giant that his page is at risk of being "unpublished."
Facebook said Sears was guilty of unspecified continued community standards violations. The comedian invited his followers to join him on Parler where he said he intends to continue to post uncensored.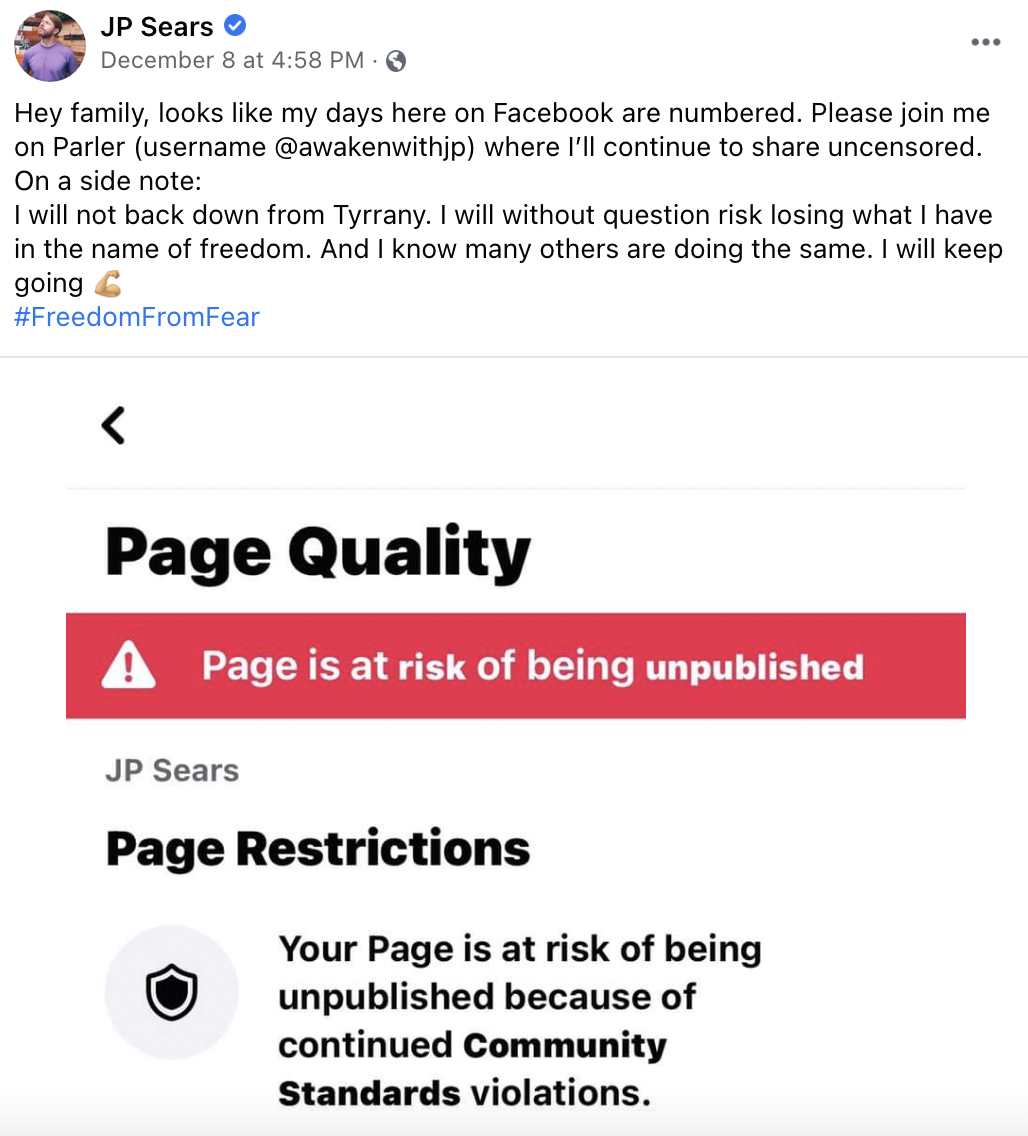 "I will without question risk losing what I have in the name of freedom," Sears wrote, adding that he trusts he is not alone in this.
Sears is known for taking on a variety of PC narratives and issues in his comedy routine, including "fact-checking," which could be what is triggering Facebook's censors. In interviews he has done since receiving the "depublishing" warning Sears described himself as a huge proponent of free speech, believing that is the source of his troubles on corporate social media.
Last Thursday, free speech social network Parler's CEO John Matze spoke with Sears about these issues, when the comedian said online censorship against him personally intensified during the past eight months.
Well before Facebook threatened to "unpublish" his page completely, it had been demonetized, he revealed, and the same happened with some of his videos on YouTube, while others were banned on that platform but also on Facebook and Instagram.
Sears said that it was this censorship and his love of free speech and allowing everyone a chance to speak their mind, regardless of what they have to say, that made him recently join Parler.
He described Parler as a censorship-free platform that he wants to bring his audience to.
"It's a platform for the people, not a platform against the people that pretends to be for the people, like the major ones have become," he said.
Recently, Sears mocked the practice of fact-checking that centralized social platforms came up as one of the ways to control the flow of information in a year when they came under sustained pressure to introduce tighter censorship rules.
The sketch deals with the intrusive and absurd nature of fact-checking, but also with what the comedian clearly thinks is pro-Biden bias displayed by those fact-checkers.