Yesterday a fake quote from President Trump spread across Twitter and was shared by accounts with over 2 million collective followers. This fake tweet was ignored by most of the legacy media outlets. However, last Thursday, when a slowed down video of Democrat House Speaker Nancy Pelosi spread across social media, almost all of the legacy media outlets called for it to be taken down for spreading misinformation.
The now-deleted fabricated quote (archive link) was created by the editor-at-large of Time magazine Ian Bremmer and shared on his Twitter account.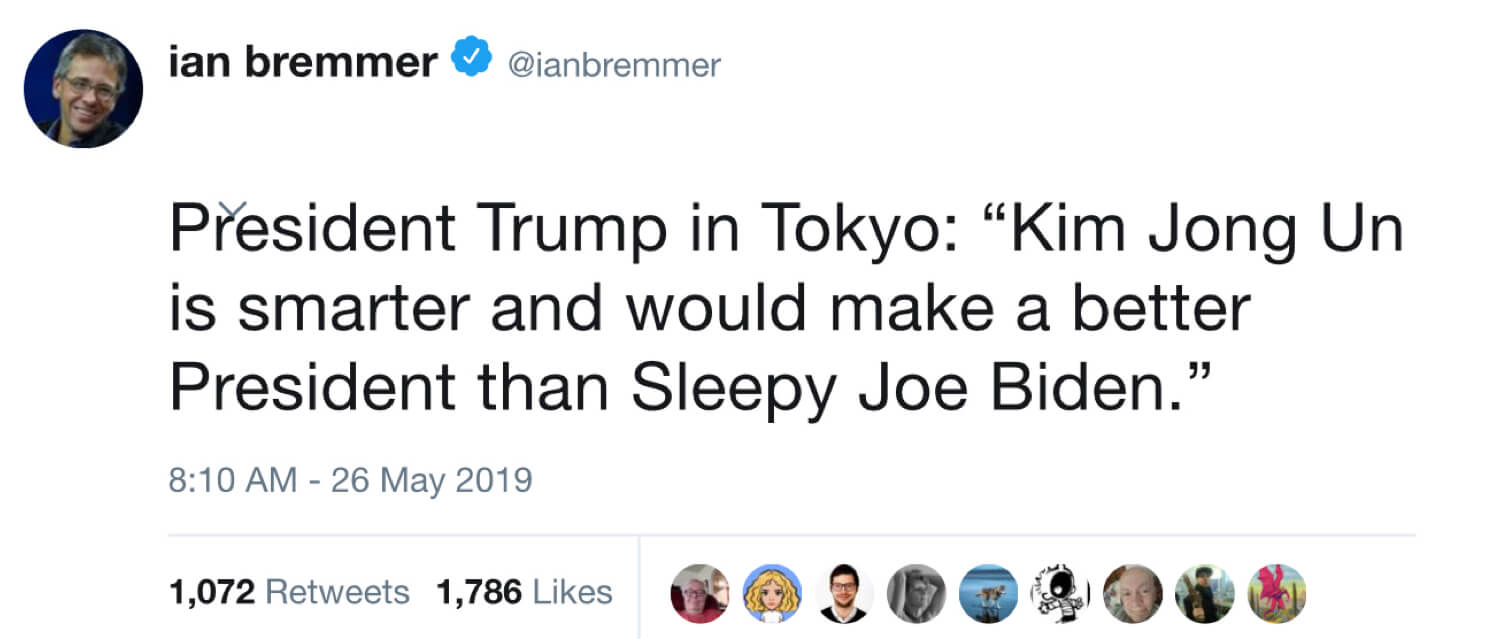 The original tweet reads:
"President Trump in Tokyo: "Kim Jong Un is smarter and would make a better President than Sleepy Joe Biden.""
A few hours after sharing the quote, Bremmer admitted (archive link) that it was fake and said that he fabricated the quote to point out that people automatically believe what they want to believe based on their political position.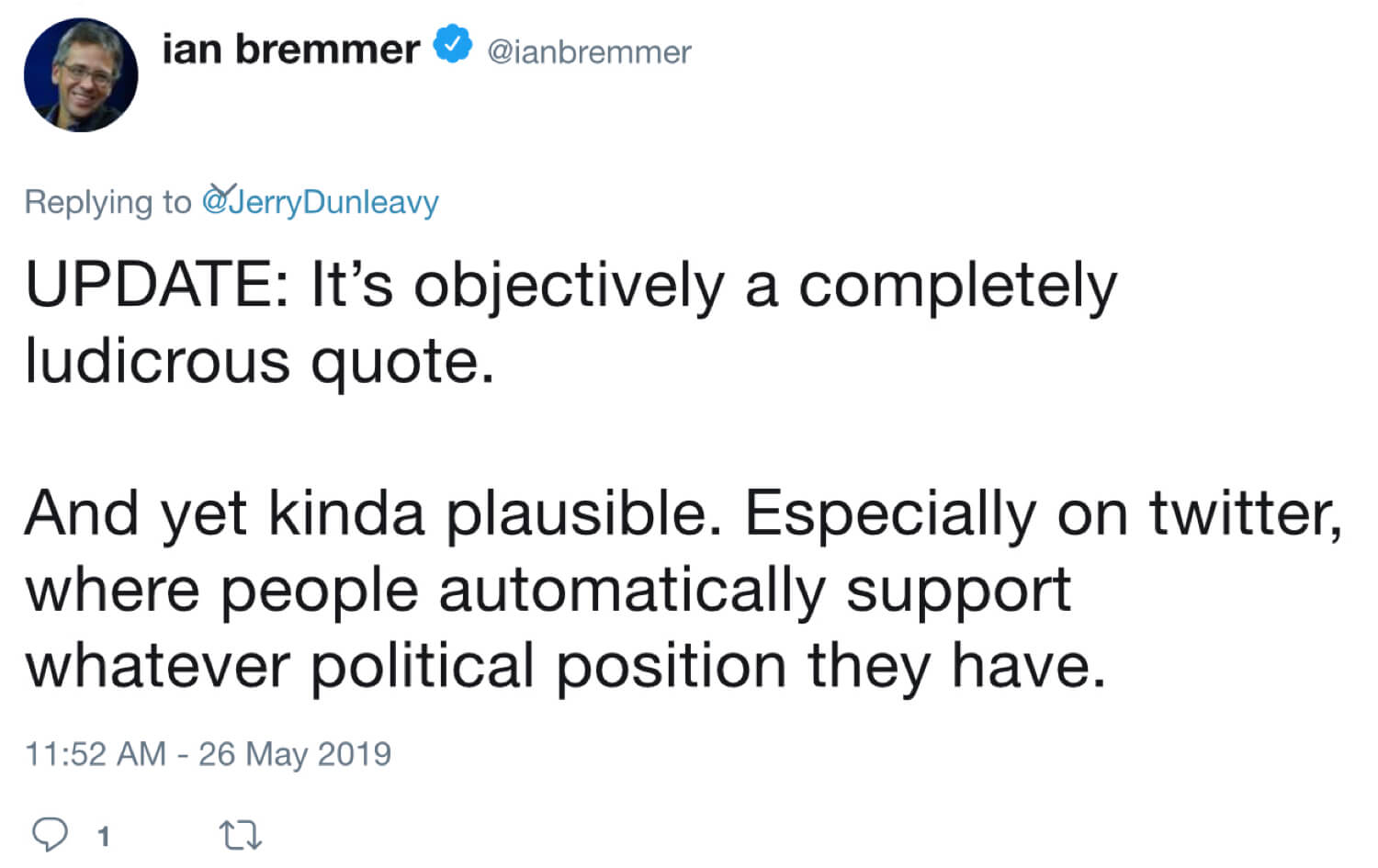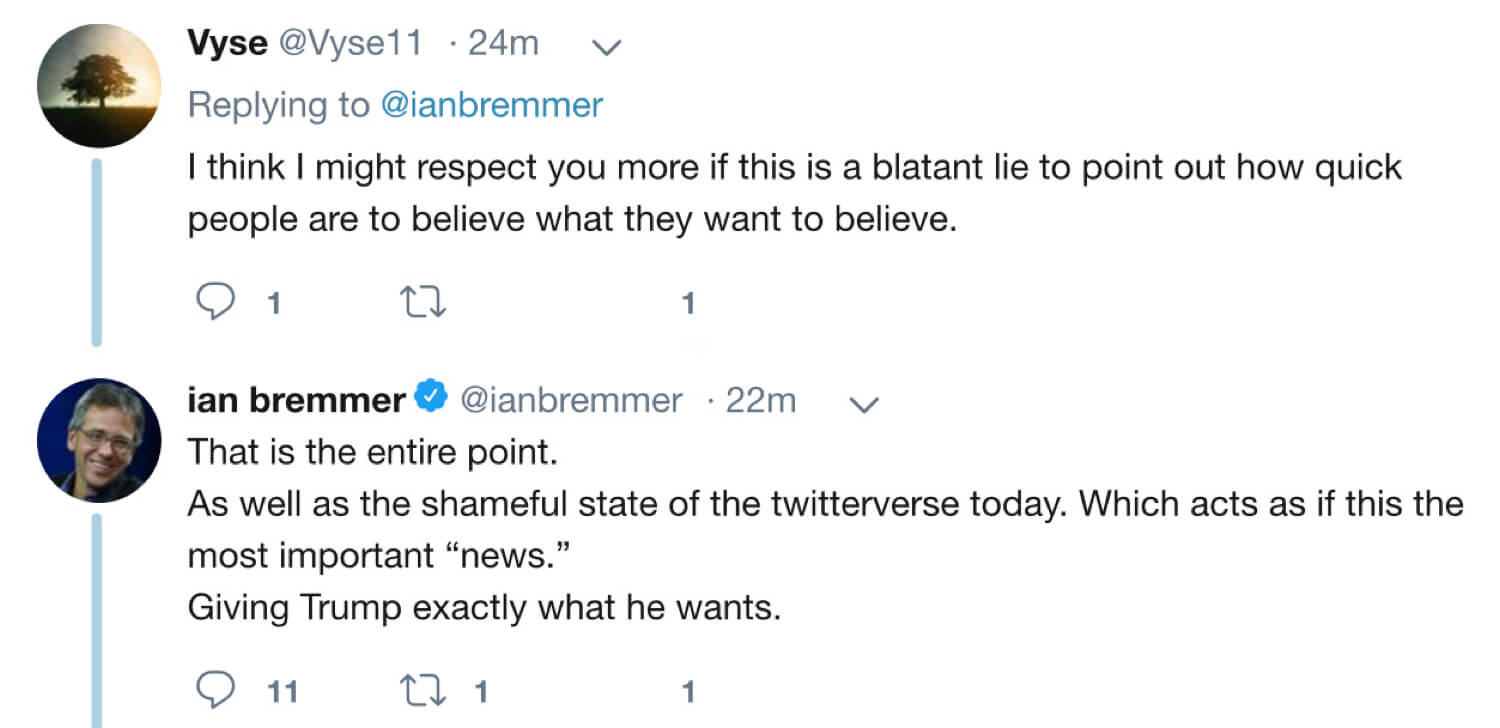 President Trump today called out the fake quote and suggested that libel laws should be changed to hold the fake news media accountable.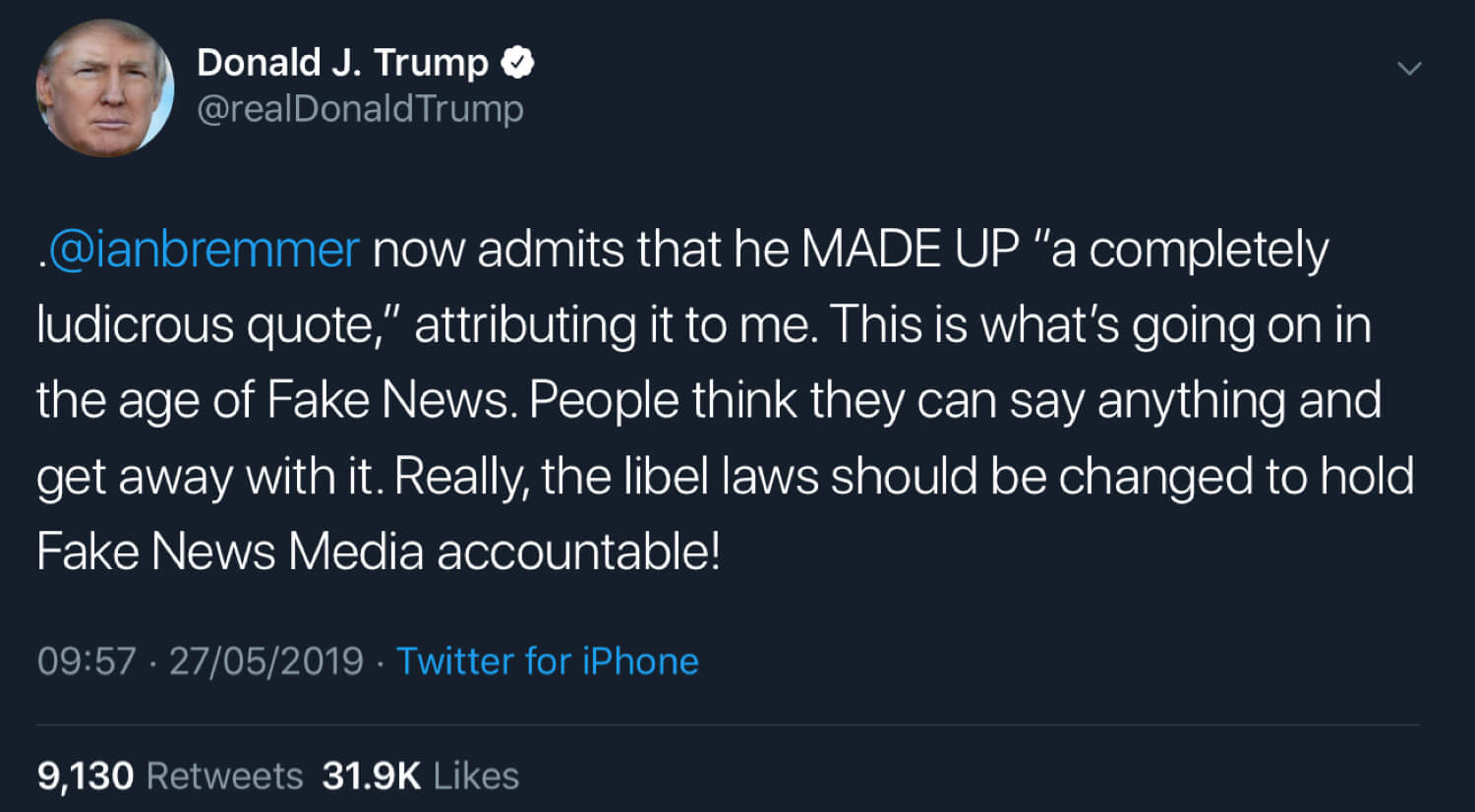 "[email protected] now admits that he MADE UP "a completely ludicrous quote," attributing it to me. This is what's going on in the age of Fake News. People think they can say anything and get away with it. Really, the libel laws should be changed to hold Fake News Media accountable!"
Before Bremmer admitted that the quote was fake, many high profile figures believed it was a real quote and shared it on their Twitter accounts. The people who shared the quote include:
1. CNN contributor Ana Navarro-Cárdenas (archive link): 1.1 million+ followers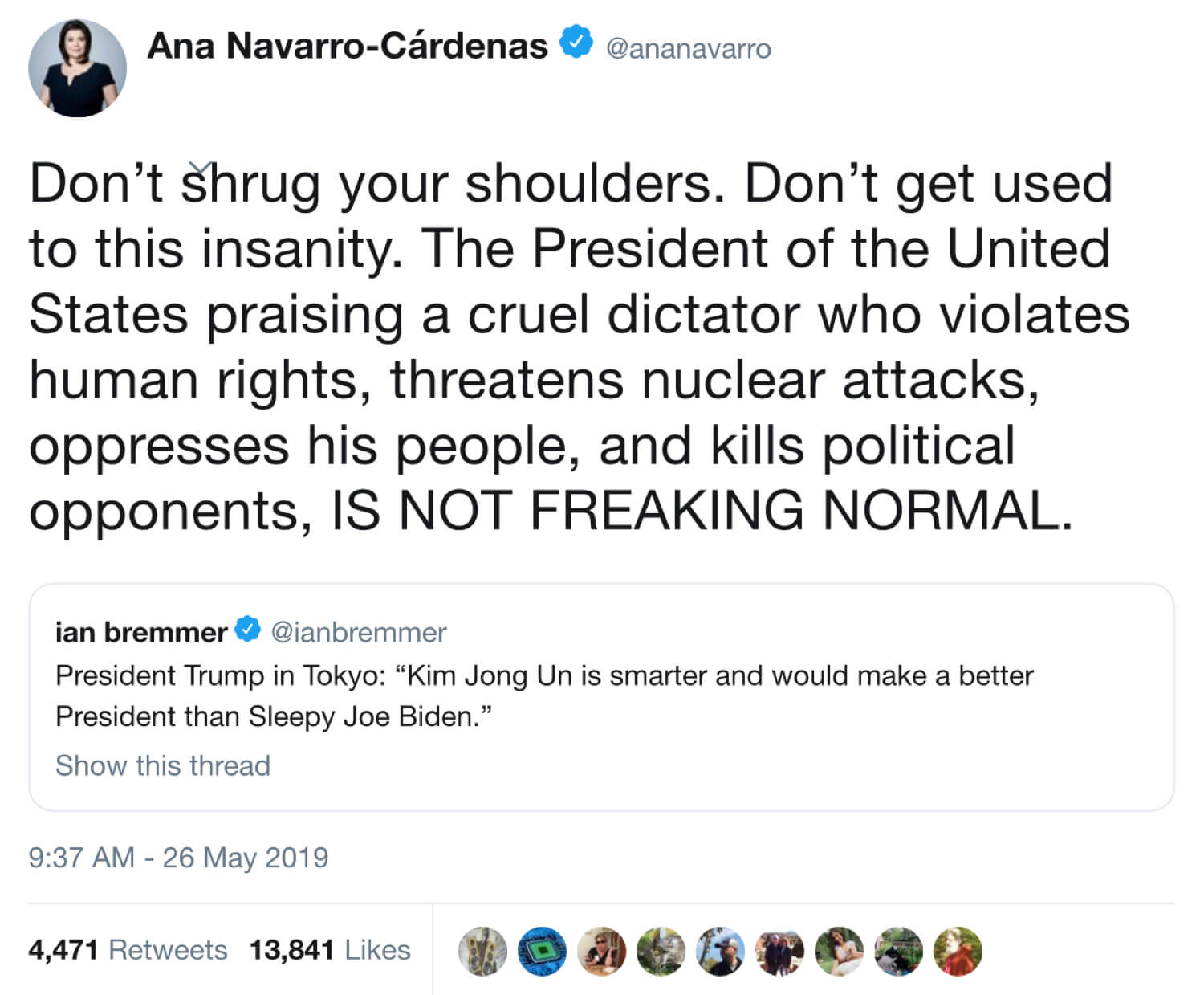 Navarro's response to the fake Trump quote reads:
"Don't shrug your shoulders. Don't get used to this insanity. The President of the United States praising a cruel dictator who violates human rights, threatens nuclear attacks, oppresses his people, and kills political opponents, IS NOT FREAKING NORMAL."
2. Democrat Congressman Ted Lieu: 1 million+ followers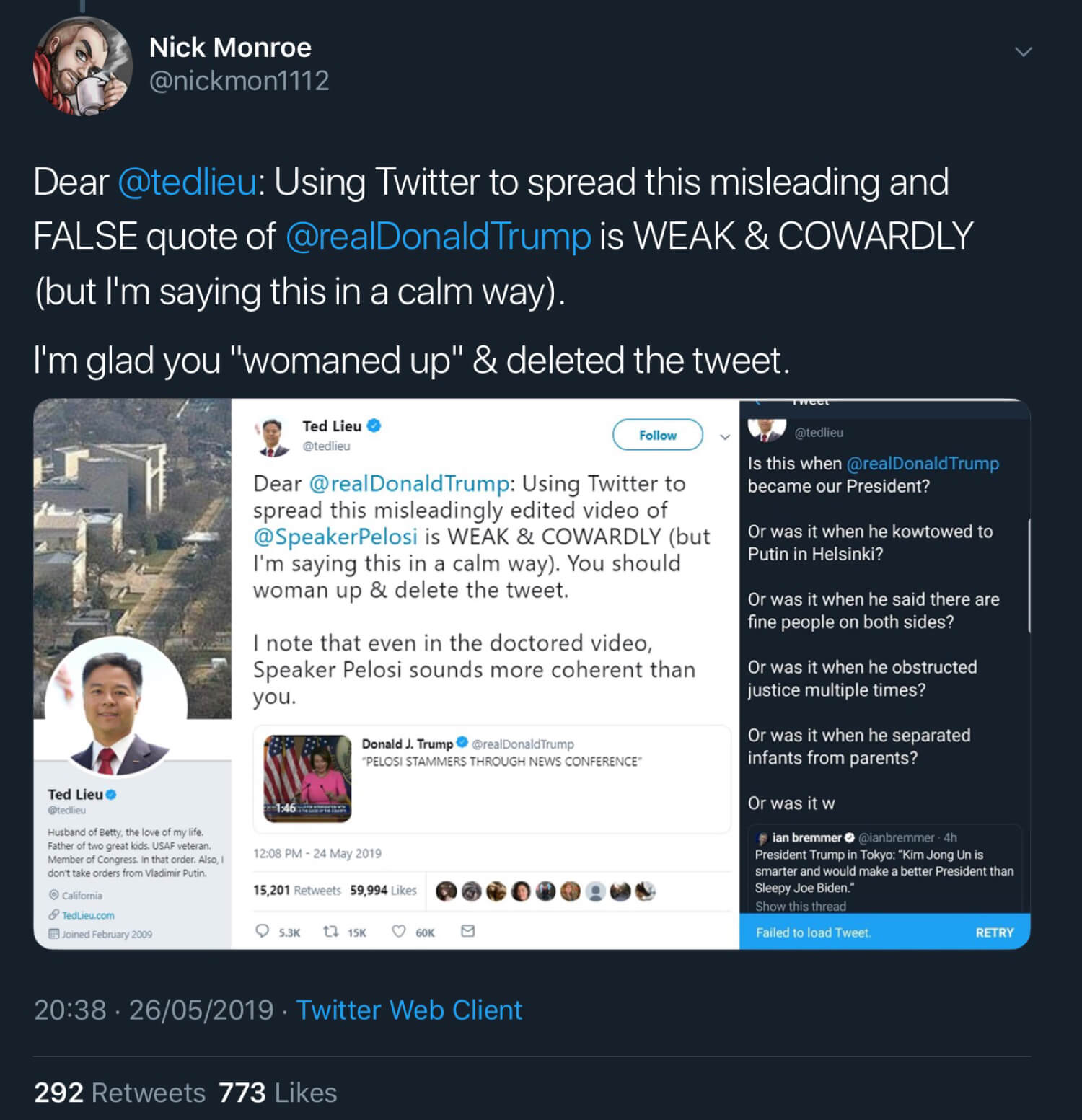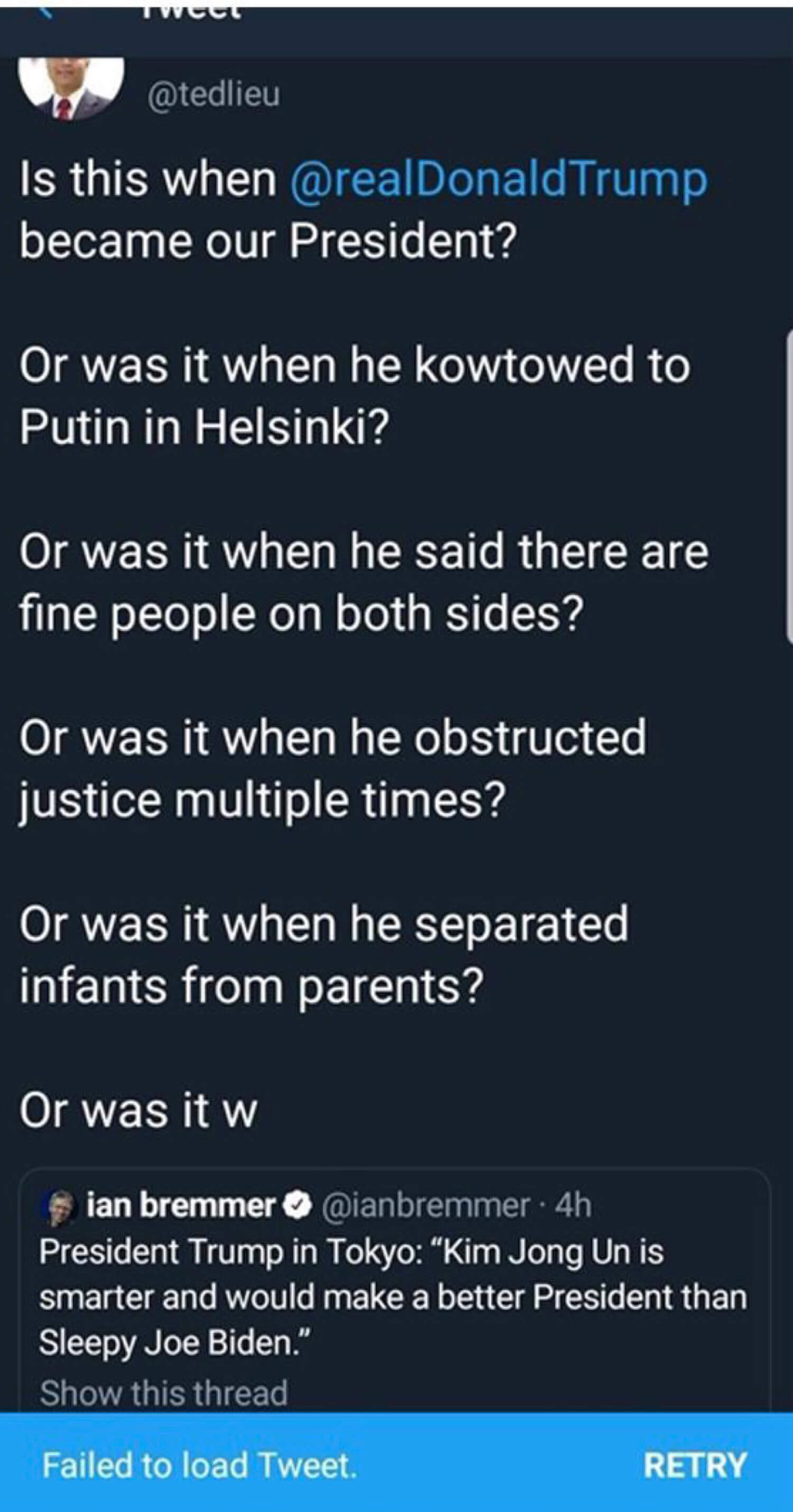 Lieu's response to the fake Trump quote reads:
"Is this when @realDonaldTrump became our President?

Or was it when he kowtowed to Putin in Helsinki?

Or was it when he said there are fine people on both sides?

Or was it when he obstructed justice multiple times?

Or was it when he separated infants from parents?

Or was it w"
3. VA Senate 28 District candidate Quasim Rashid, Esq (archive link): 268,000+ followers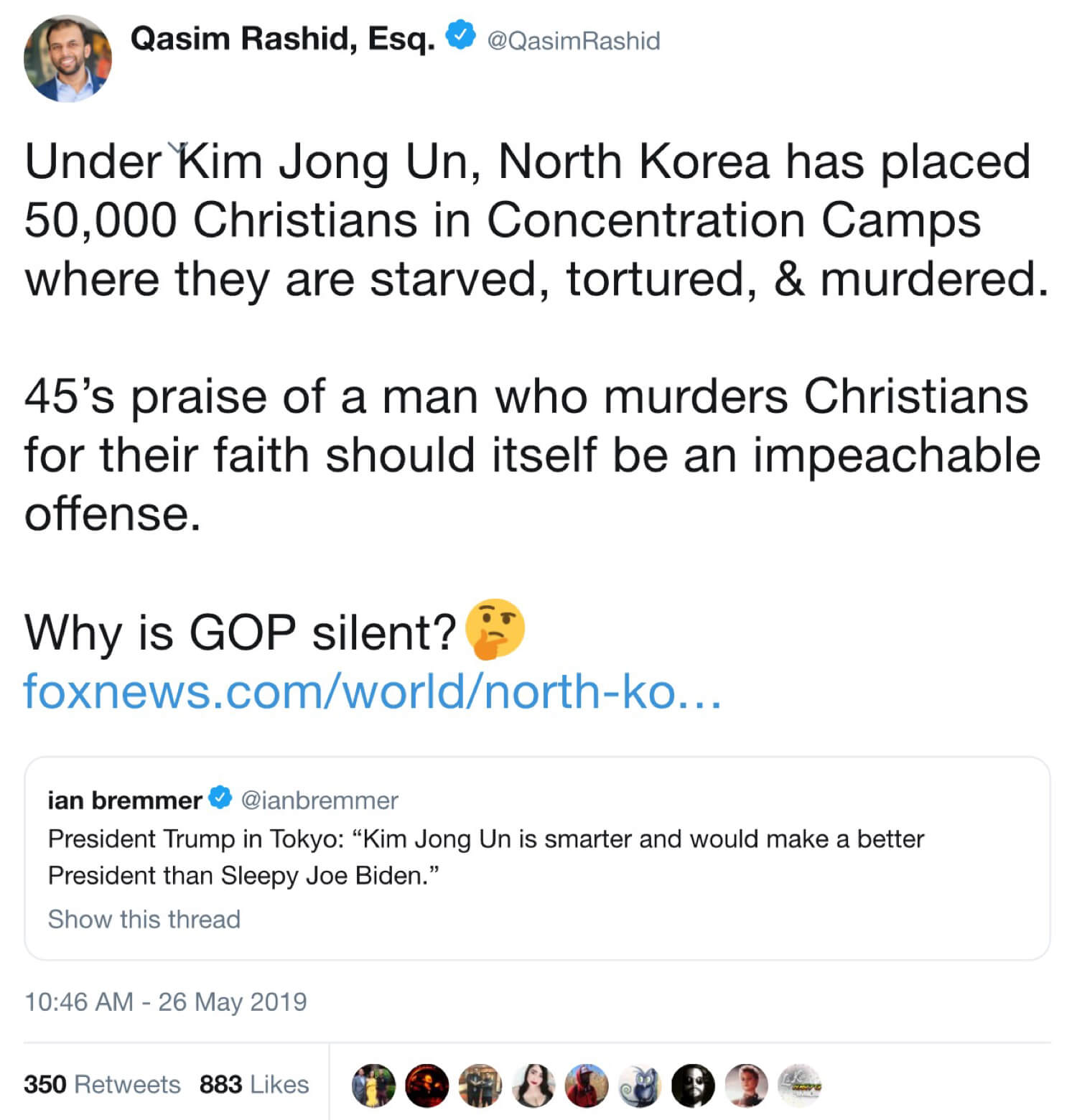 Rashid's response to the fake Trump quote reads:
"Under Kim Jong Un, North Korea has placed 50,000 Christians in Concentration Camps where they are starved, tortured, & murdered.

45's praise of a man who murders Christians for their faith should itself be an impeachable offense.

Why is GOP silent??"
4. Executive producer of The Big Bang Theory Bill Prady (archive link): 209,000+ followers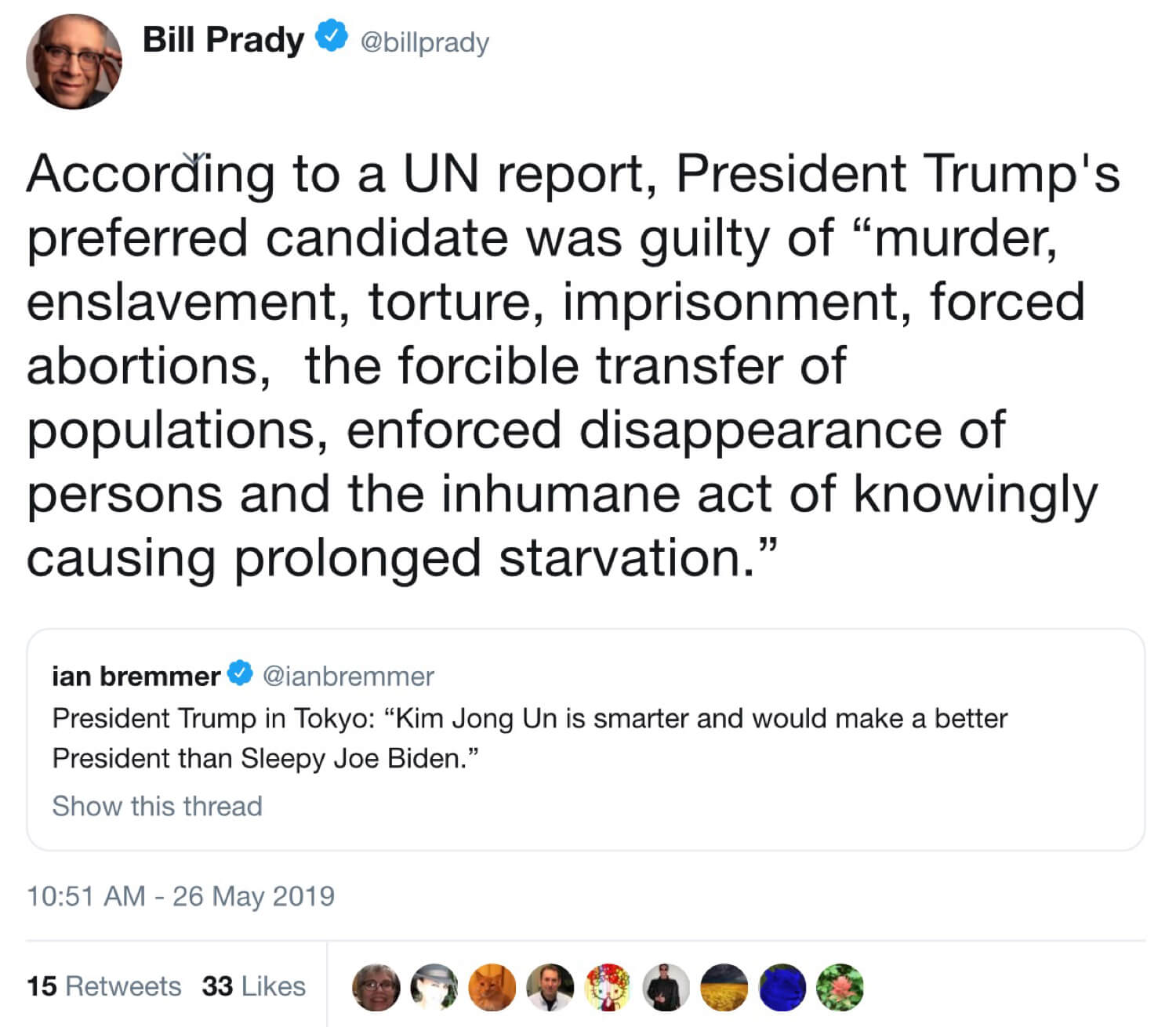 Prady's response to the fake Trump quote reads:
"According to a UN report, President Trump's preferred candidate was guilty of "murder, enslavement, torture, imprisonment, forced abortions, the forcible transfer of populations, enforced disappearance of persons and the inhumane act of knowingly causing prolonged starvation.""
Despite this misinformation being shared with over 2 million Twitter followers, the legacy media outlets were largely silent and didn't comment on the spread of this fake Trump quote. Yet on Friday, when an altered video of Nancy Pelosi which made her appear drunk was being shared across social media, these same legacy media outlets took a very different view and pressured the social media platforms to remove the video.
Here are some of the responses to this altered Pelosi video from legacy media outlets that were silent on the fake Trump quote:
CNN: "Why it took Facebook so long to act against the doctored Pelosi video"
HuffPost: "Facebook Refuses To Delete Fake Nancy Pelosi Video That Makes Her Seem Drunk"
The New York Times: "Distorted Videos of Nancy Pelosi Spread on Facebook and Twitter, Helped by Trump"
The Washington Post: "Facebook acknowledges Pelosi video is faked but declines to delete it"
The legacy media outlets listed above and many others focused on how long it took Facebook to suppress the altered Pelosi video and suggested that by refusing to delete the video, Facebook was allowing misinformation to spread.
The fake Trump quote also allowed misinformation to be shared with millions of Twitter followers. Arguably the misinformation in the fabricated Trump quote tweet was more harmful than the altered Pelosi video, since the quote in the tweet was completely false whereas the video contained genuine footage that had been slowed down. However, when Trump is the target of the misinformation, these legacy media outlets no longer seem to care about social media platforms allowing misinformation to spread.
This double standard suggests that these legacy media outlets aren't really interested in stopping the spread of misinformation but are instead using the topic of misinformation as a means to pressure the social media platforms into censoring certain political viewpoints.