Nicholas J Fuentes, host of the political talk show America First, has become the latest political commentator to have his YouTube channel fully demonetized.
Earlier today, Fuentes reported that he had received multiple notices from YouTube related to videos being removed, features on his channel being disabled, and his monetization being stripped.
i had a bad day pic.twitter.com/zItM5Hxy8W
One of the notices said that Fuentes' video titled Omar and Tlaib BANNED from Israel, which was published almost five months ago in August 2019, had been removed under YouTube's controversial "hate speech" policy which is used to take down more than 100,000 creator videos each quarter.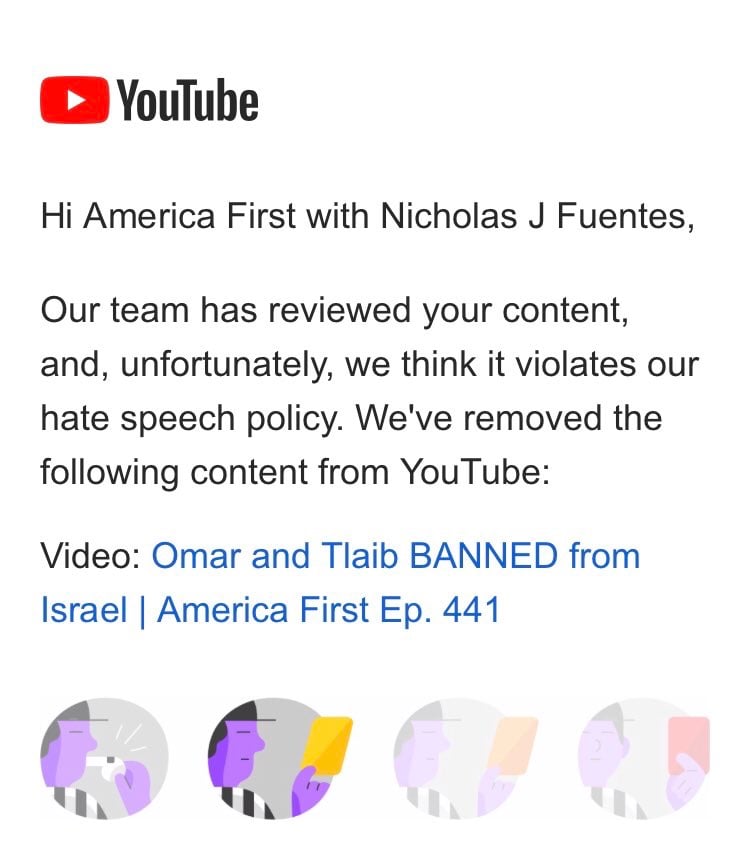 Another said that Super Chat, a YouTube feature that allows viewers to donate during livestreams, had been disabled on his channel.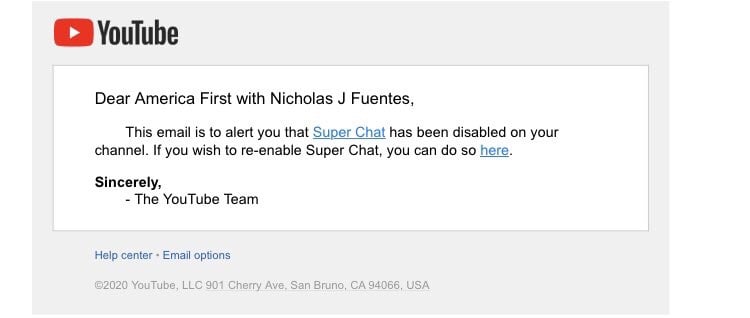 The third notice told Fuentes that his entire channel had been demonetized for hate speech.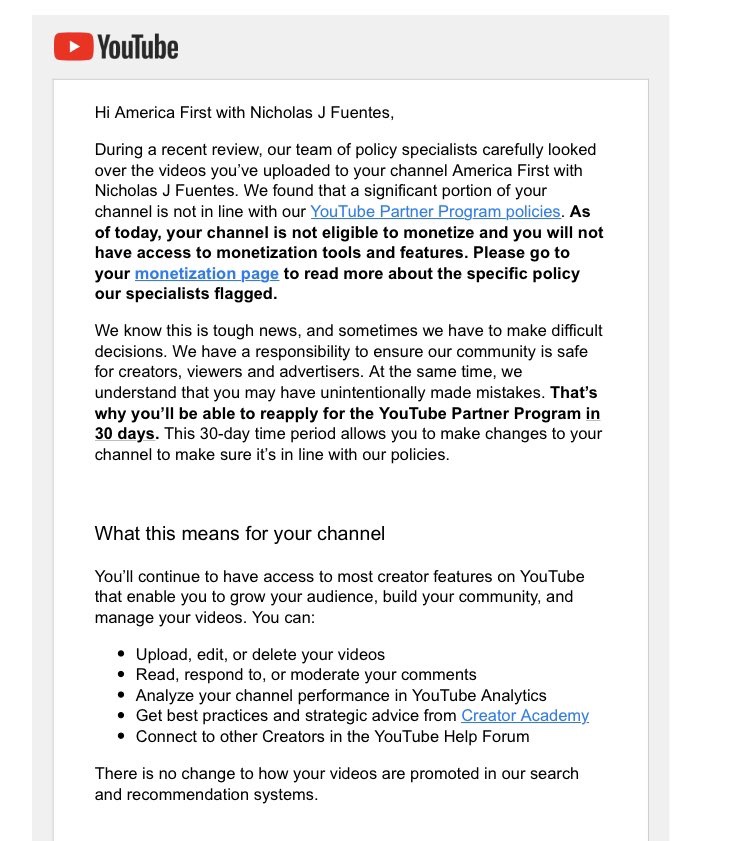 Fuentes added that his channel had been given a strike which means he'll be unable to stream America First on YouTube for the next week.
I'm about to go out of town but I will be moving the show to DLive temporarily while this penalty is in effect for the next week so subscribe to my channel there to catch the show on Monday: https://t.co/dcCLzVDpRx
Fuentes plans to stream on blockchain-based streaming platform DLive temporarily until the ban is lifted.
These sanctions against his YouTube channel come around two months after his show was removed from Apple Podcasts and his subreddit was taken down. Fuentes said "dishonest left wing journalist" Mollie Bryant, who pressured these platforms to remove his content, was responsible for the takedowns. He added that Bryant had also tried to get his YouTube channel removed by lying about his views.
Looks like this dishonest left wing journalist is responsible for getting my show removed from Apple and for getting my subreddit taken down. Also trying to get Youtube to take down my show by lying about my views. https://t.co/x5qgEyPdi4
Infowars editor-at-large Paul Joseph Watson responded to the demonetization of Fuentes' channel by saying: "YouTube is determined to ideologically cleanse its platform of anything fun or daring that isn't corporate-affiliated, family-friendly, anodyne, sterile drivel."
YouTube is determined to ideologically cleanse its platform of anything fun or daring that isn't corporate-affiliated, family friendly, anodyne, sterile drivel. https://t.co/VDlWs1yoPn
Conservative columnist and author Michelle Malkin said that Fuentes banning was the result of "leftist thought police."
YouTube is so 2006. Leftist thought police are being enabled by Silicon Valley, apathetic pols who are Monitoring The Situation & ConInc's free speech hypocrites. #LauraLoomer, #DefendGavin, now @NickJFuentes . #WhoIsNext ? https://t.co/saESSX0j6J
And CJ Pearson, president and founder of Last Hope USA, said that while he's disagreed with Fuentes in the past, "this is blatant censorship."
Say what you will about Nick Fuentes (who I've disagreed with in the past) but let's be consistent: free speech is free speech and this is blatant censorship.

If you think banning his ideas will defeat his ideas, you're wrong. https://t.co/c39rhZOMm0
Fuentes is one of many YouTubers to have their entire channel demonetized in the last few months.