2020 has barely begun and it's already providing some epic memes. The latest comes courtesy of actor Tom Hanks' stone-faced reaction to comedian Ricky Gervais' opening monologue at the 2020 Golden Globes.
During the monologue, Gervais roasted the celebrities in attendance and finished by calling out their "woke" stances.
"Apple roared into the TV game with The Morning Show," Gervais said. "A superb drama about the importance of dignity and doing the right thing made by a company that runs sweatshops in China."
Gervais then tore into woke culture and its hypocrisy:
"You say you're woke but the companies you work for, I mean, unbelievable. Apple, Amazon, Disney. If ISIS started a streaming service, you'd call your agent wouldn't ya. So if you do win an award tonight, don't use it as a platform to make a political speech right. You're in no position to lecture the public about anything. You know nothing about the real world. Most of you spent less time in school than Greta Thunberg. So, if you win, right, come up, accept your little award, thank your agent, and your God, and f**k off."
Ricky Gervais with the ???

And Tom Hanks expression. ? #GoldenGlobes pic.twitter.com/XnCJ0lfB5i
After Gervais finished, the camera panned to the faces of the celebrities in attendance and Hanks' grimace quickly became one of the favorite reactions online.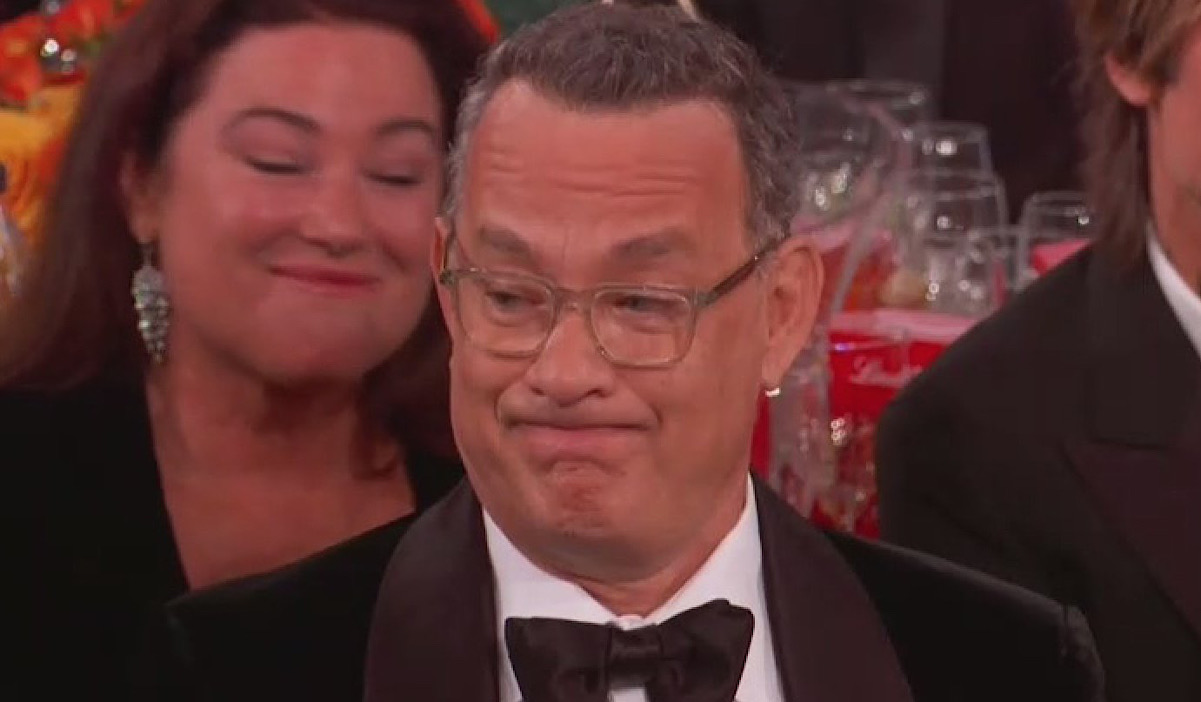 Meme makers then got to work and now there are several memes and GIFs based on Hanks' Golden Globes grimace reaction starting to circulate online.
#RickyGervais on behalf of the American public thank you??? pic.twitter.com/Rd3lmLslVO
What a legendary speech #GoldenGIobes #TomHanks #RickyGervais pic.twitter.com/tqbJfYP4wB
#TomHanks #GoldenGlobes
Finally Hanks was the final piece! pic.twitter.com/0OIQBysWKv
Omg the tom hanks memes! @realDonaldTrump hope you can give us your take 🙂 #WWG1WGA pic.twitter.com/mIDjF9vCJ0
The rise of the Tom Hanks' Golden Globes grimace reaction meme comes days after the New Guy meme became a viral sensation and transformed a bitter comic into a wholesome meme format.