Twitter has permanently banned the account of pro-Trump political commentator Melissa Tate. The Zimbabwe-born conservative was suspended after sharing a video clip from a recent episode from The Joe Rogan Experience featuring Dr. Peter McCullough.
On Instagram, Tate posted: "BREAKING: Twitter just suspended my account with almost half a million followers with no warning for sharing a clip from the Joe Rogan podcast where he is interviewing Doctor McCullough. Twitter said this was 'harmful information.'"
A screenshot she shared showed that Twitter suspended her account for violating its rules, "specifically for violating our policy on spreading misleading and potentially harmful information related to COVID-19."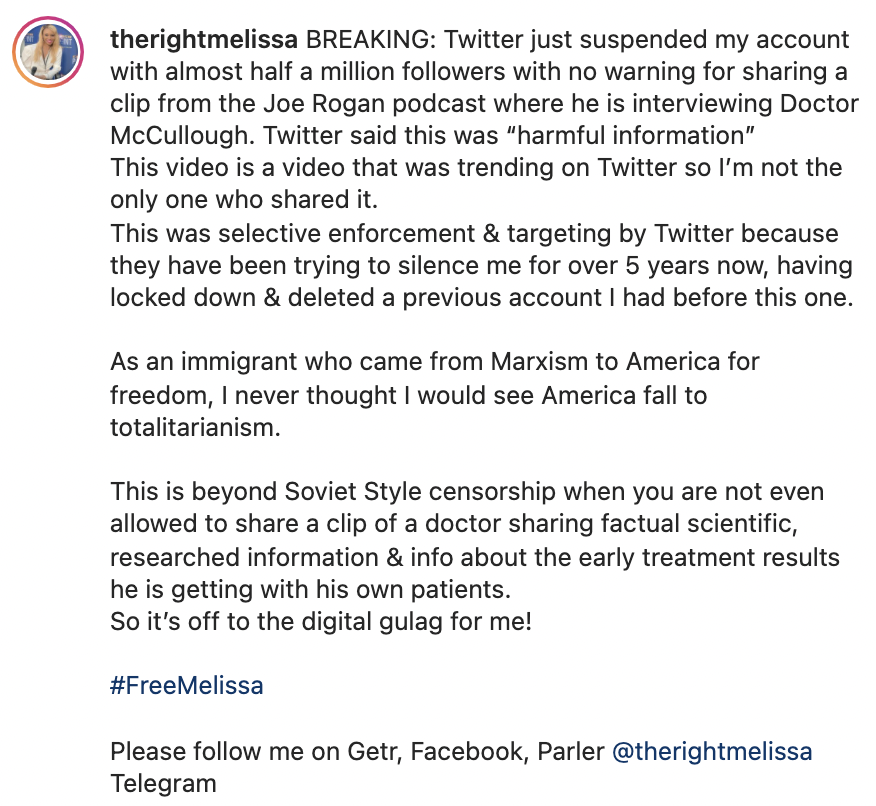 The video Tate shared was originally posted by another user who was curious to know "how long this stays up on Twitter."
In her Instagram post, Tate noted that the video had been widely shared on Twitter, and accused the platform of "selective enforcement & targeting."
She added: "As an immigrant who came from Marxism to America for freedom, I never thought I would see America fall to totalitarianism.
"This is beyond Soviet Style censorship when you are not even allowed to share a clip of a doctor sharing factual scientific, researched information & info about the early treatment results he is getting with his own patients."