The website StopTheSteal.us, organized by political commentator and consultant Ali Alexander, is currently coordinating several grassroots events across the US with regard to controversy over the election results in swing states. It has recently been censored by Twitter for a brief period of time, only for the social media platform to admit that it has done so "mistakenly."
Facebook had also blocked links to the website and has even suspended a group with the same name containing more than 300,000 members.
Twitter, when it blocked the links to the website on its platform, displayed a message to its users which stated that the link may be "unsafe" or "spammy." It is worth noting that Twitter displayed a similar notice when it censored the Hunter Biden-Ukraine story covered by the New York Post right ahead of the US presidential elections.
Here's what Twitter's notice read:
"The link you are trying to access has been identified by Twitter or our partners as being potentially spammy or unsafe, in accordance with Twitter's URL Policy. This link could fall into any of the below categories:

malicious links that could steal personal information or harm electronic devices
spammy links that mislead people or disrupt their experience
violent or misleading content that could lead to real-world harm
certain categories of content that, if posted directly on Twitter, are a violation of the Twitter Rules"

After users condemned Twitter for censoring StopTheSteal.us, the platform ended up reversing its decision.
"The URL you referenced was mistakenly caught in a spam filter. This has been reversed," said a Twitter spokesperson said in a comment.
Ever since the vote counting has begun in the US, there is a growing wave of unrest amongst Trump supporters, with several of them suggesting that there is potential voter fraud.
StopTheSteal.us is also organizing a "March for Trump" on November 14 in Washington DC and the campaign has been supported by several lawmakers.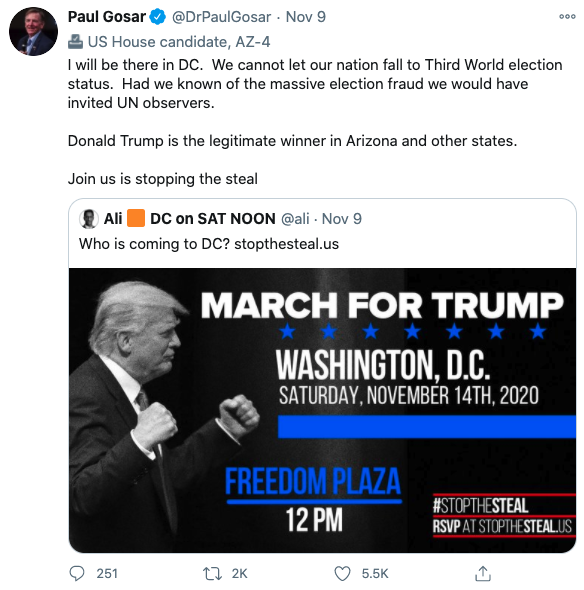 Both pre-election and post-election Big Tech platforms, including Twitter, have tightened the leash with regard to what it says is misinformation and have committed several acts of censorship and suppression of speech. And even after the results have been declared by media outlets, Twitter has been making it harder for users to express their views online and discuss potential voter fraud.