Instagrammer Wendy Cheng isn't backing down to commenters that say she's "fat phobic."
In fact, she's thrown fuel on the fire of the outrage by posting a photo to Instagram where she's photoshopped the image to make her look obese.
Cheng recently sparked a huge outrage by criticizing a model for her obesity.
Several users lashed out at the Singapore-based beauty influencer.
Cheng is an Instagram influencer with over half a million followers who recently ranted about a large model, La'Shaunae Steward, and called her "unhealthy."
Here's what Cheng wrote about Steward in her Instagram story:
"It's one thing to be chubby or fat but this is way past that. The morbidly obese (like this woman) should never have been seen as attractive because death and disease isn't an attractive full stop. Irresponsibility isn't attractive."
Steward, on the other hand, shared screenshots of Cheng's stories on Twitter, and shared them saying, "Why are thin people this obsessed with letting me know indirectly they think I'm unattractive to them there I'm not worthy of love, a career, being visible, and literally telling me the age I'm going to die? Ok miss cleo."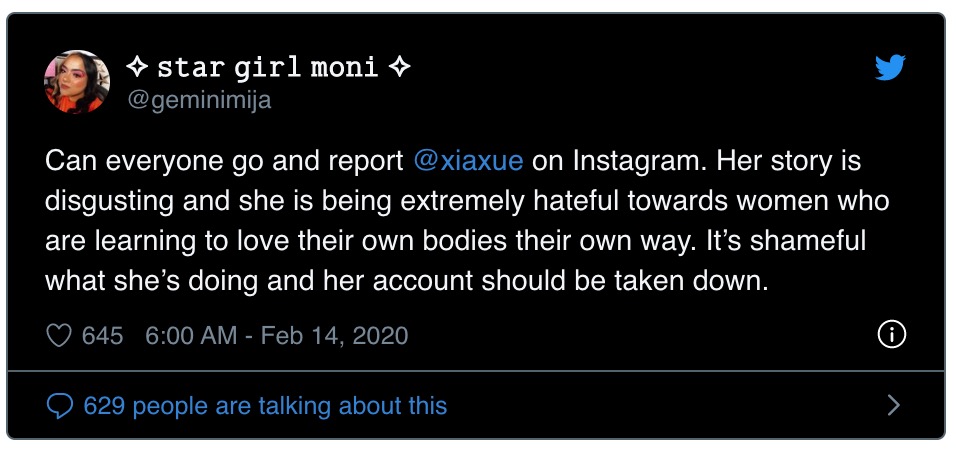 While some users have expressed contempt against her thought process with regard to obese people, others have taken the extreme route of asking their followers to report Cheng and take her profile down. "Can everyone go and report @xiaxue on Instagram. Her story is disgusting and she is being extremely hateful towards women who are learning to love their own bodies their own way. It's shameful what she's doing and her account should be taken down."
While many influencers often cave to mob-tactics used to silence them, none of this fazed Cheng.
Instead, Cheng went on and shared a photoshopped image of herself where she appears morbidly obese. "How to ensure everyone says you are beautiful in 2020. Am I beautiful now?" questioned the influencer.