Facebook recently admitted that its censorship of the iconic photo of the Soviet flag raised over Reichstag on VE Day was a result of "algorithmic error" – a type of error that has become increasingly common across Big Tech platforms as they use artificial intelligence (AI) to moderate content.
But despite the prevalence of such errors, most big tech platforms continue ramping up their use of AI and automated systems to take down content.
Today, Facebook gave an update on its efforts in this area and revealed that 89% of the content it removed for "hate speech" in Q1 2020 was taken down by its "proactive detection technology" which uses AI to find and censor "hateful memes" and hate speech.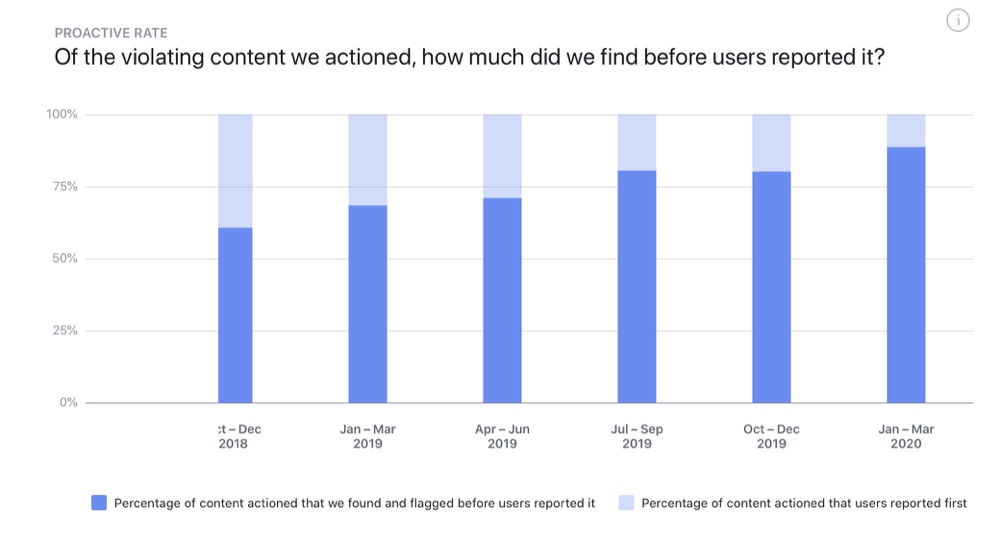 This represents an 8.6 percentage point increase on the previous quarter where 80.2% of the content removed for hate speech was taken down by this proactive detection technology.
In total, Facebook removed 9.6 million pieces of content for hate speech in Q1 2020 compared with 5.7 million in Q4 2019 – a 68.4% increase.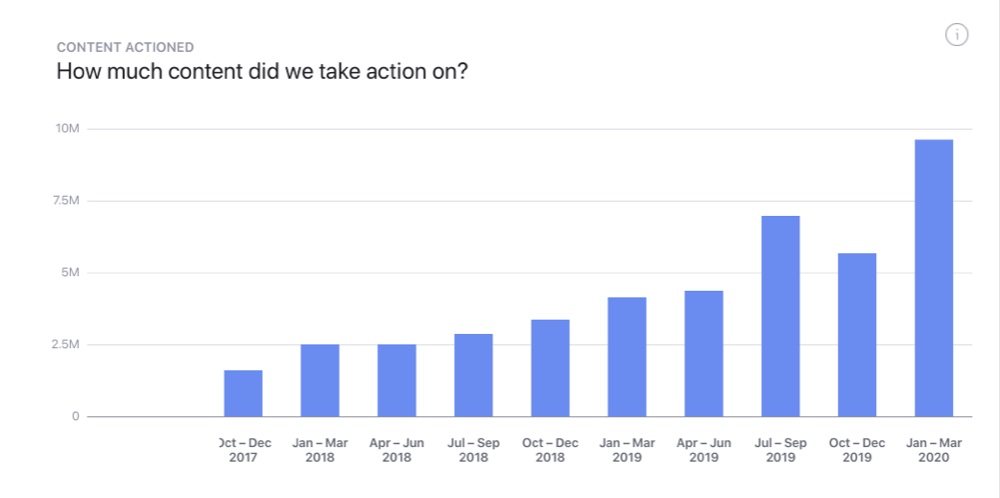 Facebook also revealed that appealing hate speech related takedowns is mostly fruitless with 1.3 million content takedowns being appealed but only 63,600 pieces of content being restored – a success rate of just 0.05%.
In addition to sharing these stats, Facebook also discussed how its AI is being trained to recognize hateful memes and launched the "Hateful Memes Challenge" with a $100,000 prize pool.
For this challenge, Facebook has created a data set of over 10,000 hateful memes and is challenging participants to develop "an algorithm that identifies multimodal hate speech in internet memes."
Facebook hasn't shown the actual memes from the data set but it did provide three sample memes that it considers "mean" which include a skunk with the caption "love the way you smell today," an alligator with the caption "your wrinkle cream is working great," and a tumbleweed with the caption "look how many people love you."

Facebook wrote that efforts such as this challenge will "accelerate work on detecting multimodal hate speech."
Facebook's increased reliance on AI to tackle hateful memes and hate speech comes after it has been criticized for several of its past hate speech enforcement decisions.
In January, it took down a Welsh man's post for hate speech after he praised a local butcher's faggots – a traditional British dish that's popular in the Midlands of England and Mid and South Wales.
After a human review, Facebook initially rejected the man's appeal and confirmed that the post was hate speech before eventually restoring the post and admitting the error.
And in November 2019, Facebook deleted a meme of First Lady Melania Trump for hate speech.
Facebook's expansion of AI that tackles memes also comes as memes are becoming increasingly difficult to post across the internet.
On Twitter, the platform's manipulated media policy and increasingly aggressive crackdown on political memes is resulting in many users having their memes taken down and accounts locked for posting memes.
And on Instagram and Facebook, the "fact-checking" program has ruined many popular memes by hiding them behind "False Information" notices.