Amid the coronavirus, there were many examples of mainstream media outlets getting content from independent and alternative media competitors taken down by flagging their content to the Big Tech platforms for alleged violations of their coronavirus misinformation policies.
Now these mainstream media outlets are starting to go after independent and alternative media over Black Lives Matter content.
NBC News journalist Adele-Momoko Fraser initially claimed (archive link) in an article that independent news outlets Zero Hedge and The Federalist had been banned from Google's advertising platform after the NBC News Verification Unit had notified Google about research conducted by the pressure group Center for Countering Digital Hate (CCDH) which accused these sites of "profiting from articles pushing unsubstantiated claims about Black Lives Matter protests."
The initial version of this article also claimed that a Google spokesperson wrote:
"We have strict publisher policies that govern the content ads can run on and explicitly prohibit derogatory content that promotes hatred, intolerance, violence or discrimination based on race from monetizing. When a page or site violates our policies, we take action. In this case, we've removed both sites' ability to monetize with Google."
However, after the article was published, Google Communications tweeted "The Federalist was never demonetized" and added that it worked with The Federalist to address issues on its site "related to the comments section."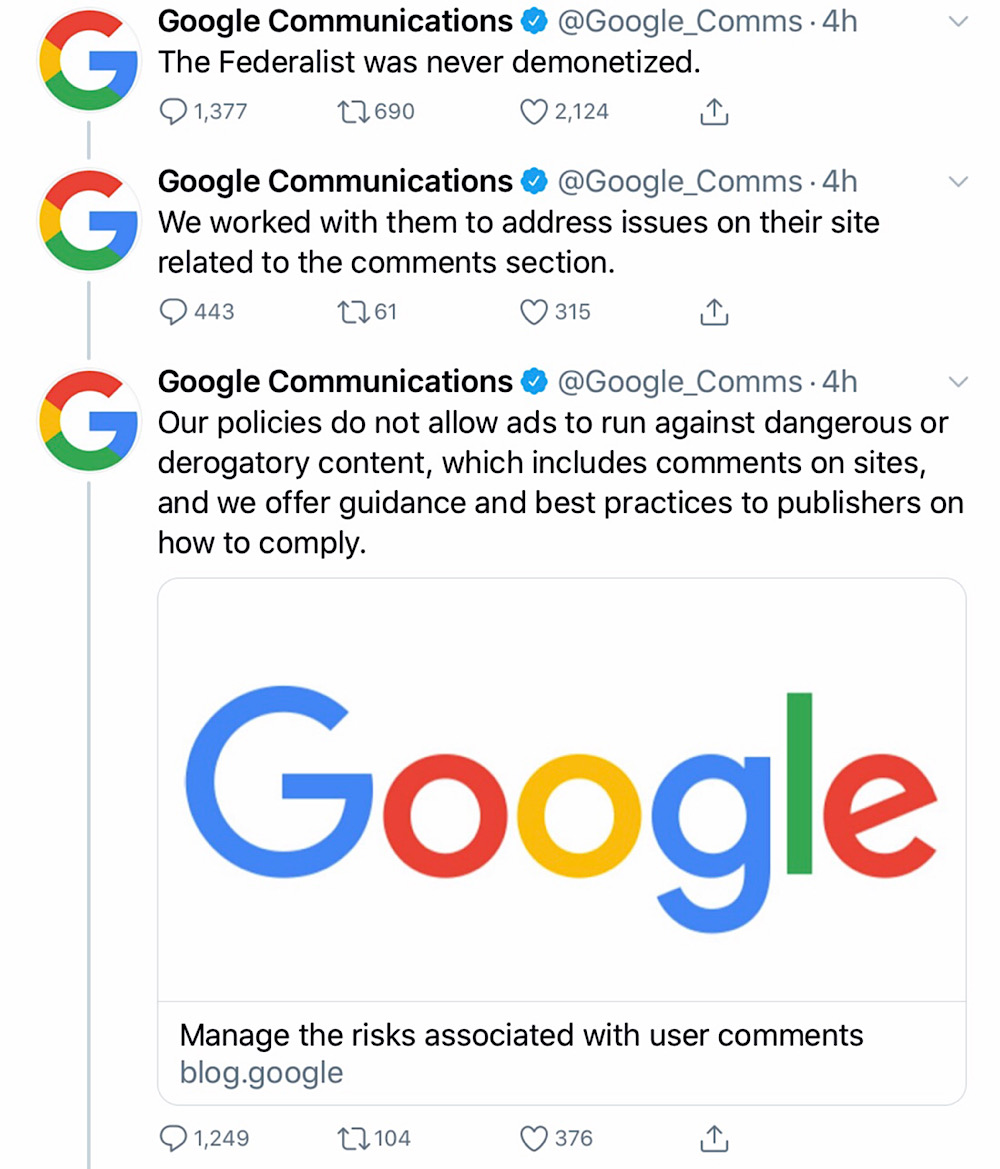 Fraser's article was then updated multiple times and now claims that:
"After publication of this story, Google backtracked Tuesday, clarifying that The Federalist had been warned about policy violations but still had time to address them. It now has three days to remove the violations before a ban goes into effect."
Additionally, it now claims that Google notified Zero Hedge of policy violations last week and banned the website from its ad platform over policy violations found in the comments section of its articles about Black Lives Matter while The Federalist was given its warning on Tuesday over comments on articles related to recent protests.
NBC News executive producer Ruaridh Arrow followed up on the story by claiming that Google "backtracked on their original email which stated both publications had been delisted from Google ads."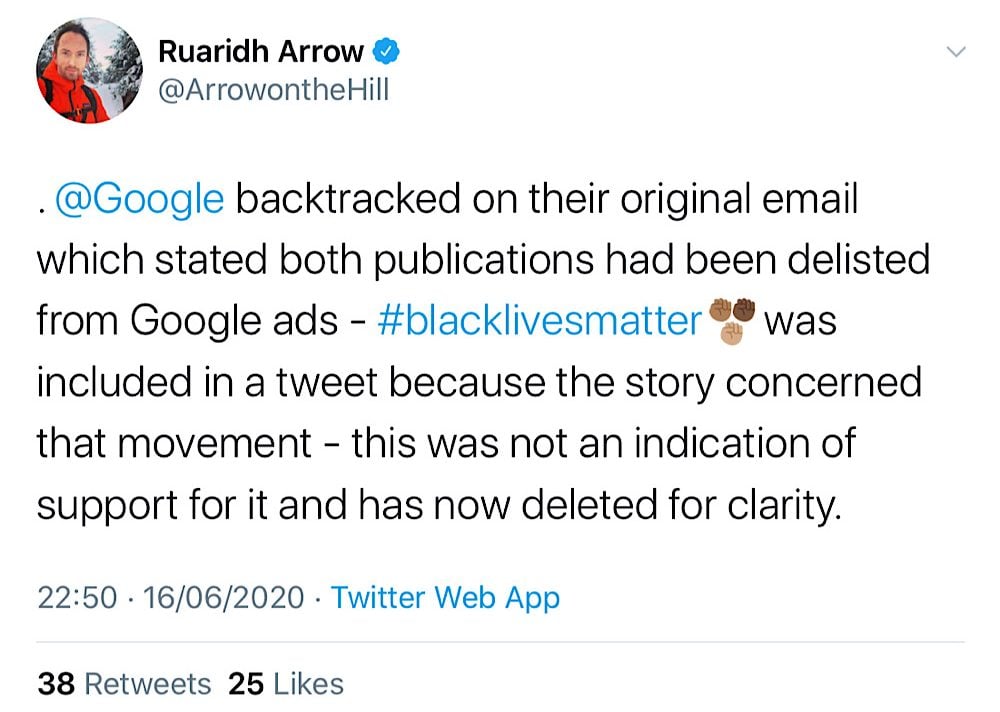 Many Twitter users have responded to this claim with skepticism because Arrow didn't include a screenshot of the email.
Given the conflicting statements and multiple edits to the article, it's unclear exactly what happened but it appears that Google banned Zero Hedge from its ads program before the NBC News Verification Center sent it the CCDH's research and then put The Federalist on notice after being contacted by NBC News.
The CCDH research pressures Google to take action against Zero Hedge, The Federalist, and other sites based on their articles but Google appears to have made its decision based on the comments left by the readers of these sites.
The Federalist has since removed its comments section and Google tweeted: "As the comment section has now been removed, we consider this matter resolved and no action will be taken."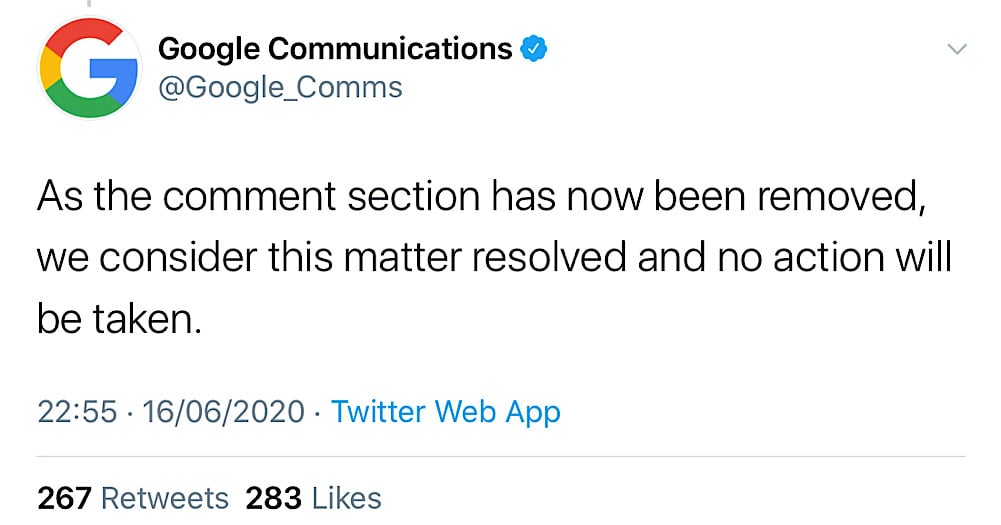 The decision to strip Zero Hedge of its ability to earn ad revenue and put The Federalist on notice because of their comments sections sets a concerning new precedent for independent publishers because their ability to earn ad revenue could now be obliterated by comments that are left by bad actors and then reported to the tech giants by journalists, activists, or pressure groups.
This precedent is also pressuring publishers who rely on Google ads for their revenue to shut down user comments to protect their income.
Google controls an estimated 36.3% of the entire digital ad market and usually offers more lucrative ad rates than its competitors which means getting booted from the program generally reduces the amount of ad revenue earned by an independent publisher.
As Senator Josh Hawley points out, the apparent decision to boot Zero Hedge from its ad program and put The Federalist on notice because of the comments left by their readers is ironic given that Google recently defended the liability protections it receives under Section 230 of the Communications Decency Act (CDA) in response to President Trump's calls for it to be revoked or reconsidered.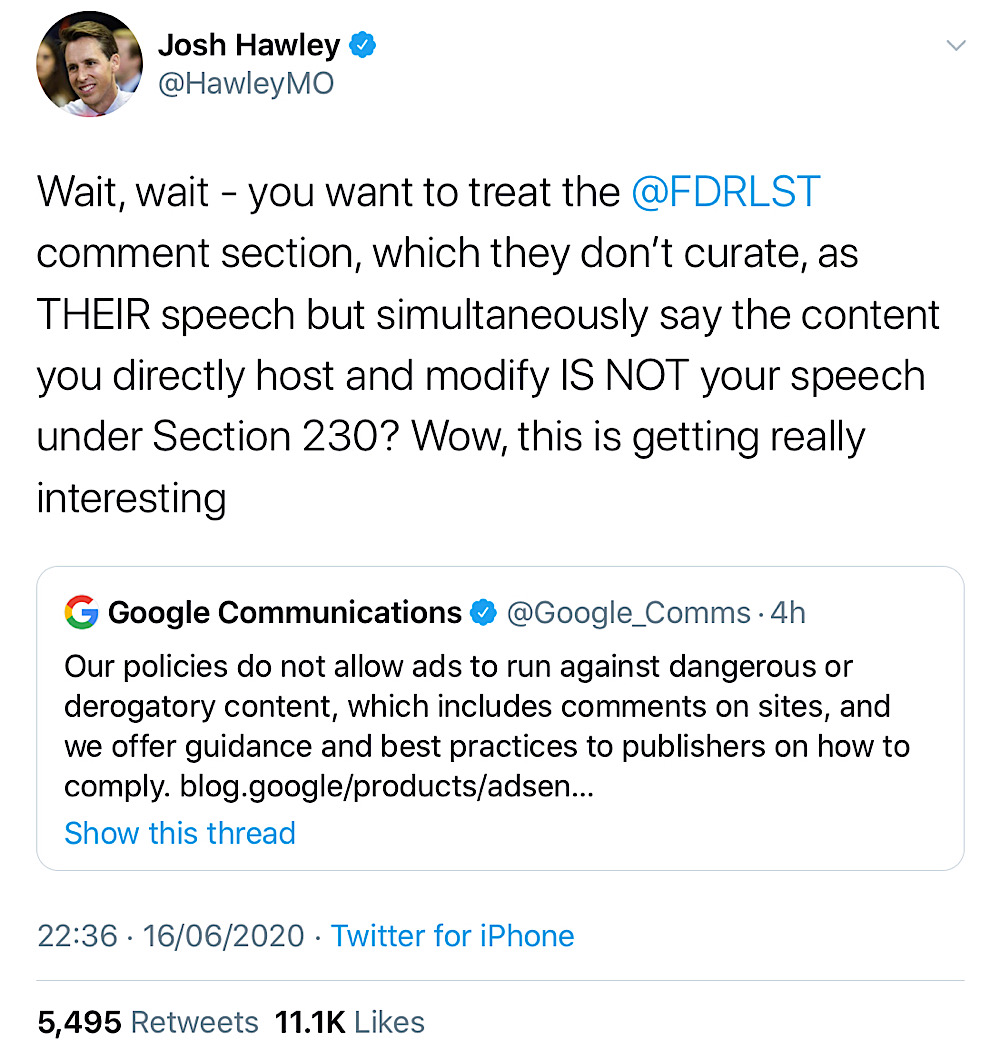 Under Section 230, Big Tech companies including Google are protected from almost all liability for user generated content including comments yet Google appears to be holding publishers using its ads service liable for user comments on their sites with this decision.
Last year, Google-owned YouTube was slammed when it announced that video comments could get creators demonetized with many creators pointing out that the policy was unfair because they don't control the comments left by other users and that such a policy gives all the power to bad actors.
In addition to the issues around comments, the initial decision of Fraser and Arrow to tweet out the story with #blacklivesmatter has been criticized by many Twitter users who felt they were showing support for the Black Lives Matter movement while attacking a competitor over their coverage which criticized Black Lives Matter.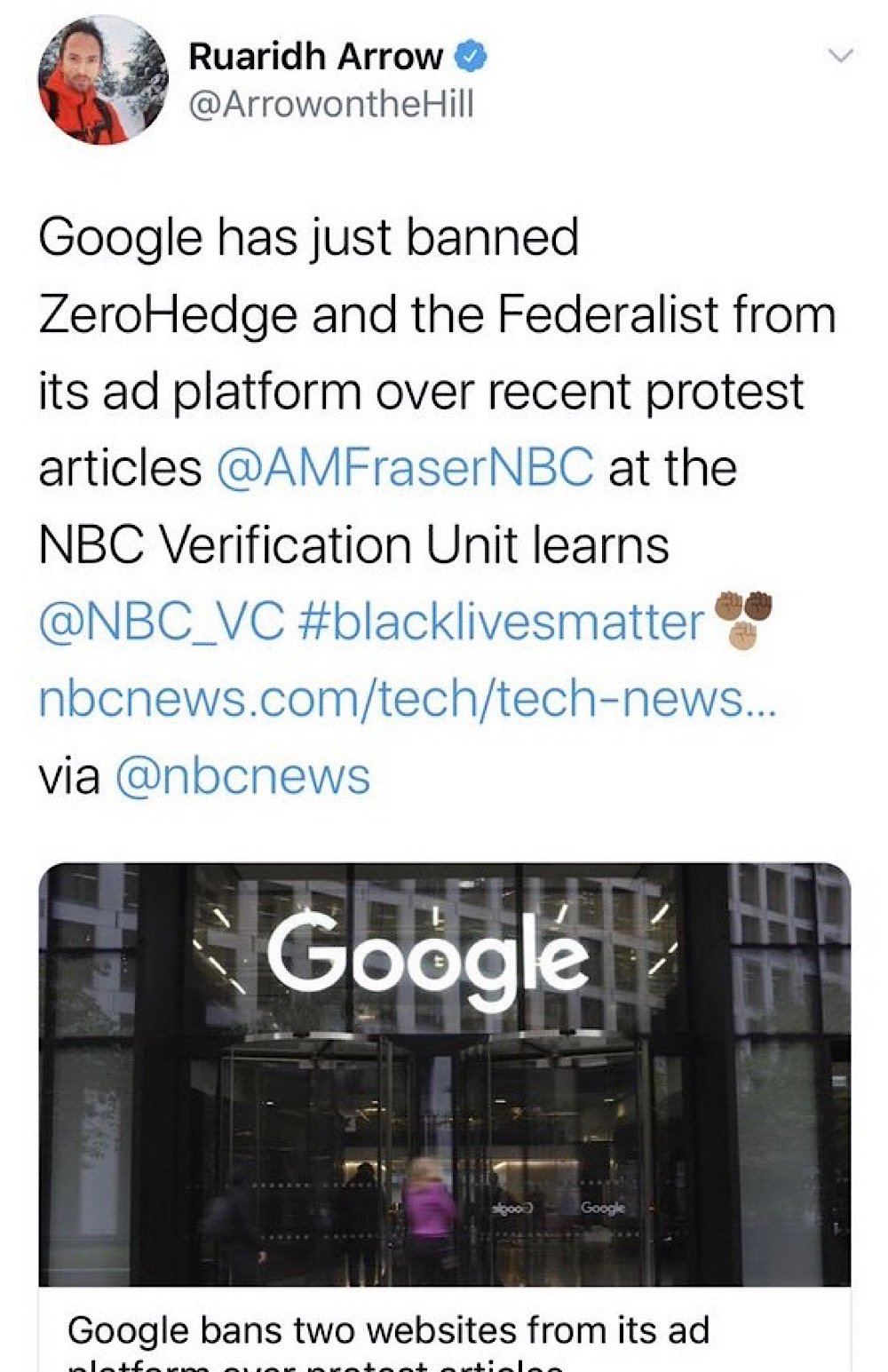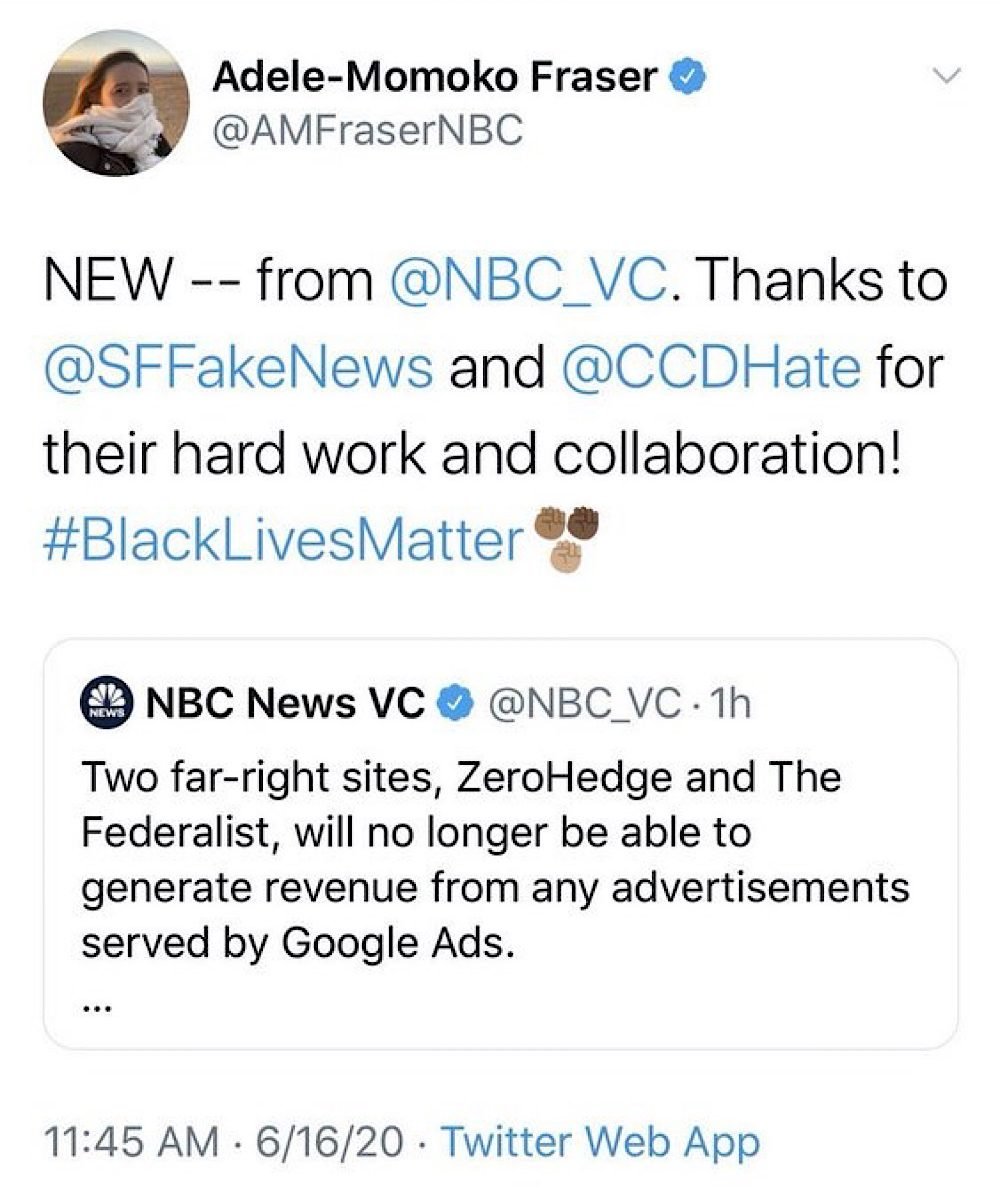 Both tweets have now been deleted and Arrow has since claimed that the hashtag was included in the tweets because "the story concerned that movement – this was not an indication of support for it and has now been deleted for clarity."
The actions of the pressure group CCDH, which provided the research that was ultimately presented to Google by NBC News, are also being criticized for various reasons.
According to the CCDH campaign Stop Funding Fake News, this research was also presented to Google by UK Member of Parliament (MP) Kevin Brennan who is a Select Committee Member of the Department for Digital, Culture, Media, and Sport (DCMS) – a branch of the UK government which was responsible for the controversial Online Harms White Paper that proposes internet controls to combat "fake news" and "trolling."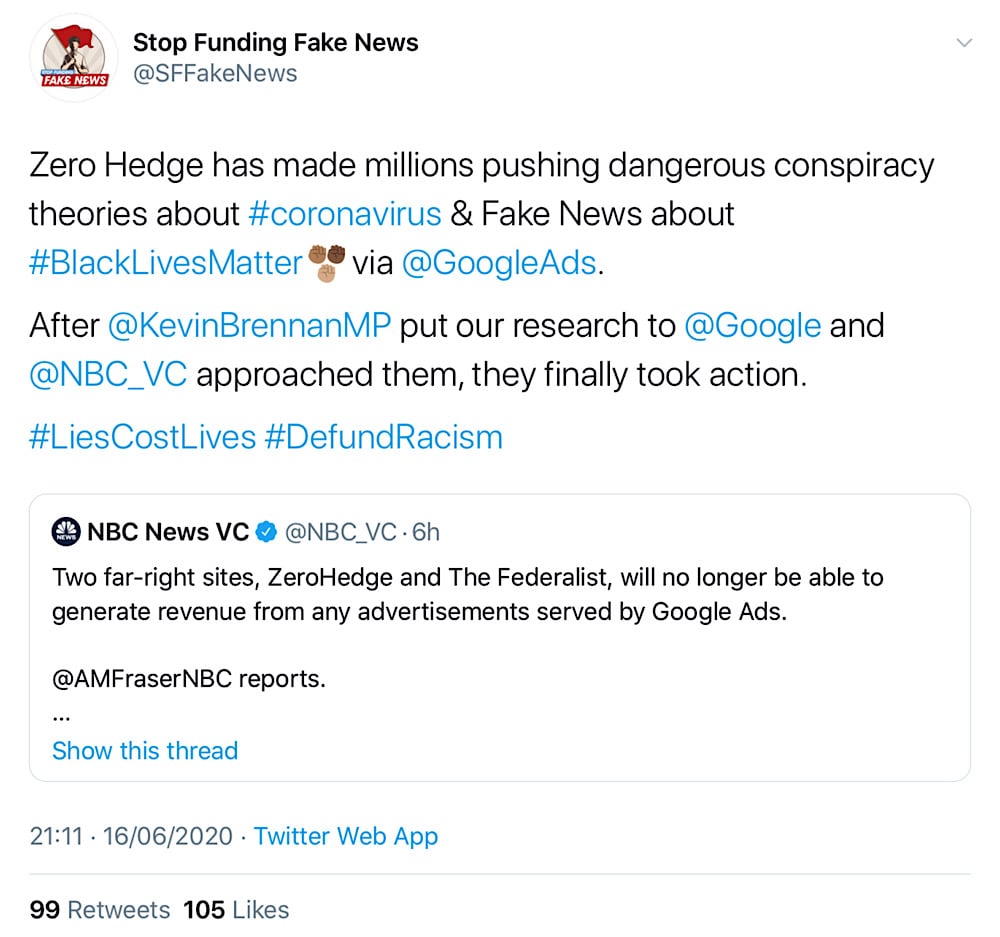 So not only is NBC News collaborating with this pressure group to push Google to strip away the ad revenue of independent competitors but a UK politician who is part of a UK government branch that is pushing for internet censorship is also encouraging a US company to defund an independent US publisher.
This also isn't the first time CCDH has pushed the tech giants to take action against an independent media personality.
Before author and public speaker David Icke was banned from Facebook and YouTube, CCDH sent a letter to these platforms calling for Icke to be removed.
After he was banned, CCDH celebrated the decision and called for anyone who talks about and promotes the work of Icke to also be banned.
And in yet another twist in the tale, The Federalist article that was cited by Stop Funding Fake News as part of its research, criticized several NBC News reporters and described how the media are lying about the riots.
Now just a few weeks after being criticized by The Federalist, NBC News is promoting an activist campaign that cites this same article as a reason for The Federalist to be booted from Google's ad program.