Facebook has shut down the main Page of UK author and speaker David Icke.
A screenshot published by Icke shows he received a message from Facebook that says: "Your Page has been unpublished for going against the Facebook Community Standards on health misinformation that could cause physical harm."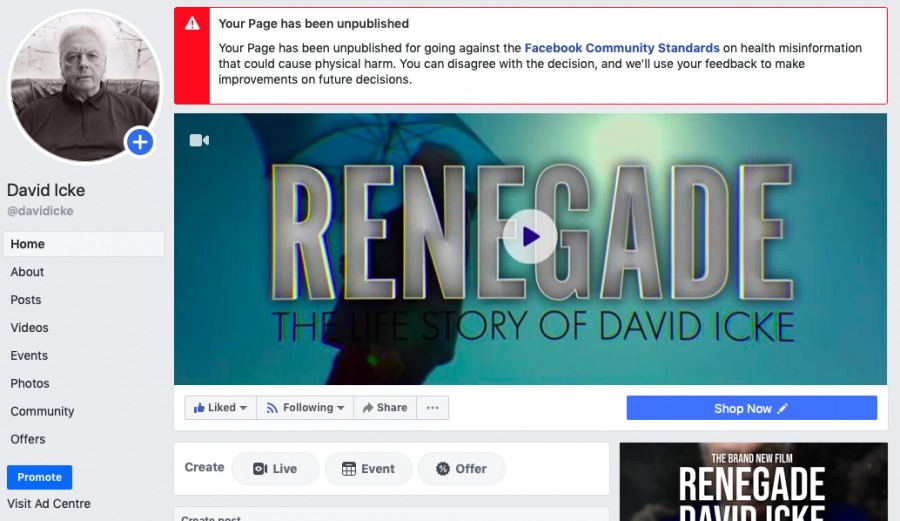 Facebook's move follows soon after Icke, who describes himself as a conspiracy researcher, has been questioning the narrative regarding COVID-19, and being vocal about the ways in which the pandemic and lockdowns are being used to erode civil liberties. 
A pressure group called Center for Countering Digital Hate (CCDH) has been campaigning against Icke more forcefully in recent months after saying that Icke's online audience had grown by just under 400,000 new subscribers and followers in the last month, as skepticism about COVID-19 and discontent with the lockdowns continues.
A recent letter addressed to big tech giants Facebook and YouTube has explicitly called for Ickle to be scrubbed from social media platforms.
The letter was written by the CCDH and promoted the use of the hashtag #deplatformicke.
"Since the outbreak of the coronavirus, Icke has used your platforms to spread dangerous conspiracy theories and medical misinformation to his audience of millions of followers and subscribers," the letter begins.
The letter also appears to accuse Icke of anti-Semitic conspiracies, but the brunt of the letter is focussed on the accusation that Icke is producing "misinformation", that viruses "cannot be transmitted through direct physical contact or intermediary objects; and that people with healthy immune systems are safe from contracting the virus."
"Videos of Icke making these claims have been viewed at least 30 million times," the letter says. "There is a moral duty on each of you to act…Please remove David Icke from your platforms."
The letter was even signed by the UK's former culture secretary, Damian Collins.
Icke has been a prominent public figure for decades, and his recent content about the coronavirus and the following erosion of civil liberties, as well as the increased surveillance and censorship that has emerged as a result, has been popular online.
Facebook deleting Icke's Page isn't the first time that Icke has been connected to coronavirus-related censorship. 
An interview with Icke, conducted by London Real's Brian Rose, was scrubbed from YouTube, after it went viral on the platform, leading to the creation of new digital infrastructure that's not controlled by Big Tech giants.
Rose also said that Facebook banned him from advertising on the platform following the interview, something that he had been doing for several years.
London Live was also reprimanded by UK communications watchdog Ofcom for airing the interview with Icke.
Big Tech giants have a monopoly on the public conversation, and they're increasingly narrowing the window of what is allowed to be discussed on the platform.
In the US, after deleting the groups of those organizing protests about the lockdowns, Facebook CEO Mark Zuckerberg came out in support of the lockdown measures.
On YouTube, CEO Susan Wojcicki has said that she won't allow anything that goes against the word of the World Health Organization.