The British press is reporting that behind closed doors, the country's Home Office was pressuring the Information Commissioner's Office (ICO) to take a "favorable" stance towards the deployment of facial recognition tech mired in controversy.
The technology is sold by a private company, Facewatch, while the ICO is supposed to be an independent regulator.
But according to email correspondence the Observer had access to, the Home Office went on to effectively try to strong-arm the latter not to stand in the way of Facewatch's plans to deploy its surveillance camera devices across the country's stores – despite a huge public outcry even before these latest revelations.
The ICO became entangled in this budding political scandal because it was investigating Facewatch after these cameras started being put in stores.
Now emails show that the regulator received pretty much an open threat not to produce negative findings about Facewatch.
Otherwise, an email reads, Minister of State for Policing Chris Philp "would write to your (ICO) commissioner" – and that the only way to avoid "letting (Philp's involvement) take its course" was to act favorably toward the private business, branded by some as a "spy company."
But – "If you are about to do something imminently in Facewatch's favor then I should be able to head that off," the redacted email continued.
To make matters worse, the message, that has now earned Philp the title of "Facewatch lobbyist" from some quarters, arrived mere days after he, other top Home Office representatives and Facewatch held a meeting behind closed doors in early March.
Critics like MP David Davis noted that the British Parliament is yet to pass legislation that will make live facial recognition technology explicitly legal, and repeated the main points made by opponents: "Inbuilt biases and substantial risk to civil liberties."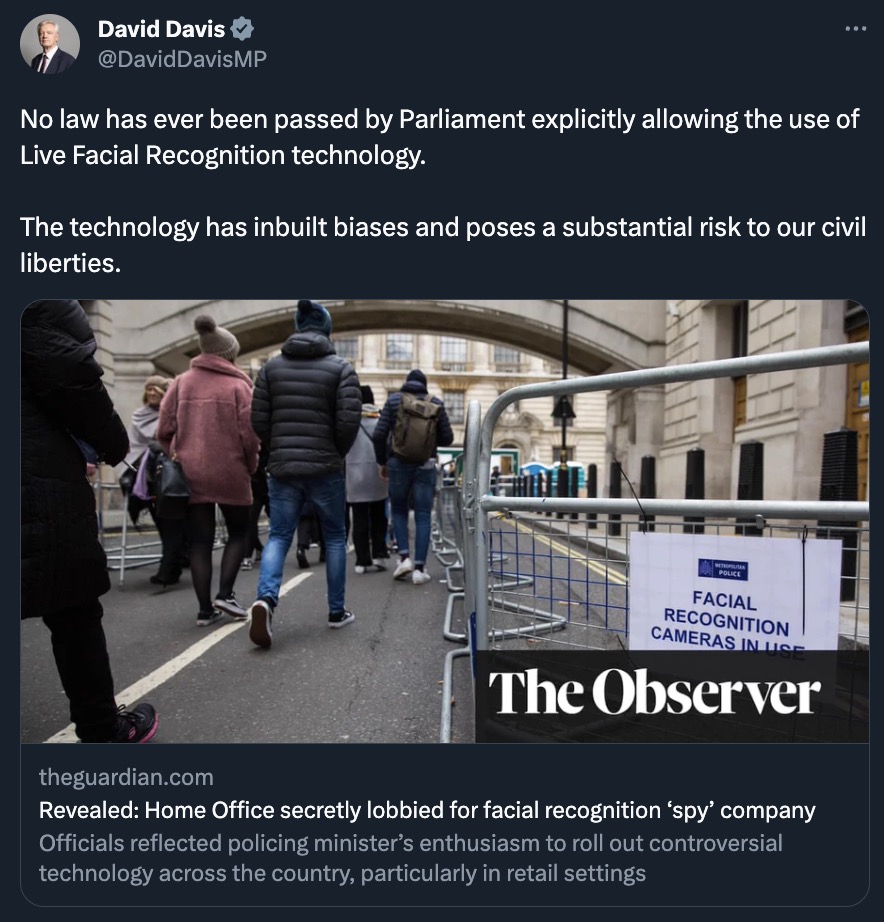 There have been legislative efforts in the EU to ban the use of this tech in public spaces, but in the UK, reports speak of the Home Office's "great enthusiasm" to deploy biometric surveillance, despite the fact the ICO sees this as an "ongoing risk," and considers such devices in stores a policy that may produce "still unknown effects."
The Home Office is now saying that Philp did not try to pressure the ICO, while the ICO says it won't be influenced by him.
But not everyone is convinced.
"It raises serious questions as to whether Philp and his officials influenced the regulator's notable leniency towards the company," said Big Brother Watch Advocacy Manager Mark Johnson, adding: "Correspondence from Philp to Facewatch makes for deeply uncomfortable reading and portrays the minister as more of a lobbyist for this facial recognition firm than a Minister of the Crown. It's disturbing that these heavily redacted letters reveal Philp was giving full-throated support to Facewatch, at the taxpayer's expense, both during the investigation and after the company was found to have breached a raft of privacy laws."