In a recent blog post titled "Addressing creator feedback and an update on my 2019 priorities," YouTube CEO Susan Wojcicki suggested that certain trade offs which have a negative impact on creators and their community are necessary in order to protect the community.
The first trade off she refers to is YouTube's decision to mass disable comments in response to a small number of predatory comments being left on some videos featuring minors. Many YouTube viewers and creators felt that this decision unfairly punished creators who were doing nothing wrong. However, Wojcicki says that the trade off needed to be made to protect children on YouTube:
"In February, we announced the suspension of comments on most YouTube videos that feature minors. We did this to protect children from predatory comments (with the exception of a small number of channels that have the manpower needed to actively moderate their comments and take additional steps to protect children). We know how vital comments are to creators. I hear from creators every day how meaningful comments are for engaging with fans, getting feedback, and helping guide future videos. I also know this change impacted so many creators who we know are innocent—from professional creators to young people or their parents who are posting videos. But in the end, that was a trade-off we made because we feel protecting children on our platform should be the most important guiding principle."
The second trade off Wojcicki talks about is temporarily breaking some of YouTube's features such as the search filtering feature after the mass shootings in Christchurch, New Zealand. Once again, she says this trade off which negatively impacted innocent creators was necessary:
"The following month, we took unprecedented action in the wake of the Christchurch tragedy. Our teams immediately sprung into action to remove the violative content. To counter the enormous volume of uploaded videos showing violent imagery, we chose to temporarily break some of our processes and features. That meant a number of videos that didn't actually violate community guidelines, including a small set of news and commentary, were swept up and kept off the platform (until appealed by its owners and reinstated). But given the stakes, it was another trade-off that we felt was necessary."
Next Wojcicki talks about how YouTube removed content in the wake of the mass shootings in Sri Lanka and how this content removal along with the measures that were put in place following the Christchurch tragedy led to a number of other measures being triggered:
"And with the devastating Sri Lankan attacks, our teams worked around the clock to make sure we removed violative content. In both cases, our systems triggered authoritative news and limited the spread of any hate and misinformation."
The "authoritative news" Wojcicki refers to is a number of mainstream news providers who are selected by YouTube as sources of "authoritative news." These providers often appear at the top of search results and are recommended more frequently on the site.
For example, the screenshot below shows the search results for "Venezuela" on YouTube in the wake elected leader Juan Guaidó attempting to take his rightful place with Government as "authoritative news" sources such as The Guardian and The Sun dominating the results.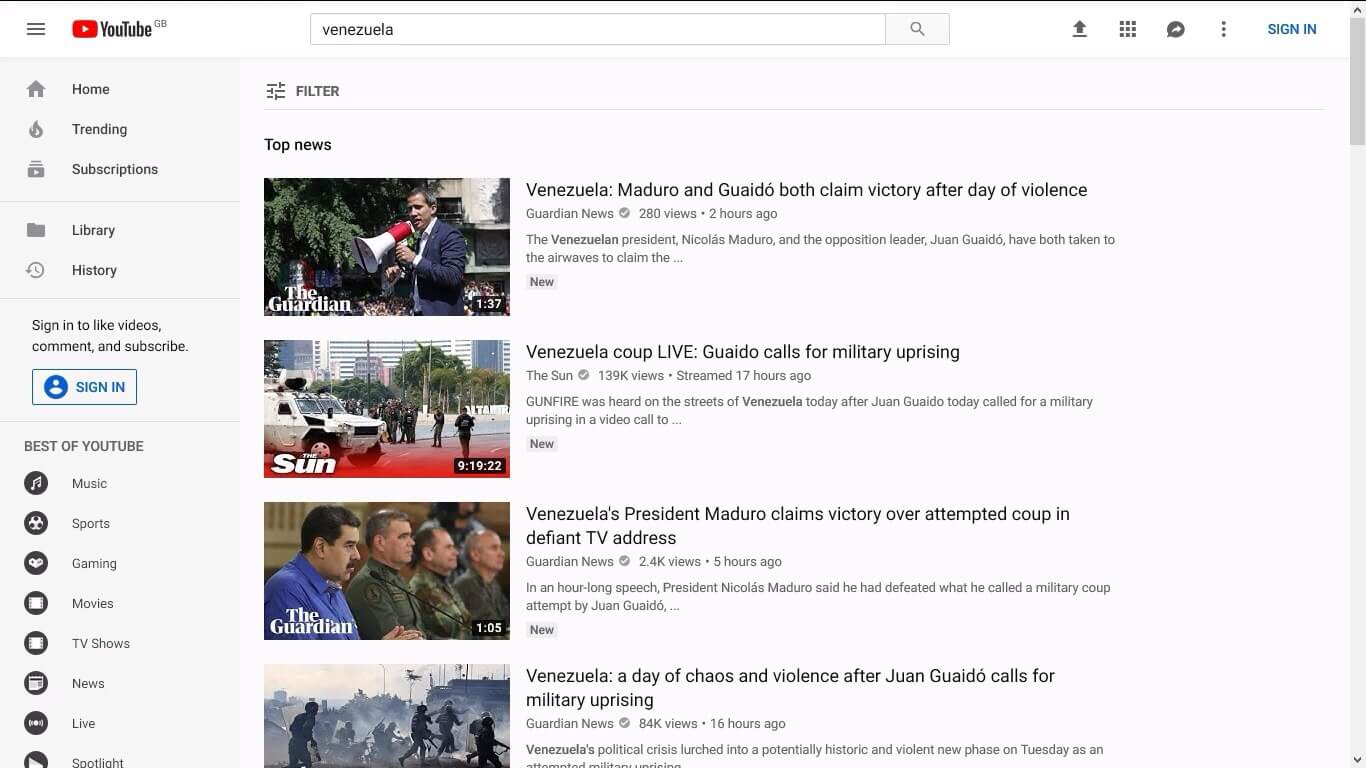 Many independent creators are critical of the use of "authoritative news" because they believe it gives mainstream media outlets an unfair advantage over independent creators, even when some independent creators generate far more views and engagement when covering the same news topics. Critics also highlight that these "authoritative news" sources aren't reliable and often spread fake news.
However, triggering "authoritative news" is yet another trade off Wojcicki has made to supposedly stop the spread of "hate" and "misinformation" on YouTube – two broad terms which Wojcicki never clearly defines.