A new leak from investigative reporting unit Project Veritas is suggesting that YouTube was using a blacklist to block certain terms during the 2018 Irish abortion referendum and the existence of this blacklist has been confirmed by two Breitbart News sources. YouTube has responded by talking about how it placed so-called "authoritative content" at the top of search results during the Irish abortion referendum but notably hasn't denied the existence of this blacklist.
The leaked document is titled "youtube_controversial_query_blacklist" and seemingly shows a list of terms that were blocked from YouTube search during the May 2018 referendum to repeal the 8th Amendment in Ireland – an amendment which banned abortions but was repealed after the referendum with 66% voting "Yes" for the repeal. The terms on this blacklist include "abortion is wrong," "unrestricted abortion," and "pro-life."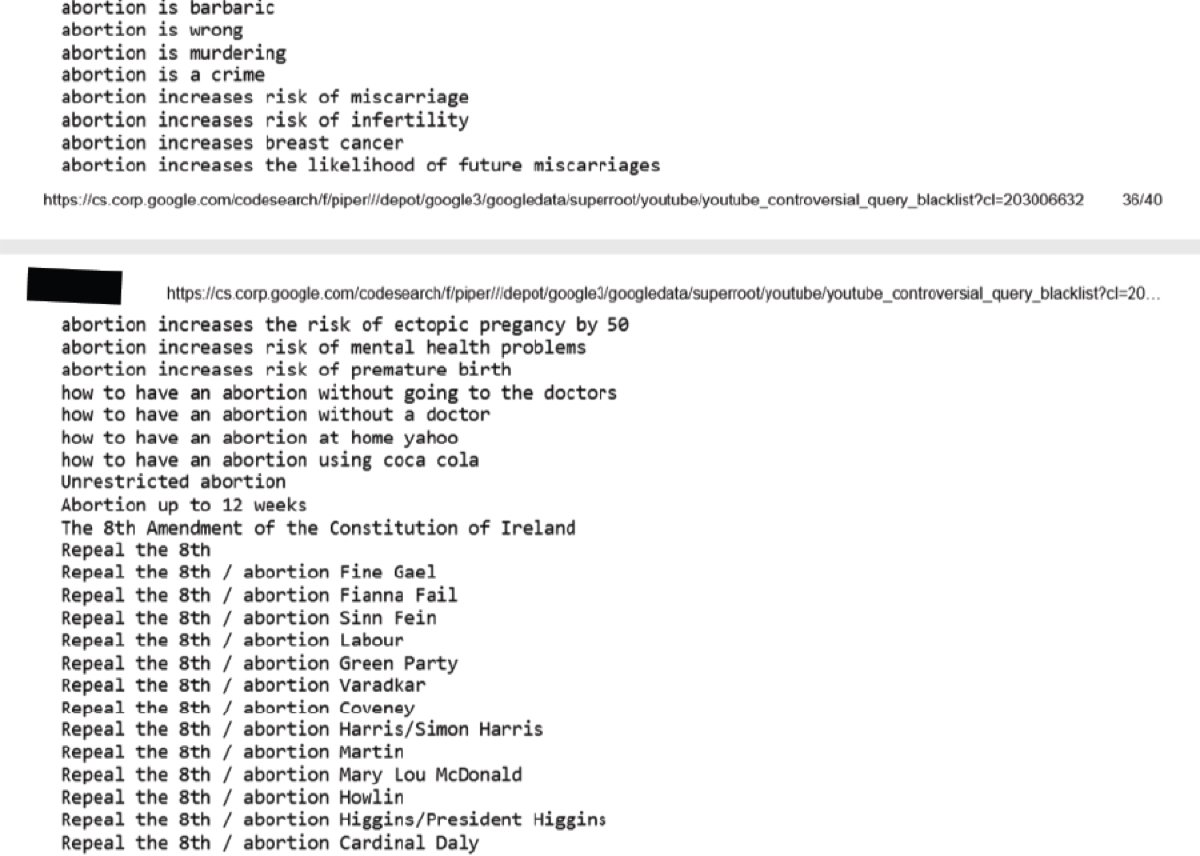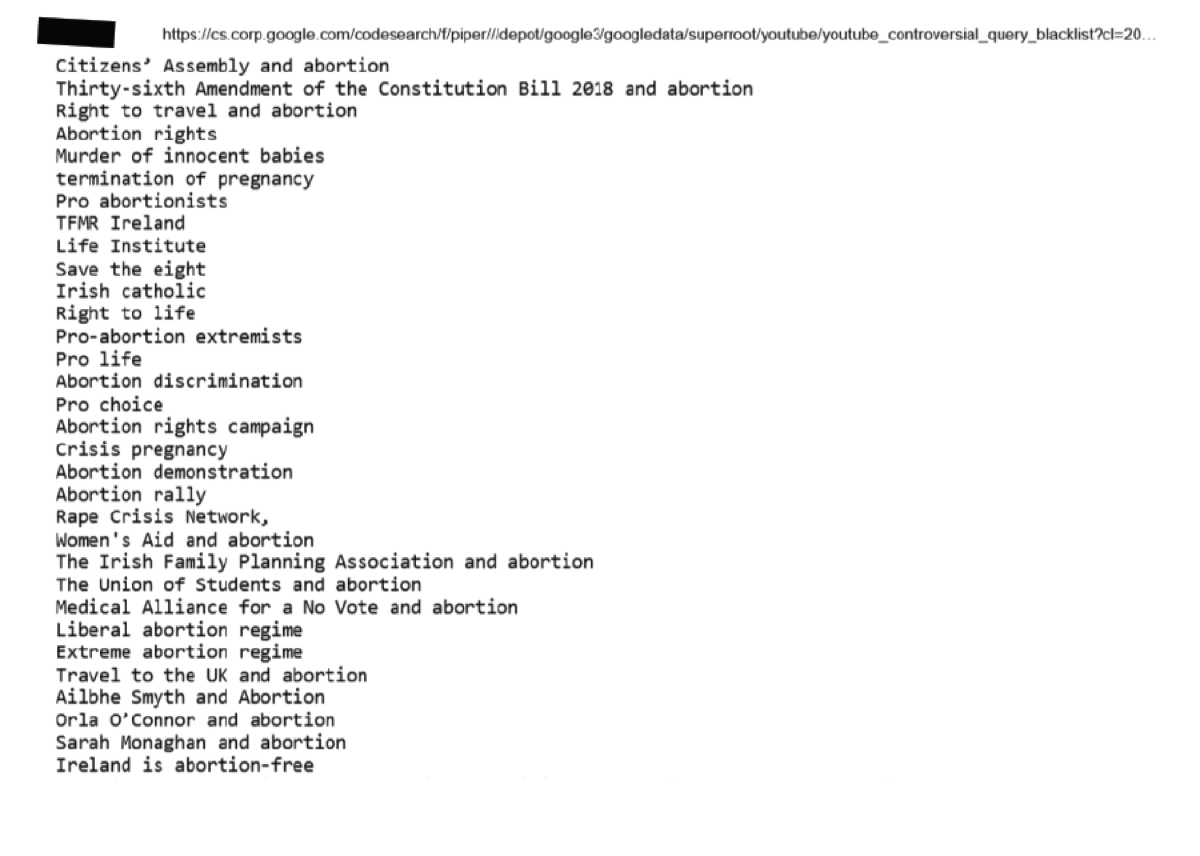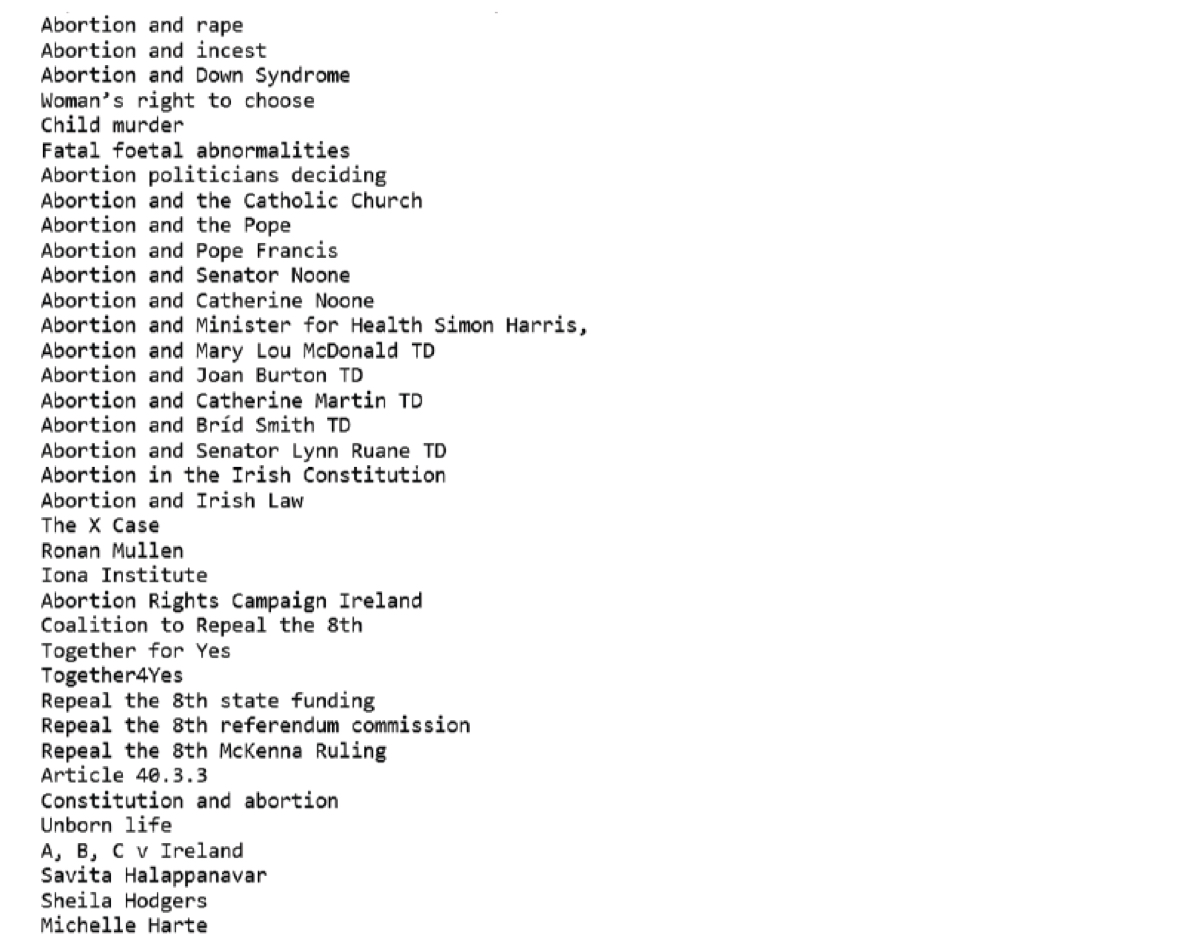 Breitbart News originally reported on the existence of this blacklist in January 2019 so this new leak to Project Veritas corroborates that original reporting. After the publication of the Project Veritas leak, a second source who is a former Google software engineer reached out to Breitbart News and confirmed that YouTube added 120 abortion entries to a search blacklist on May 17, many of which were terms shown in the document leaked to Project Veritas.
YouTube provided the following statement to Breitbart News in the wake of the Project Veritas leaks which notably does not deny the existence of this blacklist:
"In the midst of the Irish referendum on abortion, our systems brought authoritative content to the top of our search results for abortion-related queries. This happened for both pro-choice and pro-life queries, there was no distinction."
YouTube's statement is misleading because it's written in a way that suggests presenting "authoritative content" at the top of search results gives equal representation to both sides of the abortion argument. However, "authoritative content" comes from YouTube's so-called "authoritative sources" which primarily present pro-abortion arguments. This means pro-life topics are often covered less favorably than pro-abortion topics by these supposedly "authoritative sources." The end result is that pro-abortion searches often return content from these outlets supporting the idea while pro-life searches often return content from these outlets arguing against the idea. Overall, this means that the content people see when they search for pro-abortion or pro-life content is heavily skewed against the pro-life argument.
This leaked document comes just a few days after other Project Veritas investigative reports and leaks have revealed that Google, which owns YouTube, plans to prevent a "Trump situation" in 2020 and employees inside the company refer to Ben Shapiro, Jordan Peterson, and PragerU as "Nazis."
While YouTube and Google's public statements continue to argue that they have no political bias and do not discriminate between different viewpoints, these leaked documents and investigative reports say otherwise.