Kickboxer and self-help coach Andrew Tate has joined free speech video sharing platform Rumble after he was recently mass deplatformed by all of the major Big Tech platforms.
Facebook, Instagram, YouTube, and TikTok are some of the many platforms that banned Tate earlier this month after an online cancel campaign.
Tate responded to the mass deplatforming by joining Rumble. His channel already has over 65,000 subscribers and his most popular video on the platform has racked up over 240,000 views.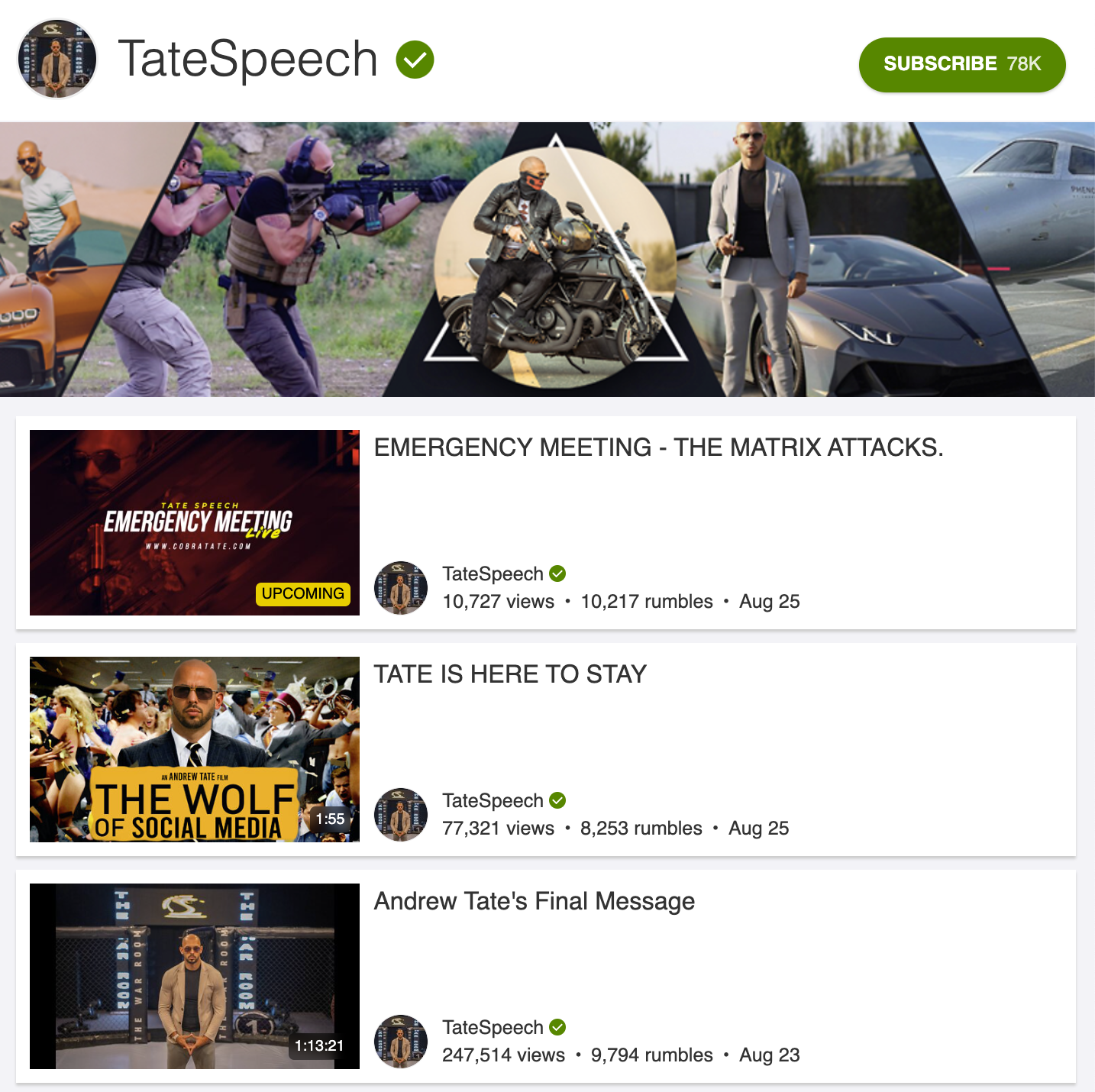 Videos from his "TateSpeech" YouTube channel dating back to July 2020 are also archived on Rumble.
And Rumble revealed that Tate plans to live stream exclusive content to Rumble.
"Rumble will hold the line for free speech, whether we agree or disagree with whats said," Rumble tweeted. "If you need earmuffs, there are other platforms for that."
During a recent appearance on Tucker Carlson Today, Tate discussed Big Tech deplatforming him and praised Rumble for allowing him to post his content without censorship.
"You lose your Facebook, then your Instagram, then your Gmail, then your Discord, then your website hosting, then your domain name, then your payment processor, then your bank," Tate said."
Tate continued by stating that Big Tech banned him over a joke and told Tucker that he'd moved to Rumble because senior management promised he'd be allowed to make jokes.
"One of the reasons I've moved to Rumble…[is] because I've had long conversations with senior management there and they've promised that I can make jokes without being destroyed and annihilated which is quite refreshing," Tate said. "So I very much look forward to continuing my…legacy and continuing my work on Rumble… rumble.com/tatespeech. And I know for a fact that my young fans will come with me. And this is just the beginning of a…mass exodus away from the influence of control by tech companies."
Tate is one of many creators to embrace Rumble after facing Big Tech censorship. Others who have moved to the platform include lofi hip hop creator Lofi Girl, conservative commentator and comedian Steven Crowder, and former Congressman Dr. Ron Paul.
As creators move to Rumble, it has reported record growth and continued to introduce new features. Rumble reported 76% year-on-year growth in monthly active users for Q2 2022. And it recently launched its ad platform, Rumble Ads, in beta and introduced free live streaming for creators.