Less than a day after Facebook temporarily suspended conservative commentator Candace Owens, Breitbart News has revealed that the company has a secret internal list of "hate agents" and that Owens' name is on that list. The list is reportedly used to keep tabs on people and mark them for possible termination.
The report from Breitbart News, which includes screenshots and exclusive insights from a source who works at Facebook, says that the list of "hate agents" was first posted to an internal employee discussion group in April. The list includes prominent right-wing and alternative media figures who were recently banned from Facebook and was created in relation to the bans of numerous high profile figures earlier this month.
Owens is in a separate section of the list marked "extra credit" which reportedly refers to people that Facebook has not yet banned but plans to investigate for potential "hate speech" and may ban.
Breitbart News says that a Facebook spokesperson confirmed that this "hate figures" list exists and did not deny that Owens is listed but believes she has not yet been investigated.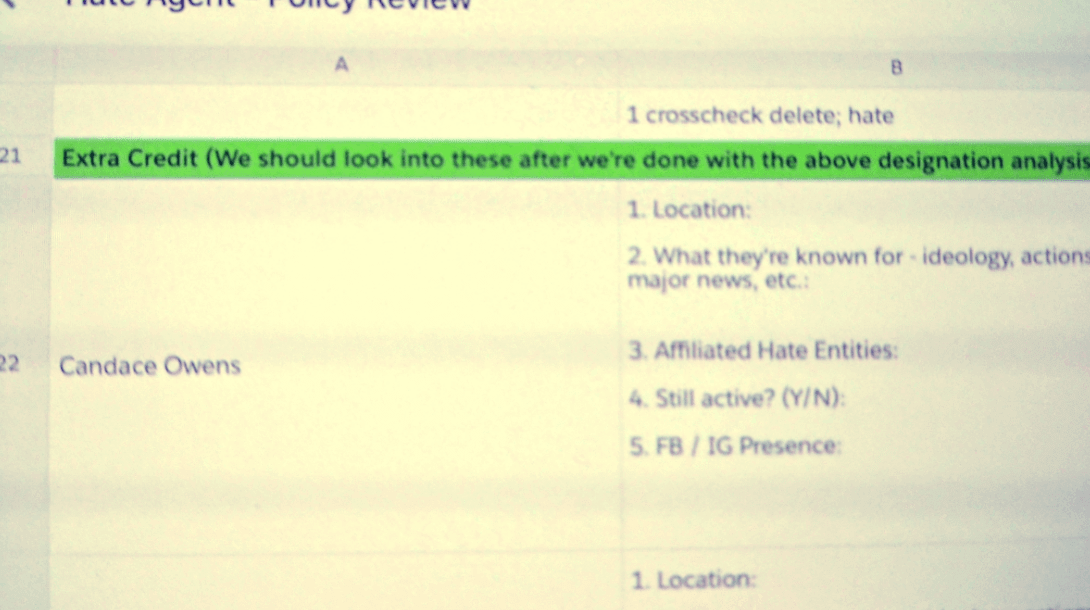 The "extra credit" section of the list featuring Owens' says: "We should look into these after we're done with the above designation analysis." It also lists the following five points which appear to be the pieces of information Facebook will gather on Owens' and other people in the "extra credit" section when they're investigated:
Location
What they're known for – ideology, actions, major news, etc
Affiliated Hate Entities
Still active? (Y/N)
FB/IG Presence
Breitbart News was sent this story on the same day that Owens had a post talking about poverty statistics temporarily taken down by Facebook.
It also follows similar leaks from Project Veritas earlier this year which showed that Facebook is throttling live videos on some conservative pages and taking other punitive measures against right-leaning accounts.