A copyright lawsuit filed by several record labels, including Sony, against YouTube rippers is in the discovery process, where the plaintiffs are demanding logs of users location and content downloaded. The operators of the sites claim to not keep such logs, but could be forced by the court to begin doing so if companies like Sony get their way.
Record labels, especially big ones, see YouTube rippers as a major threat, as they allow users to "own" their music without buying or streaming it. To fight this threat they have taken several measures, including taking site operators to court.
In 2018, several major record labels, including Sony, Universal, and Warner Bros, sued Tofig Kurbanov, the operator of two popular YouTube rippers FLVTO.biz and 2conv.com. The plaintiffs had hoped for a quick case, where the court would order the immediate shut down of the sites for copyright infringement. However, Kurbanov fought back.
He started by arguing that a US court had no jurisdiction over a foreign site and that the site is operated and hosted in Russia.
However, in March a federal court in Virginia ruled that Kurbanov has to fight the piracy allegations.
Now, the case is in the discovery process.
As part of discovery, the record labels requested documentation from the YouTube ripping sites showing, among other things, what content was downloaded, and the location of the users.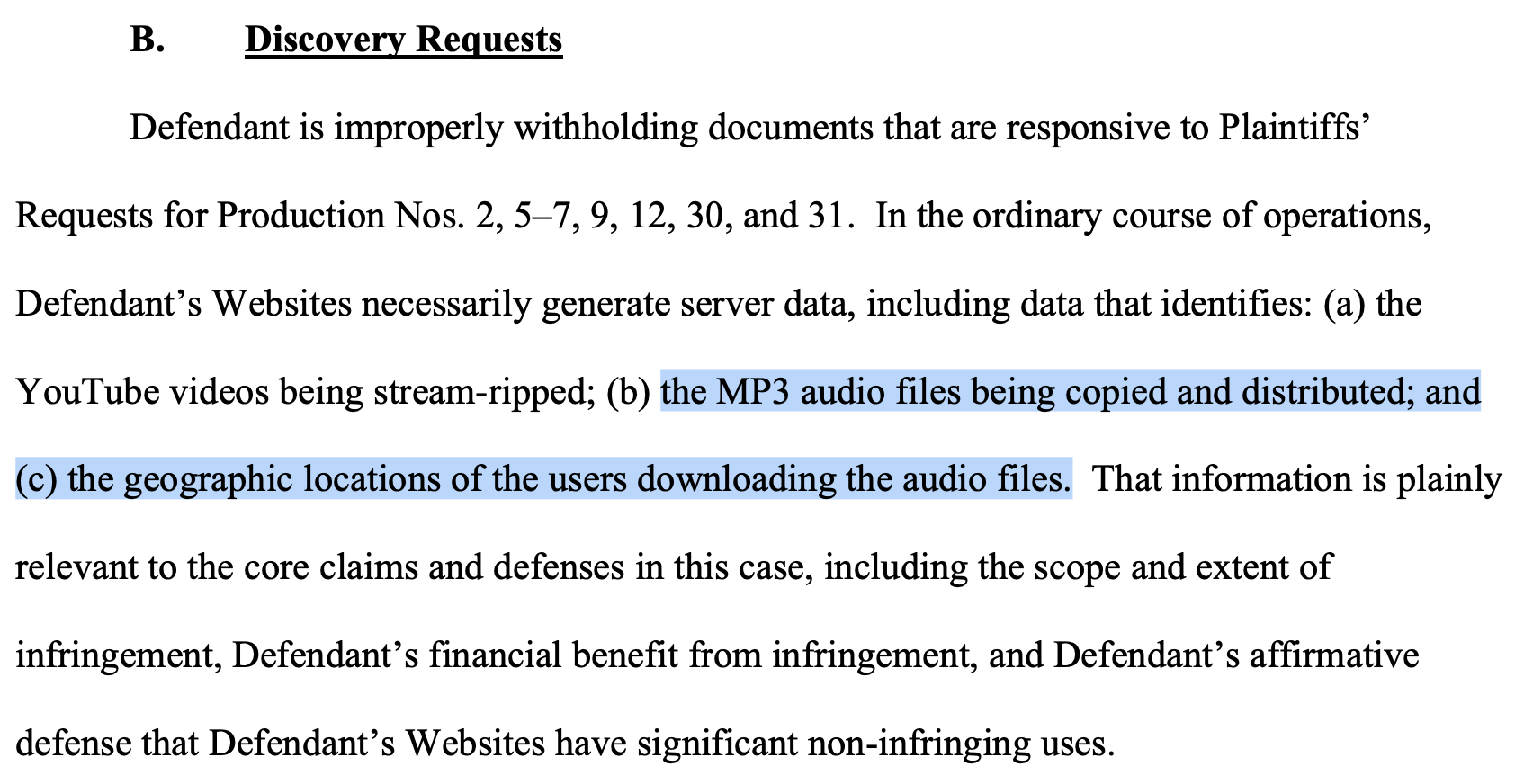 We obtained a copy of the requests for you here.
Most of the information the labels are demanding could easily be retrieved from server log files, which the site operator claims he does not store.
The labels filed a request for a court order compelling the sites to start logging and hand over the log files.
"In the ordinary course of operations, Defendant's Websites necessarily generate server data, including data that identifies: (a) the YouTube videos being stream-ripped; (b) the MP3 audio files being copied and distributed; and (c) the geographic locations of the users downloading the audio files," they wrote in the court filing.
"Respectfully, the Court should order Defendant to preserve and produce this key evidence."
The labels further argued that the information they need already exists, only the site operator has chosen not to log it:
"The problem is that Defendant has configured his server software to turn the logging function off — thus, continually overwriting important data that Plaintiffs explicitly requested in discovery."