Rotten Tomatoes is a popular US website aggregating reviews for TV and film content – and any many visitors still, to this very day, see it as an agnostic platform, permeated simply by the good sense, faith, and truthful judgment and fair information provided by its users.
Pretty much many people see it today such as it was in 1998 when it was just a modest startup.
But rest assured, Rotten Tomatoes is no longer a mom-and-pop shop – because as of 2016, it has been owned by Comcast's Fandango – a ticketing company.
With that in mind, let's take a look at what's happening right now. It seems to be that Rotten Tomatoes scores for CW's Batwoman aren't good at all in terms of viewer ratings.
Many have suspected that a lesbian superhero, one "Ruby Rose," might be the reason why critics, and Rotten Tomatoes scores by extension, are giving the movie a leg-up amid the glowing reviews.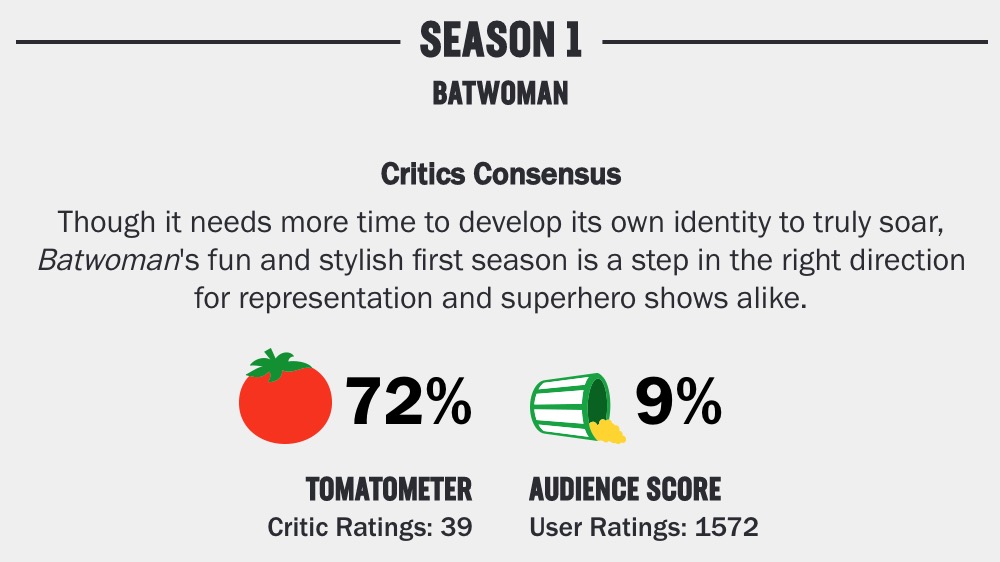 Then again, there's the ordinary folk – that are meant to play an equal role in the Rotten Tomatoes ecosystem and, in many ways, bypass the need for critics.
However, even with the critics showering the show with praise, Warner Brothers have decided to remove all of the previous trailers for the show and replace them with new ones. The studio's original trailer, released back in May, is now no longer available – as it has apparently been shielded from the internet's hosting reaction by obscuring it from the onslaught of negative comments and dislikes.
If you now try to search the title of the video on YouTube you'll only find videos from users reacting to the trailer instead of CW's original trailer, with many accusing the franchise of engaging in a spot of social justice warrior bias; based, it seems, largely on the gender of the movie's heroes.
At the time of writing, if you visit the Rotten Tomatoes page you'll see that the first season of Batwoman currently has a 72% fresh score by the critics, while the user review score has a 9% rating, bolstering the case of critics taking part on the platform being activists pushing the narrative regardless of how bad the show is.
Another (in)sane theory might be that the entertainment industry simply thrives on conflict and drama – not only on-screen, but very much among its audiences – and therefore wouldn't mind at all pushing any of us "little people" against one another – especially as long as we generate clicks, and provide outraged comments on social platforms.