British evolutionary biologist, author, and world-renowned scientist, Richard Dawkins, had his 1996 Humanist of The Year award revoked over his recent tweet, which he argues was intended to inspire debate on transgender ideology.
"Regrettably, Richard Dawkins has over the past several years accumulated a history of making statements that use the guise of scientific discourse to demean marginalized groups, an approach antithetical to humanist values," the American Humanist Association (AHA) wrote in a statement announcing the decision.
"Consequently, the AHA Board has concluded that Richard Dawkins is no longer deserving of being honored by the AHA, and has voted to withdraw, effective immediately, the 1996 Humanist of the Year award," the AHA added.
The withdrawal of the award came days after Dawkins posted a tweet comparing transgender individuals to Rachel Dolezal, a white woman who heads a chapter of the NAACP. Though white, Dolezal said she identifies as black.
On April 10, Dawkins wrote:
"In 2015, Rachel Dolezal, a white chapter president of NAACP, was vilified for identifying as Black. Some men choose to identify as women, and some women choose to identify as men. You will be vilified if you deny that they literally are what they identify as.
"Discuss."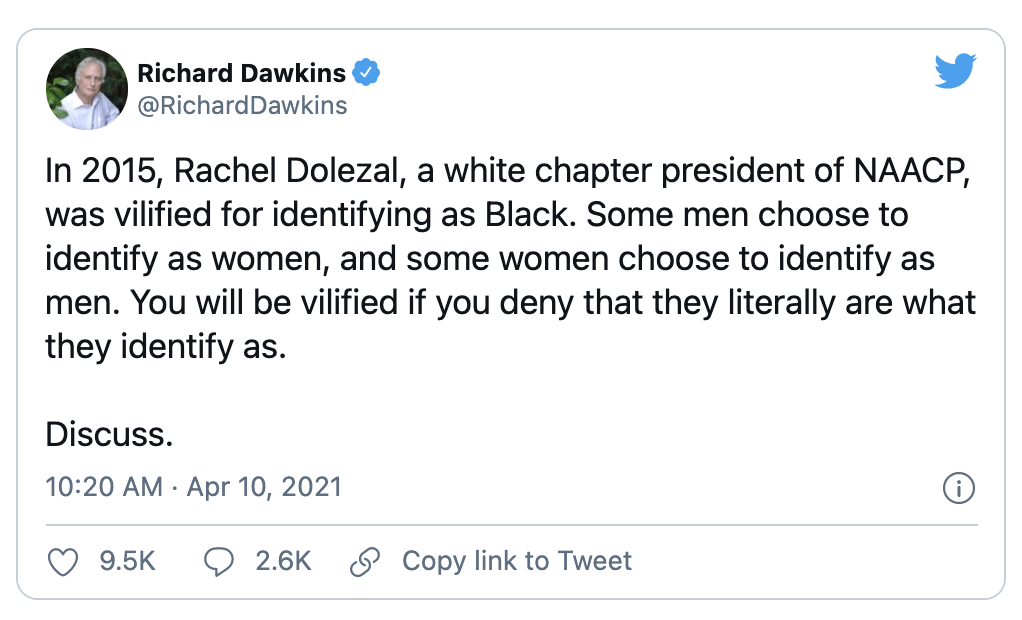 In previous tweets on the transgender issue, Dawkins tried to steer the debate to a science standpoint instead of the widely accepted "woke culture" standpoint.
"Is s trans woman a woman?" Purely Semantic. If you define by chromosomes, no. If by self-identification, yes. I call her "she" out of courtesy," Dawkins wrote back in 2015.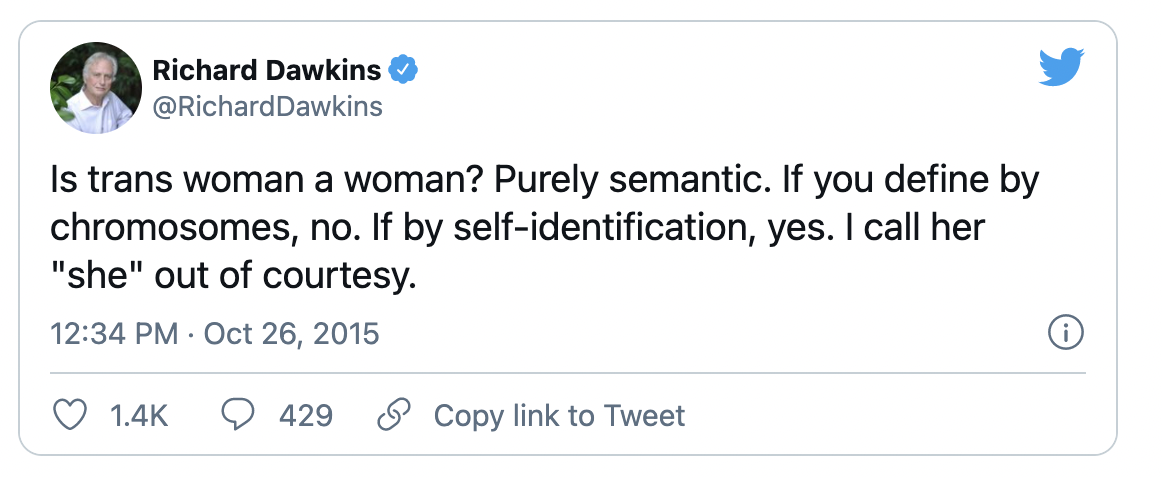 Despite the word "discuss," at the end of the tweet, suggesting it was a topic for discussion, not his opinion, he was heavily criticized by a mob on Twitter.
Regardless of the clarification and apology, the tweet still became the last straw for the AHA.
The revocation of his award was celebrated by some and labeled an attack on free speech and science by others.