Author J.K. Rowling's defense of the concept of biological sex and refusal to bow to the demands of activists has made her a persistent target of online outrage.
With the recent announcement of a new Harry Potter game, Hogwarts Legacy, and the recent release of Rowling's latest book, Troubled Blood, the online targeting of Rowling has intensified with news outlet Kotaku even going as far as branding her "transphobic."
But one of the most surprising sources to come out against Rowling and brand her "anti-trans" is the American Civil Liberties Union (ACLU) – a nonprofit that describes itself as "our nation's guardian of liberty, working daily in courts, legislatures and communities to defend and preserve the individual rights and liberties that the Constitution and laws of the United States guarantee everyone in this country."
Historically, the ACLU has been involved with many landmark First Amendment cases and defended unpopular people and groups on free speech grounds.
"We do not defend them because we agree with them; rather, we defend their right to free expression and free assembly," the ACLU states on its website. "Historically, the people whose opinions are the most controversial or extreme are the people whose rights are most often threatened."
Yet rather than defending Rowling's right to free expression, and pushing for open debate from both sides of the issue, the ACLU has strongly condemned her speech several times over the last few months.
In June, the ACLU tweeted a quote from Chase Strangio, a staff attorney for the ACLU and its Deputy Director for Transgender Justice with the ACLU's LGBT & HIV Project, that accused Rowling of engaging in "anti-trans screed."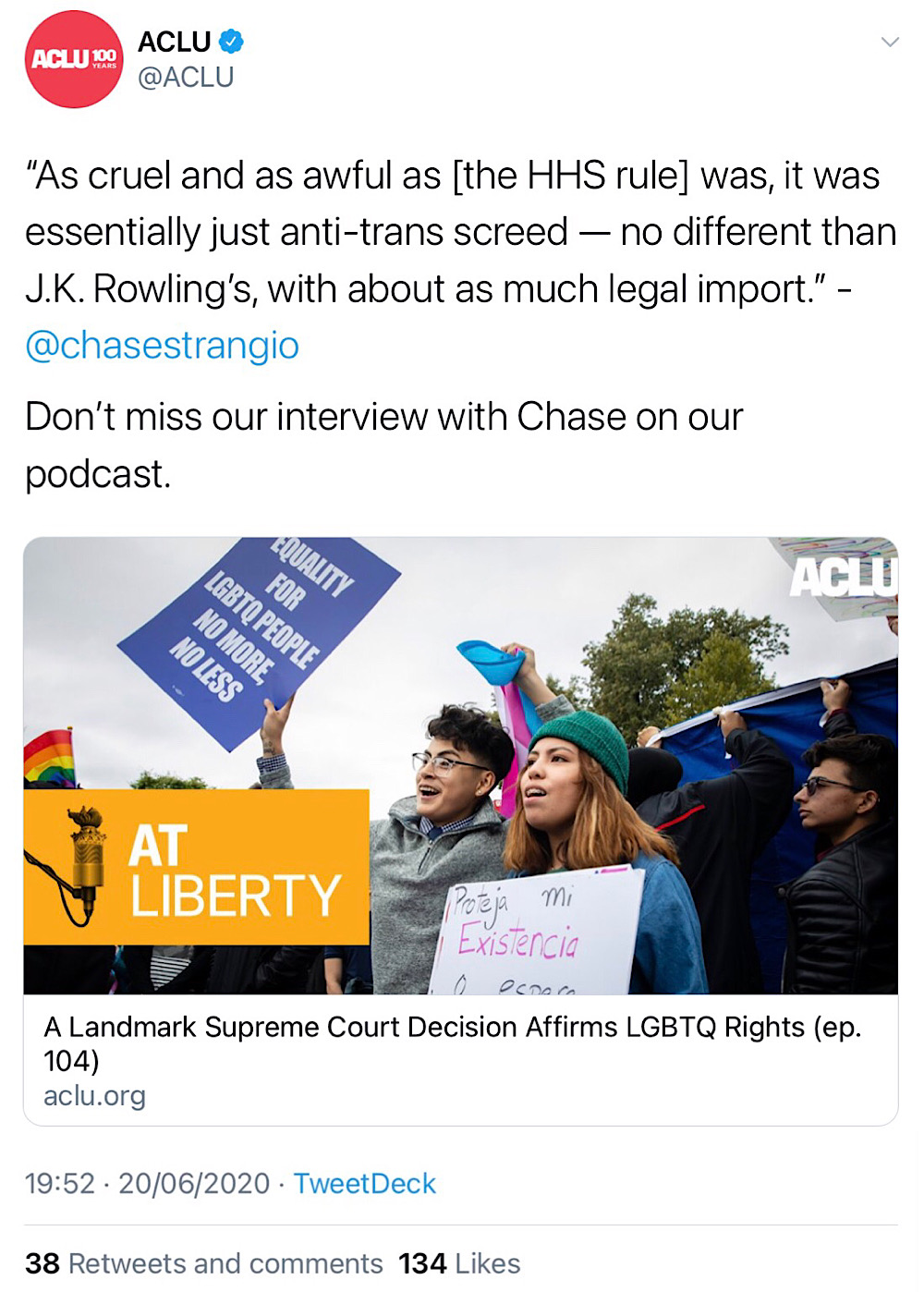 In July, Strangio branded Rowling "dangerous" and accused her of "feeding a genocidal impulse that already exists in government and within individuals."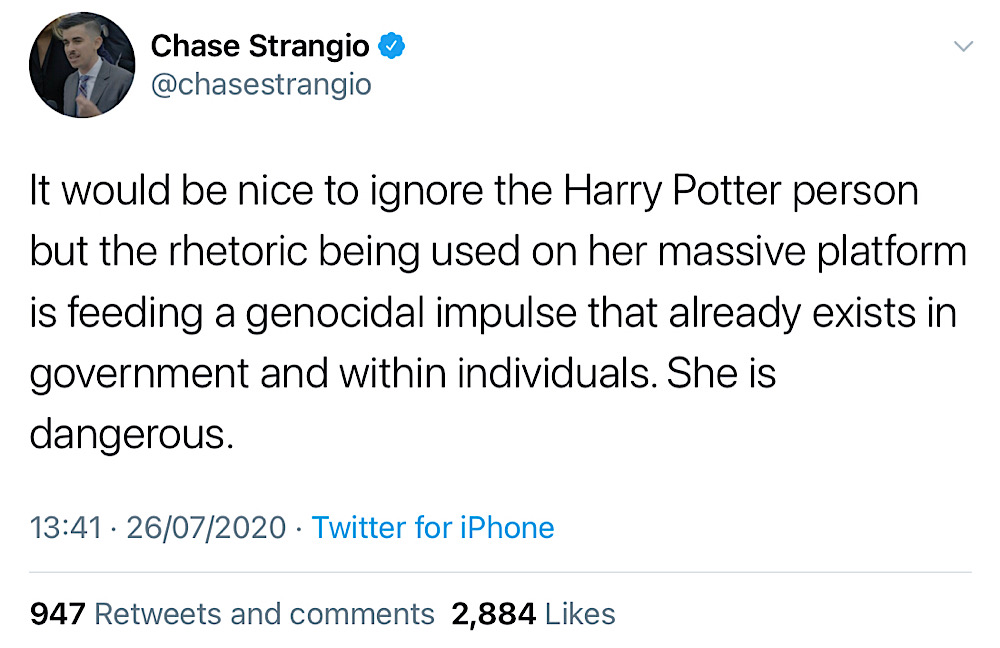 And earlier this week, in an apparent reference to Rowling, the ACLU tweeted:
"At least 21 transgender women have been murdered in the US this year.

Transmisogynistic violence is an epidemic, and yet instead of addressing a system that perpetuates this violence, our community is being attacked by politicians, by lawmakers, and yes, by famous authors.

Trans people belong. Trans people deserve to live and thrive.

Those attacking trans people will have to get through ALL of us."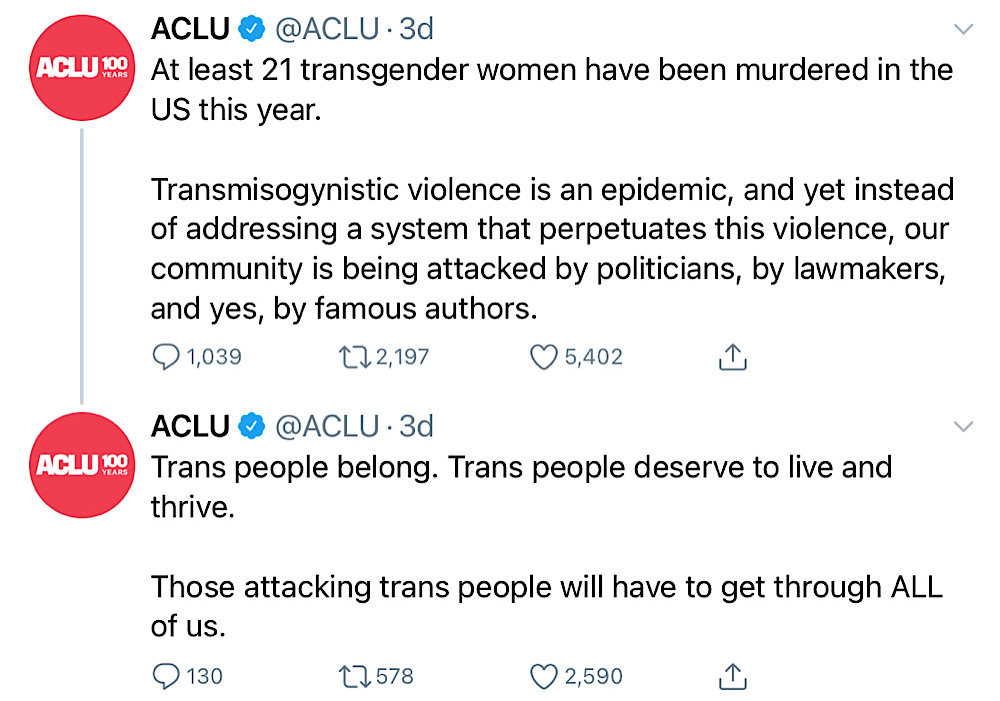 Not only do these recent statements seem antithetical to the ACLU's stated goal of defending individual rights and liberties but they're also in stark contrast to its previous defense of her work for most of the 2000s.
Multiple articles and press releases on the ACLU's website describe and condemn the censorship and criticism of Rowling's Harry Potter series of books.
For example, the Harry Potter series ranks at number seven on the ACLU's list of "The 100 Most Frequently Challenged Books of 1990-2000" and the censorship of Harry Potter books is featured prominently on the ACLU's "A History of Fighting Censorship" page.
In September 2002, the ACLU of Texas noted that Rowling's Harry Potter books were the top target of censors during the 2001-2002 school year and stated: "When they ban books, they censor ideas and stifle education."
15 years later, in September 2017, the ACLU was still pushing back against the censorship of Harry Potter books by noting that "on and off throughout the 2000s, the American Library Association has named the popular and important @jk_rowling series the MOST banned" and that "you can't keep a good book down."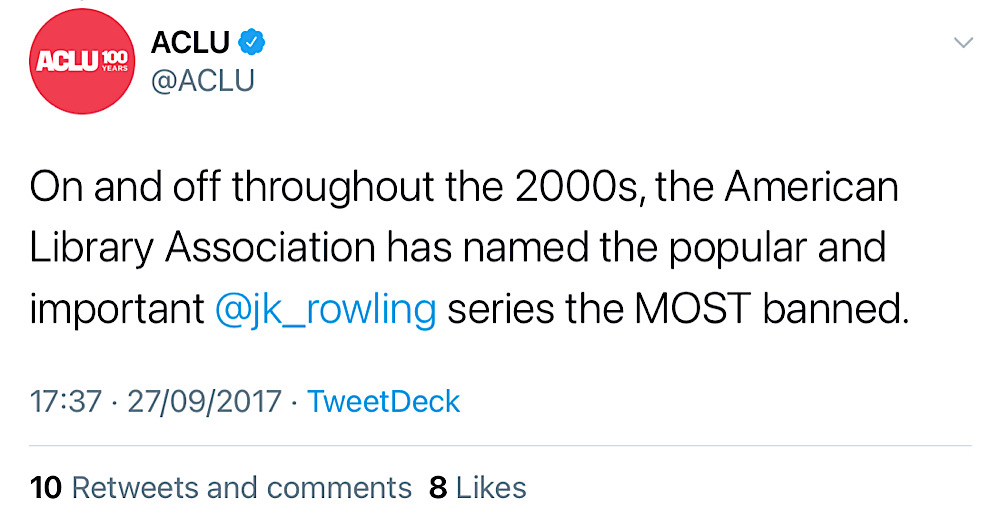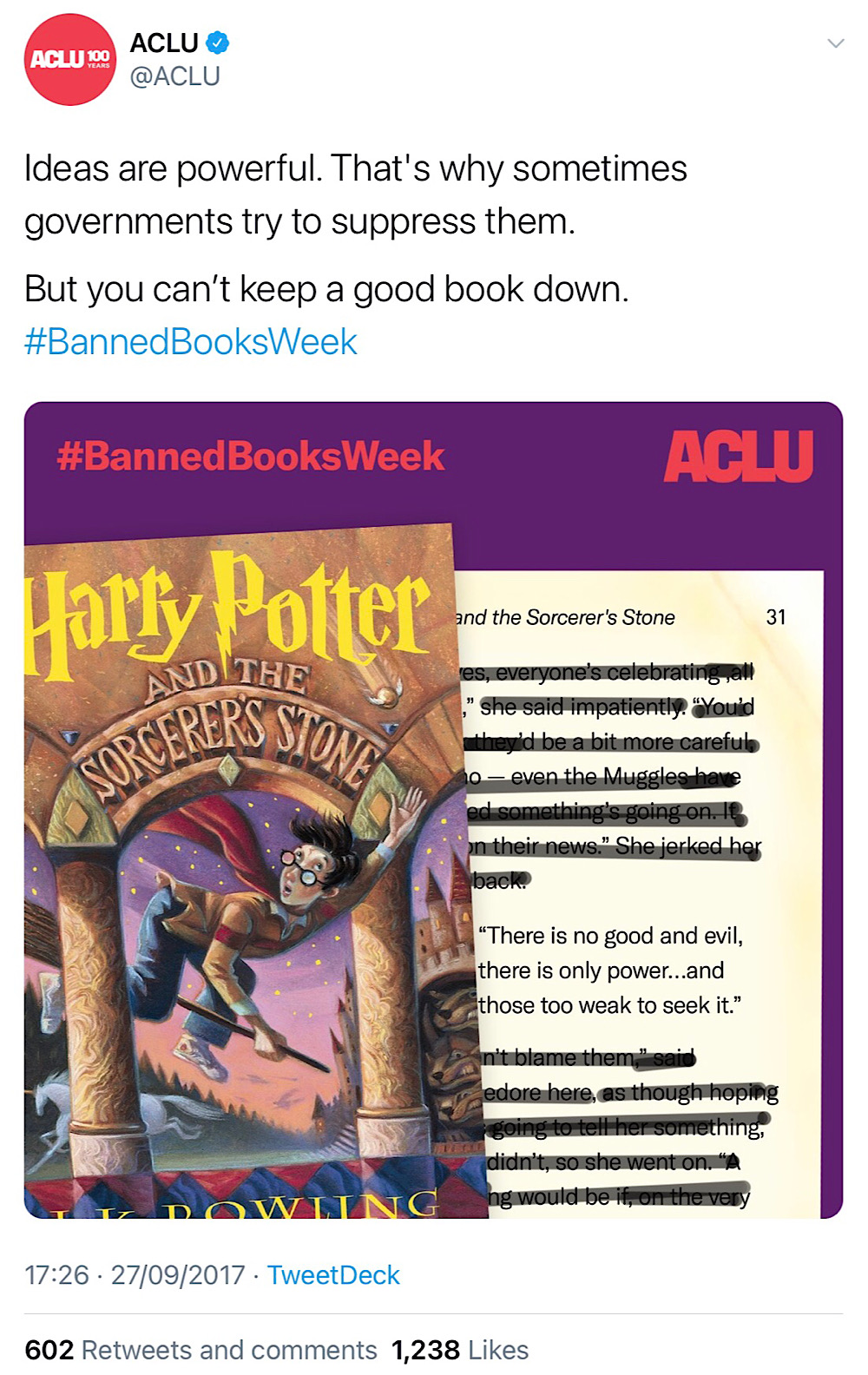 While the ACLU is one of many institutions to turn against Rowling and embrace the ideology of intersectional activists, none of the other institutions have the same history of pushing back against the censorship of her work for more than a decade or of defending the of those they don't agree with.
The ACLU's condemnation of Rowling is one of several recent examples where representatives of the nonprofit have condemned speech rather than defending it, raising concerns that the ACLU is straying away from supporting the free speech rights of individuals.
Earlier this month, Jordan Thompson, a racial justice organizer for the ACLU of New Hampshire, condemned New Hampshire Representative James Spillane after he posted a joke about the Black Lives Matter Movement on Facebook and claimed that the joke showed "a total lack of decency and respect for Black lives."
This month ACLU associate Samuel Crankshaw also joined the online backlash against the news that Transylvania University had admitted Nick Sandmann, a student who was falsely accused by several mainstream media outlets of taunting a Native American activist.
Legal scholar Jonathan Turley wrote that while the Crankshaw's comments weren't a statement from the ACLU, they reflect "the growing concern over the new direction of the ACLU and the shift away from neutrality in the support of free speech rights."