US Attorney General Merrick Garland is accused of attempting to hide the fact that former Facebook lawyer Susan Davis is a part of this administration's Department of Justice (DoJ).
Senator Josh Hawley said it has now come to light that a lawyer formerly representing Facebook is "running Justice Department policy," and wonders why Garland has been hiding it.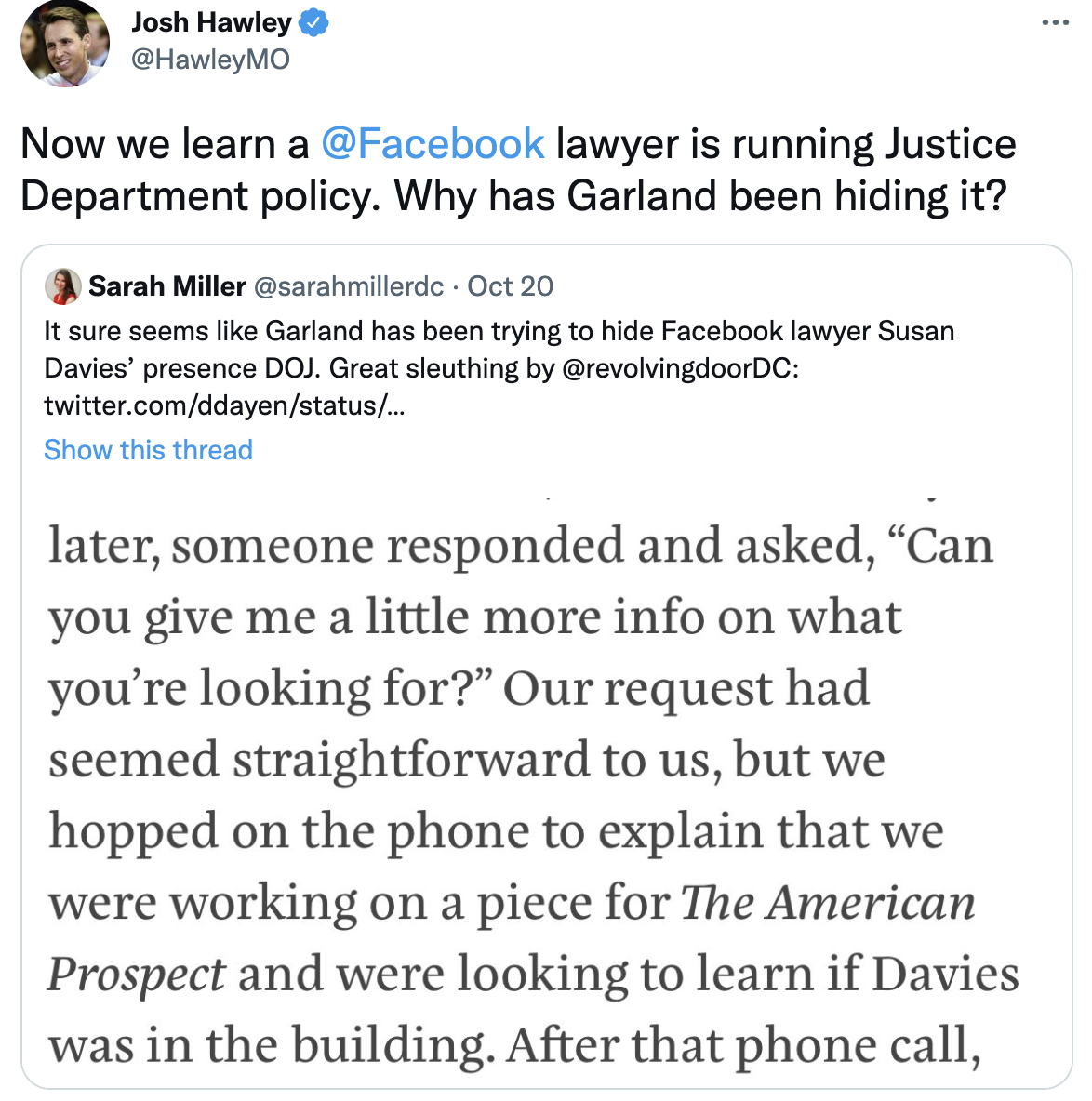 The tweet also contains a screenshot of a part of an article that appeared on The American Prospect, penned by two Revolving Door Project writers, that deals with this revelation.
The Center for Economic and Policy Research's Revolving Door Project scrutinizes executive branch appointees to make sure they serve public interest instead of advance corporate one for personal gain, and this time they looked at Garland as one of key figures in the Biden White House, at the same time asking the question, "Who's really running justice."
Garland is said to be know for favoring "Biglaw" figures who work with Big Tech, and with that in mind, it doesn't seem surprising that Susan Davis, formerly of Kirkland & Ellis law firm – the largest in the world by revenue – in the past represented Facebook, and has since early September been in charge of DoJ's Office of Legal Policy (OLP).
As Davis awaits formal confirmation by the Senate, questions arise why the fact of her new significant role in the administration had been kept under wraps.
The Revolving Door Project authors seem baffled by this fact and are in search of some answers, including if there are other officials in key and highly influential positions who are unknown to the public, if this is Davis' first role with the DoJ – or if there had been more so far undisclosed work that she has done for the department, and perhaps crucially, "How is this secrecy even possible?"
The report further reveals that as early as on July 26, a query was sent to the Office of Public Affairs asking if Susan Davies works for the DoJ and in what capacity. "We followed up three more times over the course of two weeks, but never got an answer," they write.
The term "revolving door" is a phenomenon of highly positioned Big Tech and US administration employees swapping their government for corporate jobs, and vice versa.