On Wednesday, comedian and political media personality Alex Stein filed a lawsuit against Rep. Alexandria Ocasio-Cortez for blocking him on Twitter.
Congresswoman Ocasio-Cortez blocked Stein following an incident where he heckled her outside the US Capitol.
In the video, Stein referred to Ocasio-Cortez as his favorite "big booty Latina" as she entered the building on July 13, 2022.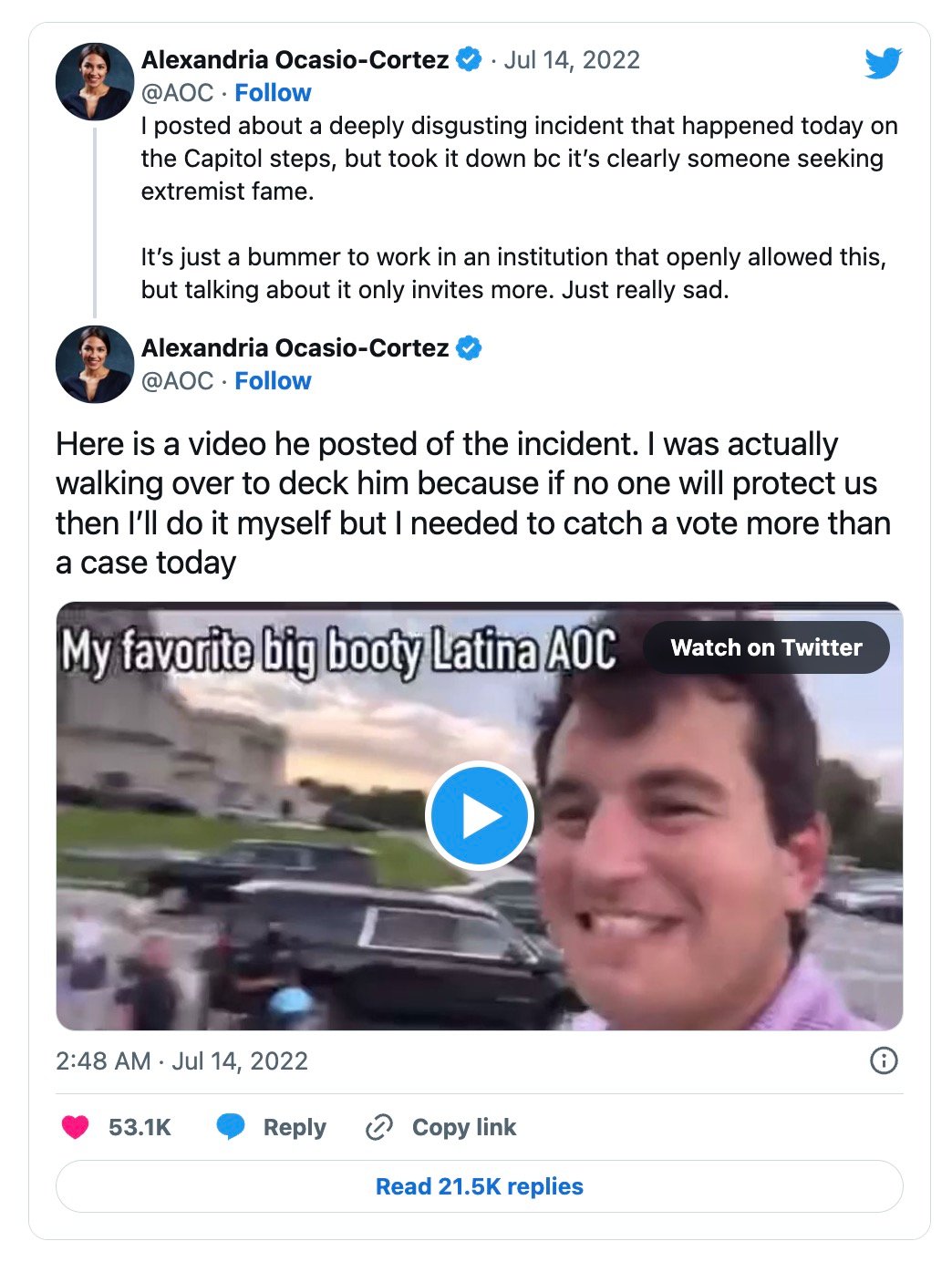 "She wants to kill babies but she's still beautiful. You look very beautiful in that dress. You look very sexy. Look at that booty on AOC," Stein said in the video. "Look how sexy she looks in that dress. Oooooh, I love it, AOC. Hot, hot, hot like a tamale."
Stein's lawsuit refers to a federal appeals court's decision that ruled against President Donald Trump, stating that he violated the constitutional rights of various individuals by blocking them on Twitter.
The First Amendment gives Americans the right to "petition the government for a redress of grievances" – even on social media, previous courts have ruled.
Congresswoman Ocasio-Cortez was involved in a similar case in November 2019, where former Brooklyn assemblyman Dov Hikind sued the politician after she blocked him on Twitter.
"I have reconsidered my decision to block Dov Hikind from my Twitter account. Mr. Hikind has a First Amendment right to express his views and should not be blocked for them," she announced at the time when the lawsuit was settled.
However, the following week, Ocasio-Cortez was still blocking critics on Twitter.
Stein is seeking a comparable resolution to the previous lawsuits and, even since those decisions, more similar cases have been decided with similar results, with there being some debate about whether or not a person is a constituent of the politician or even whether the person was blocked for political criticism.
Read more on that here.
"Mr. Stein has a constitutional right to access Ms. Cortez's Twitter account as part of vigorous public comment and criticism. Ms. Cortez's practice of blocking Twitter users she disagrees with is unconstitutional and this suit seeks to redress that wrong," Stein's complaint, which was filed in US District Court in Washington, D.C., said.
We obtained a copy of the complaint for you here.
"As the Supreme Court observed just a few years ago, social media platforms such as Twitter and Facebook provide 'perhaps the most powerful mechanisms available to a private citizen to make his or her voice heard' and is in effect, a 'vast democratic forum,'" the complaint argues, citing Packingham v. North Carolina.
"As demonstrated by Ms. Cortez's thousands of tweets and more than 13.4 million followers on her @AOC account, Twitter and social media empowers her to 'become a town crier with a voice that resonates farther than it could from any soapbox,'" the complaint argues. "Mr. Stein has a constitutional right to hear that 'voice.'"