There are many "conspiracy theories" out there – both online and across the mainstream media. But the QAnon movement, supported at least in part by 56% of Republican voters, is one that the media and some members of congress are particularly annoyed with.
The House of Representatives today almost unanimously voted to condemn QAnon supporters. While the resolution has no actual legal consequences and is mostly just for the political spectacle, congress thought it important enough to have a vote on.
Rep. Tom Malinowski brought the resolution to the House, co-sponsored by Republican Rep. Denver Riggleman.
"Conspiracy theories, just like this one, have fueled prejudice, terrorism, even genocide and today, social media is fanning the flames," Malinowski said on the House floor.
"This dangerous ideology is radicalizing violence at an alarming rate – yet, for far too long, Republicans have refused to denounce QAnon and its conspiracy theories," said House Speaker Nancy Pelosi in a statement after the vote.
"At the same time, social media platforms that have facilitated the rise of QAnon must be held accountable," she added.
The resolution, which was supported by 371 out of the 389 members present, not only "condemns QAnon and rejects the conspiracy theories it promotes" but also encourages law enforcement agencies to focus on the "crimes" resulting from the theories the movement supposedly promotes.
Malinowski, who is serving his first term in Congress, worked as the director of the Human Rights Watch between 2001 and 2013 and also the Obama and Clinton administration as a national security expert.
"If you've seen extra vitriol on my social media, here's why: the 'Q' persona dropped a statement targeting me, citing the discredited NRCC (GOP SuperPAC) attacks on me & my resolution condemning QAnon. My office has gotten 6 death threats since yesterday," Malinowski said earlier in the week.
However, as QAnon supporters are getting censored online, even for content that doesn't actually go against the terms of service of the platform (supporting QAnon is reason-enough to be censored, Big Tech giants are saying), there are some who are are concerned about the suppression of free speech that this crackdown is bringing.
The chamber's only Libertarian representative, Justin Amash, voted against the resolution.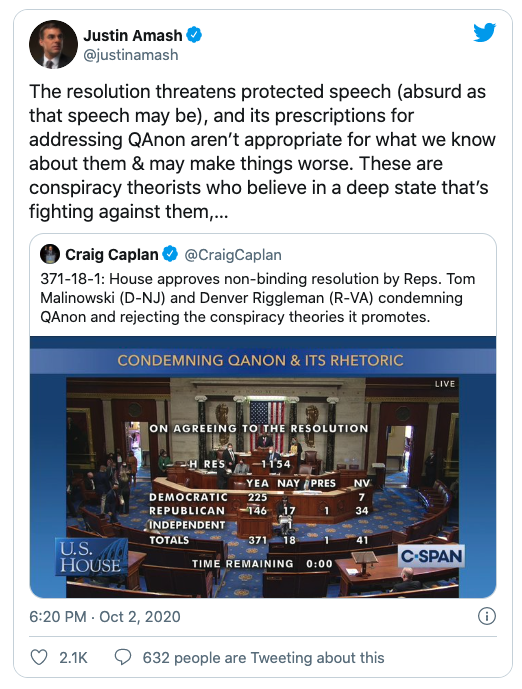 "The resolution threatens protected speech (absurd as that speech may be), and its prescriptions for addressing QAnon aren't appropriate for what we know about them," said Amash on Twitter following the vote.
"These are conspiracy theorists who believe in a deep state that's fighting against them, so Congress's declaring that the intelligence community and FBI should be sent after them just confirms their fears."