Large companies and global leaders like Spotify are these days fighting to sign star podcasters for huge amounts of money, and massive corporations like Apple and Google are also competing in the same scene. It took Amazon a while to get in on the podcasting game, but according to a leaked confidential email, from its own angle.
The Desk says it has had access to the email heralding the inclusion of free podcasts into Amazon Music (including free tier) and Audible platforms.
The email is marked as confidential by Amazon and addressed to leading podcasters, who are invited to make their content available on these platforms and thus gain access to what the behemoth says are 55 million users of its rapidly growing Music platform.
The email clarifies that Amazon will not host podcasts, but merely stream them directly, and reveals that it has already reached out to hosting providers through whom podcasters can sign the Amazon license agreement, or do it directly.
The purpose of all this, according to the Desk, is to improve Amazon's devices like Echo speakers and Fire TV by allowing them to stream podcasts natively, instead of via third-party apps such as Alexa skills. In addition, like other big players who are including podcasts into their streaming offering, given the rising popularity of the medium, it's a way to attract and keep subscribers.
And while they're convenient and offer exposure to some creators, podcasters don't need streaming and other services to upload and distribute their content for users to download – all they need is an RSS feed.
In addition, a number of dedicated apps, some free and open source, pull podcast episodes to users' phones using Apple and other directories.
That's good to keep in mind if you're a podcaster who intends to sign Amazon's content license agreement – since it imposes a number of restrictions on the type of content allowed on its platforms – namely, you're not allowed to criticize Amazon.
"After submitting a feed for consideration, Amazon required podcast producers to agree to certain terms, including one that said shows could not include comments that disparage Amazon or its products," the report reads.
"Your Content may not (a) include advertising or messages that disparage or are directed against Amazon or any Service; …"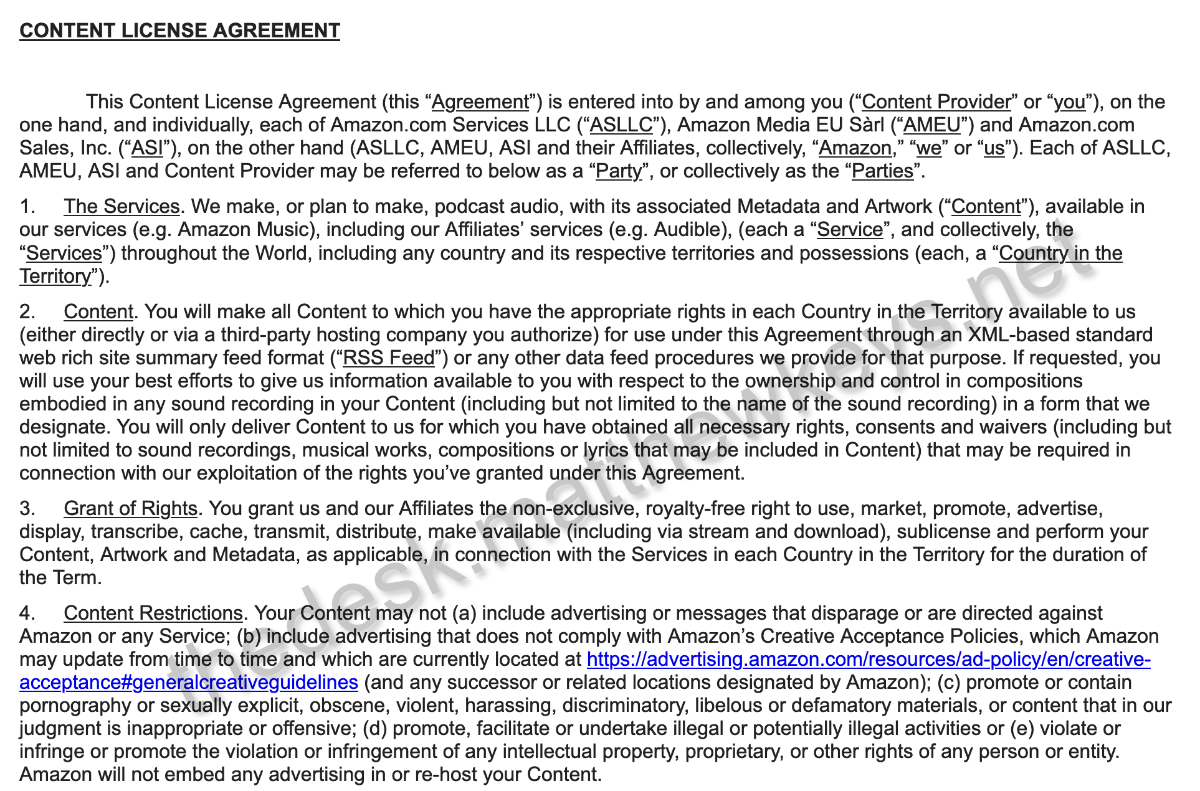 At a time when Amazon is getting increasing scrutiny, trying to prevent podcasters saying anything bad about the company is an interesting form of overreach.