British lawmaker Andrew Bridgen is no longer a Conservative MP after a tweet comparing the "crime" of COVID-19 vaccines to the Holocaust.
Bridgen has repeatedly made vaccine skeptic comments. This week, he shared a vaccine efficacy chart and said that the vaccines "are causing serious harms" and said he was told the vaccination program was "the biggest crime against humanity since the Holocaust."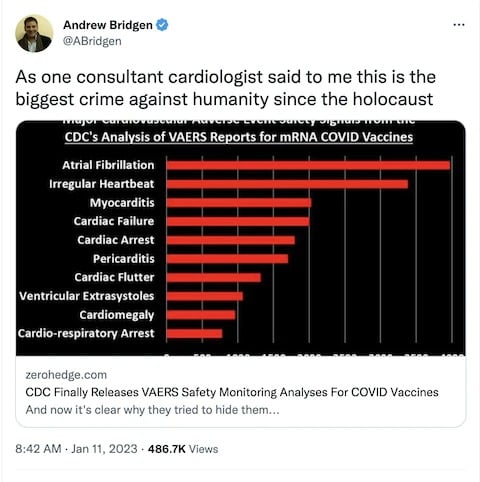 The Conservative Party Chief Whip Simon Hard said: "Andrew Bridgen has crossed a line, causing great offense in the process.
"As a nation, we should be very proud of what has been achieved through the vaccine program. The vaccine is the best defense against COVID that we have.
"Misinformation about the vaccine causes harm and costs lives. I am therefore removing the whip from Andrew Bridgen with immediate effect, pending a formal investigation."
Having his whip removed means that Bridgen is no longer a Conservative MP; he is now an independent.
During the Prime Minister's Questions, PM Rishi Sunak said he "completely condemns those types of comments in the strongest possible terms.
"Obviously, it is utterly unacceptable to make linkages and use language like that and I'm determined that the scourge of anti-Semitism is eradicated.
"It has absolutely no place in our society. And I know that the previous few years have been challenging for the Jewish community and I never want them to experience anything like that ever again."
Bridgen published a video response on YouTube in which he said he "wholeheartedly refutes any suggestions that I am racist."
He said: "My tweet of 11th of January was in no way anti-Semitic. Indeed, it alluded to the Holocaust being the most heinous crime against humanity in living memory.
"Of course, if anyone is genuinely offended by my use of such imagery then I apologize for any offense caused.
"I wholeheartedly refute any suggestions that I am racist and currently I'm speaking to a legal team who will commence action against those who have led the calls suggesting that I am." Bridgen added: "The fact that I have been suspended over this matter says much about the current state of our democracy, the right to free speech and the apparent suspension of the scientific method of analysis of medicines being administered to billions of people."