In the old days, people used to debate ideas and disagree with you if they thought you were wrong about something. These days, they increasingly call your employers, sponsor, or platform provider, and complain to have you fired or shut down.
We've covered several cases of people losing their job over their opinions, or even for merely adding a hashtag in support of the world's most famous living author.
And these are only the stories of those big enough to get attention.
If you want to see cancel culture, go on Twitter and search for the phrase: "find out where he works" or similar phrases and you'll find plenty of examples.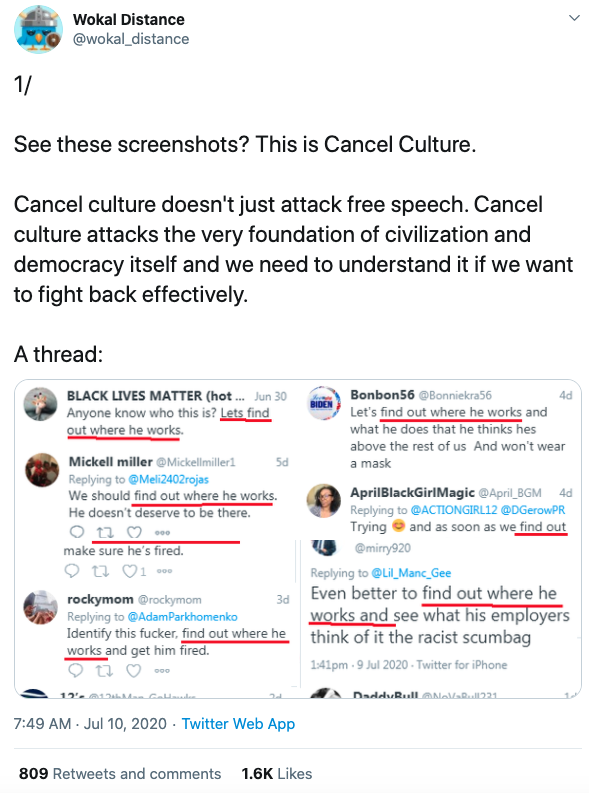 But not everyone thinks cancel culture is a thing.
Congresswoman Alexandria Ocasio-Cortez has made claims stating that cancel culture does not exist. Naturally, it left many people wondering if she wasn't aware of the recent developments and the brutal reality shaped by cancel culture.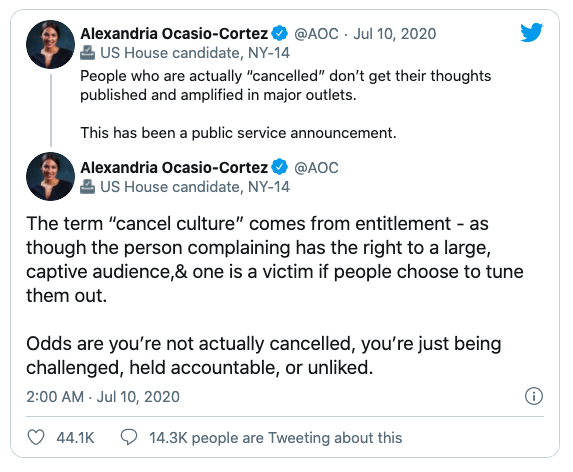 "People who are actually 'cancelled' don't get their thoughts published and amplified in major outlets," tweeted Ocasio-Cortez.
Her tweet wasn't received well with several users commenting that she was a huge part and torch-bearer of the cancel culture, the very thing which she says didn't really exist. Here's what actor James Wood, for instance, replied to Ocasio-Cortez's tweet about the non-existence of cancel culture.
You and your mob have been destroying careers and reputations and livelihoods on a whim. Now you're being hoist by your own petard. Those of us blacklisted, libeled, and falsely maligned have zero sympathy. You all started it. May you be devoured by it. https://t.co/PGzMzNa0ku

— James Woods (@RealJamesWoods) July 10, 2020
Others, while agreeing with her on the surface level, took a jibe at her by saying that canceled individuals, instead of being shunned by major publications, end up getting their livelihoods threatened.
Correct. Instead, they are often fired from their jobs, harassed by twitter mobs, & have their livelihoods threatened. And so since they cannot speak up, we who have a platform choose to use our power responsibly to speak up on their behalf.

You should do the same. Join us, AOC https://t.co/lQ5yiuKFq6

— Chloé S. Valdary ? (@cvaldary) July 10, 2020
No. This is not what Cancel Culture means. People are "cancelled" when they are fired from their job and their lives are ruined for, say, cracking their knuckles in a way that "looks" like a white power sign or for offering an unpopular political opinion online. https://t.co/Tv9V5dINSB

— Allie Beth Stuckey (@conservmillen) July 10, 2020
While not related to Ocasio-Cortez's comments directly, the idea of cancel culture has been debated a lot this week…even actor William Shatner joined in.
So there's this Harper's magazine open letter against cancel culture. Apparently a number of authors signed it; it was published. And a couple signers saw the other signers & objected and now want their name removed. ?? Isn't that exactly what you signed up against???‍♂️?

— William Shatner (@WilliamShatner) July 9, 2020
Some Twitter users also ended up echoing the New York congresswoman's thoughts by stating that cancel culture was nothing but a mere figment of the imagination.
"Cancel culture is fake. It's a right wing framing of social accountability and people need to stop giving the term any credence," tweeted a user.