In recent times, there has been a major push to change the definition of certain words. The AP Stylebook, often regarded as the go-to resource for learning about the accepted norms of English-language media, is now attempting to change the definition of the word "riot."
Acknowledging the dictionary meaning of the word, which is "wild or violent disturbance of the peace," AP suggests that the word can't be used for "stigmatizing" the groups that are protesting for the sake of "racial justice."
Using riots to describe a protest for "racial justice" is not appropriate, as it "suggests uncontrolled chaos and pandemonium.
"Focusing on rioting and property destruction rather than underlying grievance has been used in the past to stigmatize broad swaths of people protesting against lynching, police brutality or for racial justice, going back to the urban uprisings of the 1960s," wrote AP.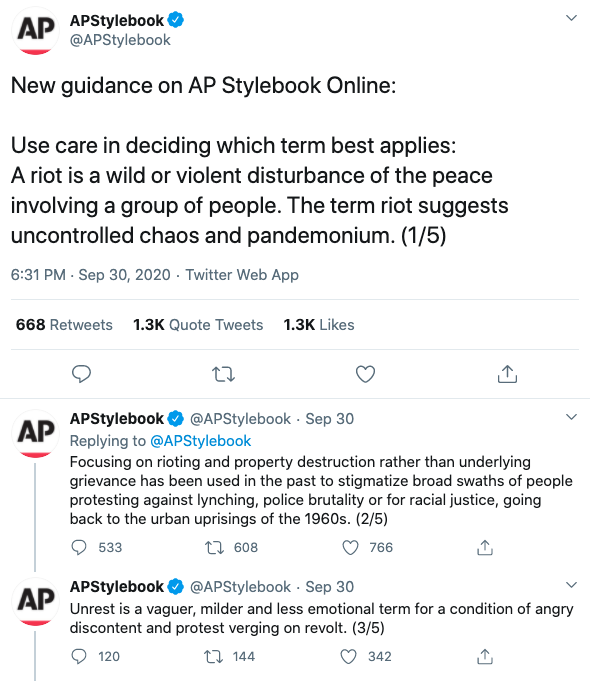 The word "revolt" is suggested by the AP to be replaced with other euphemisms, including "demonstration" or "protest," among others.
Words such as "revolt" and "uprising" are advised to be used in contexts when there is violence against "powerful groups or governing systems."
AP also recommends using the word "unrest" as it is "a vaguer, milder and less emotional term for a condition of angry discontent and protest verging on revolt."
Simply put, the AP is subtly directing the language towards making the word "riot" less commonplace, with "unrest" being its replacement. This invariably means that actual riots should also not be really called riots when being reported.
It is, however, worth noting that several US media outlets have already started omitting the term "riot" to describe the happenings across the country.