The antitrust suit Epic filed against Apple continues to reveal the Big Tech's anticompetitive practices. Emails presented as evidence show Apple admitting that it "manually boosted" its Files app to appear as the first result for searches of competitor Dropbox.
In an email thread started by Epic's CEO Tim Sweeney, which was presented in court, Apple executives admit that the company "manually boosted" the Files app to appear "on the top for the query "Dropbox." Sweeney's email claimed that "Dropbox wasn't even visible on the first page."
In the email exchange, App Store's search head Debankur Naskar said that the manual boost happened at the "last WWDC." The emails are from May 2018, meaning he was referring to the 2017 WWDC. That further means that Apple favored its File app over Dropbox's organic search for 11 months, and it probably would have continued had Sweeney not brought up the issue.
The Dropbox issue contradicts Apple's previous claims. In 2019, The New York Times and The Wall Street Journal conducted extensive investigations that found out that Apple consistently ranked its own apps above competitors. At the time, Apple said that was not the case. It said it did not manually boost its apps – the results were the work of a 42-variables algorithm.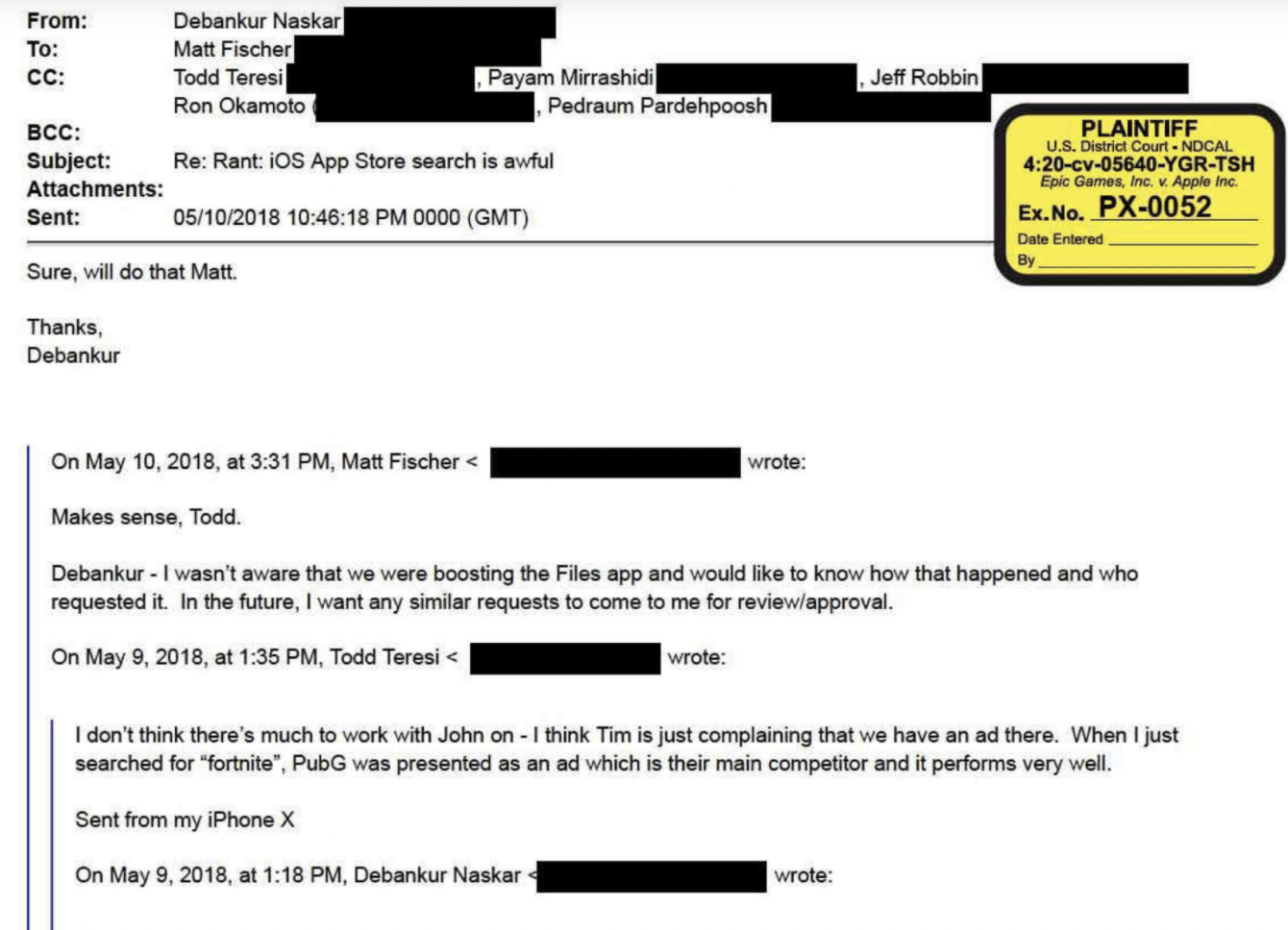 Speaking to The Verge, Apple claimed that the emails are not accurate. The company admitted that Dropbox was unfairly ranked below its Files app in organic search. However, the ranking was the result of a "simple mistake." Its Files app has a Dropbox integration, so in its metadata it had the keyword "dropbox," resulting in the automatic first ranking when users searched "dropbox."
The company's explanation should be taken with a grain of salt because it contradicts what Naskar said in the email exchange that was presented in court. Besides, the company continues to rank the Files app as first in the cloud storage category, The Verge showed.
Furthermore, in the emails presented in court, Apple executives do not explicitly denounce the manual boosting of first-party apps.
The App Store's VP Matt Fischer initially objected to the idea.
"Who greenlit putting the Files app above Dropbox in organic search results?" he asked. "I don't know we did that, and I don't think we should."
Then he concludes by saying, "In future, I want any similar requests to come to me for review/approval." The statement suggests that he did not entirely object to the idea of manually boosting Apple's apps.