Apple is getting sued over the new QuickPath keyboard on the Apple Watch Series 7. The developer of a similar app, FlickType, took to Twitter to announce that he plans to bring up the new feature in his ongoing lawsuit against Apple if it reaches trial.
Kosta Eleftheriou had to remove FlickType from the App Store after the tech giant wrote to him saying the app was "not in compliance with the App Store Review Guidelines," – yet Apple then went ahead and launched the feature itself.
A screenshot of the app review notice, tweeted by the developer, said that "specifically" the issue was the "app does not satisfy the requirements outlined in the Apple iOS Human Interface Guidelines." The notice went further to specify that the app was removed because it is "a keyboard for Apple Watch."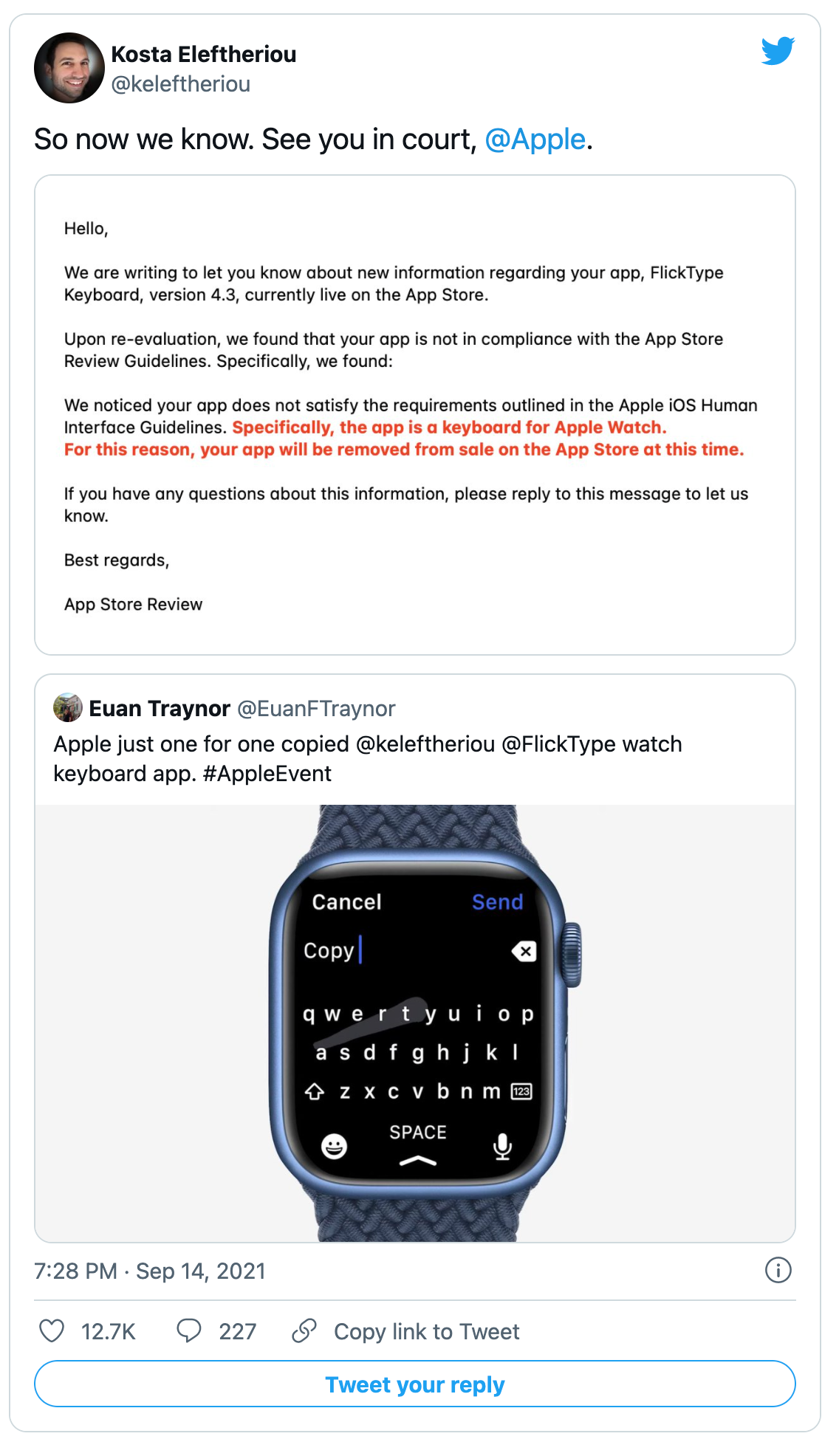 While sharing the screenshot of the notice, the developer wrote: "So now we know. See you in court, @Apple."
The tweet was in reply to a user who noted the similarity between FlickType and Apple's QuickPath keyboard, writing: "Apple just one for one copied @keleftheriou @FlickType watch keyboard app."
Eleftheriou already has an ongoing lawsuit against Apple, filed in March 2021, over the FlickType app. In the lawsuit, the developer accuses the tech giant of abusing its monopolistic power.
"Apple's promise to help developers build, test, market, and distribute their products and grow their business through a secure, trusted, and accessible marketplace is just a facade designed to wrongfully entice developers to the App Store," the lawsuit says.
There are now more keyboard apps for the Apple Watch, the company claimed, adding that it even featured FlickType in its Top Apps in 2020.
The tech giant claims it has contacted Efletheriou regarding the issues that led him to sue. Apple wants the app to comply with the App Store guidelines and is ready to review a new version of the app.