Calling out scammers has always been a perilous approach when it comes to tech giants.
Amazon has requested that Apple delete from its App Store the app Fakespot, a popular service that tries to uncover false reviews on Amazon.
The incident put two of the internet industry's greatest behemoths against a small startup and Fakespot is disappointed.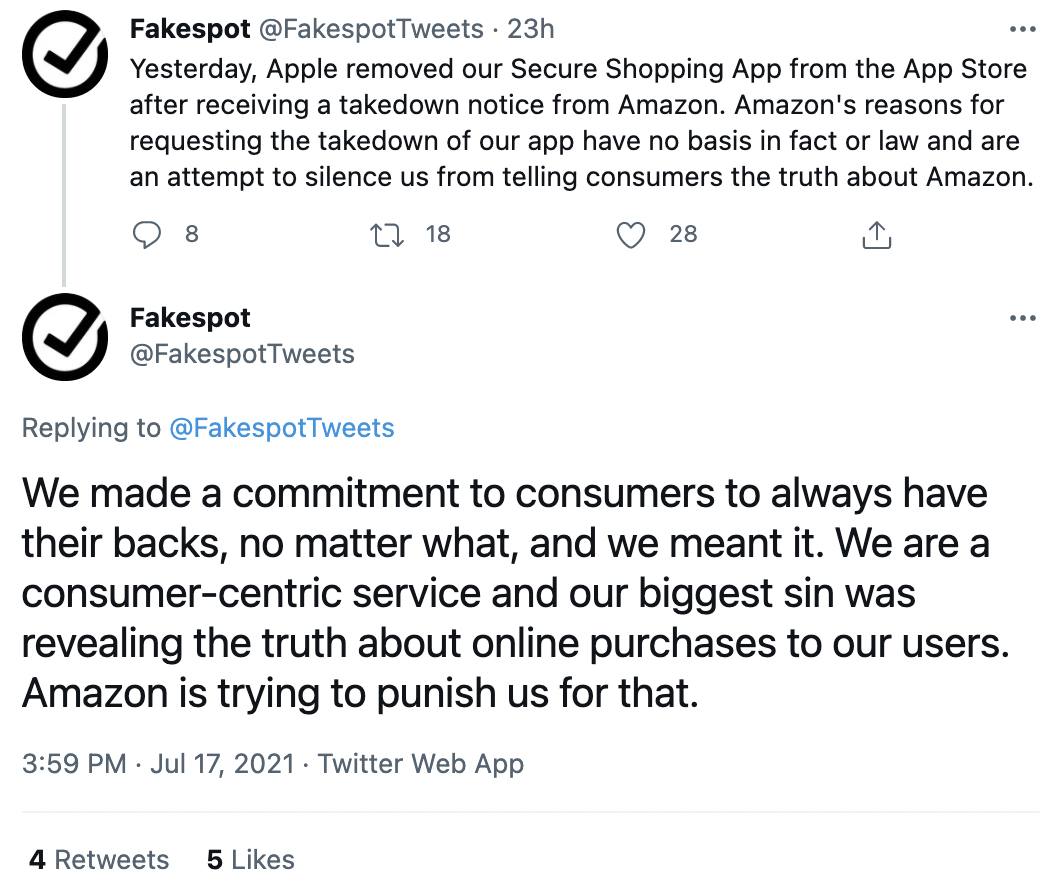 According to The Verge, the trouble started with a fresh upgrade to the Fakespot app, which Amazon claimed might be abused to steal its users' data.
On June 8, Amazon contacted Apple and requested that the app be removed. Apple then forced Amazon and Fakespot to try to fix the problem on their own. That didn't seem to work, as Apple pulled Fakespot from the App Store on Friday, a decision that Fakespot claims is Apple aligning with Amazon without evidence.
According to an Apple spokesman, the inter-business feud began in early June. It also claims that Apple tried to give both sides time to sort out their differences.
Furthermore, Amazon claims that Fakespot is ineffective, claiming that the company's assessments of dubious product reviews were inaccurate more than 80% of the time. Amazon said that it has appropriate facts to assess if a review is genuine or not.
Amazon acknowledged that fraudulent reviews were a problem in June, but claimed that it was committing substantial resources to address the problem. In 2020, the firm claims to have detected over 200 million suspected false reviews before they were ever read by a client.
Khalifah, the founder, and CEO of Fakespot is on the opposite side of the argument, claiming that Amazon is mistaken and that many of its claims are unfounded. On Friday, Khalifah talked with Gizmodo over the phone and dismissed Amazon's allegation that it might steal customers' personal information "total nonsense," saying that the firm does not and never would profit by selling user data.
Indeed, the concerns expressed by Khalifah are more than simply words. Amazon has long been swamped with false reviews, as well as phony items, some of which are genuinely harmful. Sadly, those fraudulent items, as well as the phony evaluations that support them, have now become a bit more difficult to identify for Apple customers.