Apple is blocking another app from appearing on its store until it fully aligns itself with the company's strict and controversial rules.
As Gnosis Safe Ethereum wallet product chief Lukas Schor has shared, the condition for getting approved on the store is to remove the NFT feature from the app.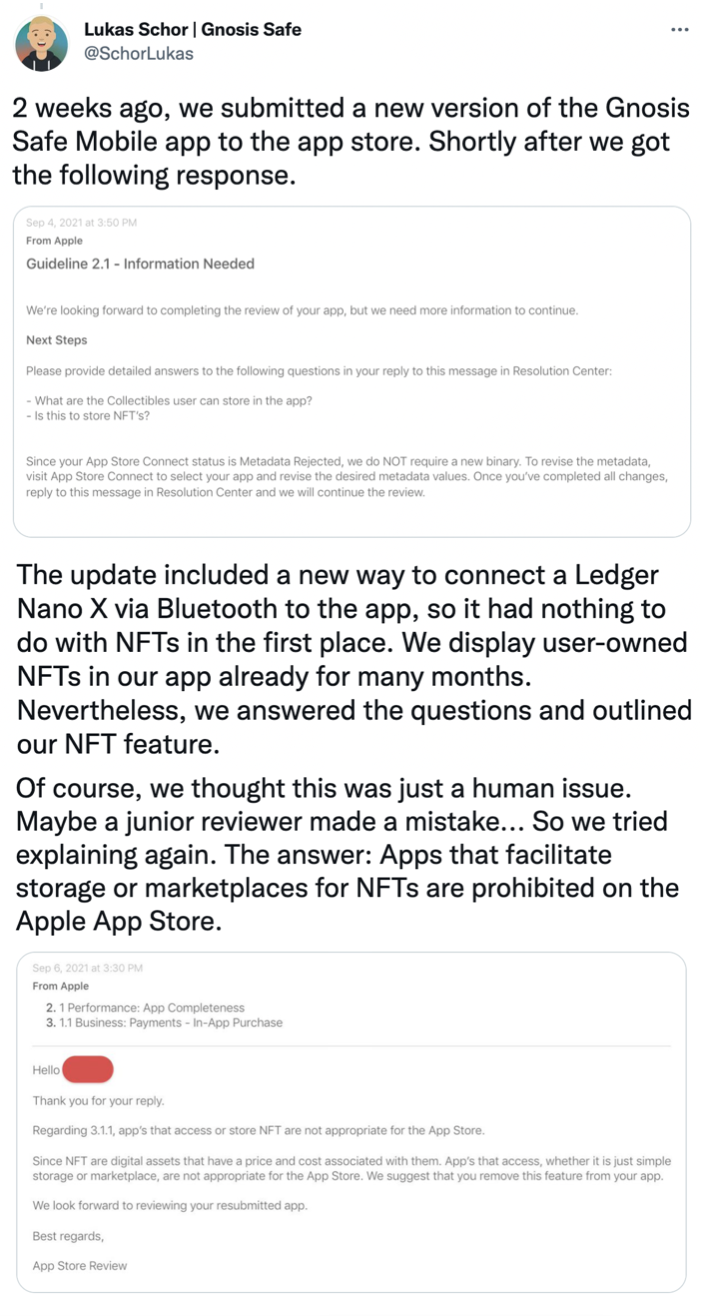 The tech giant is seemingly oblivious to pressure piling on it from many sides for exactly this behavior. From other companies and legislators to advocates, more and more people are starting to pay close attention to these ultimately competition-stifling, and extremely self-serving antics that hurt developers.
In the case of Gnosis, the inclusion of Non-Fungible Tokens (NFT) is what set off Apple's alarm bells. The latest update of the app that already includes the feature of adding the ability to view these tokens in Gnosis Safe is something Apple will not permit unless this happens via in-app purchases, which can never happen.
Earlier in September, Apple first asked Gnosis whether the integration of NTFs that happened earlier in the year meant that users could store them using the app. Then, Apple clarified in a message that apps including or accessing paid digital content, services, or functionality by means other than in-app purchases are "not appropriate for the App Store."
And if that wasn't clear enough, another message from Apple said that the behemoth store "does not allow apps, especially wallets, to display NFTs if they are not bought via in-app purchases."
Crypto wallets have in the past suffered trying to publish on the App Store for a variety of reasons that all lead back to Apple's frantic efforts to keep its massively lucrative online marketplace under tight control, and keep as much money as possible for itself.
In the wider context, the in-app purchasing issue that Gnosis is facing is at the center of Apple's business model based on taking a 30 percent cut of revenue from developers, and preventing other purchasing models, to block any money flowing outside its channels.
This policy suffered a major blow in a recent ruling in the Epic v. Apple case that says these options must be allowed. But Apple is expected to appeal and fight until the end to keep things in the App Store more or less as they are.