Pro-democracy newspaper Apple Daily had its offices raided by hundreds of police officers on Thursday. The founder of the outlet, Jimmy Lai, a long-time government critic was arrested last year.
The police raided the newspaper's headquarters, checked journalists' computers, arrested top editors, and froze the company's accounts. Readers were also warned not to share some of the outlet's articles online.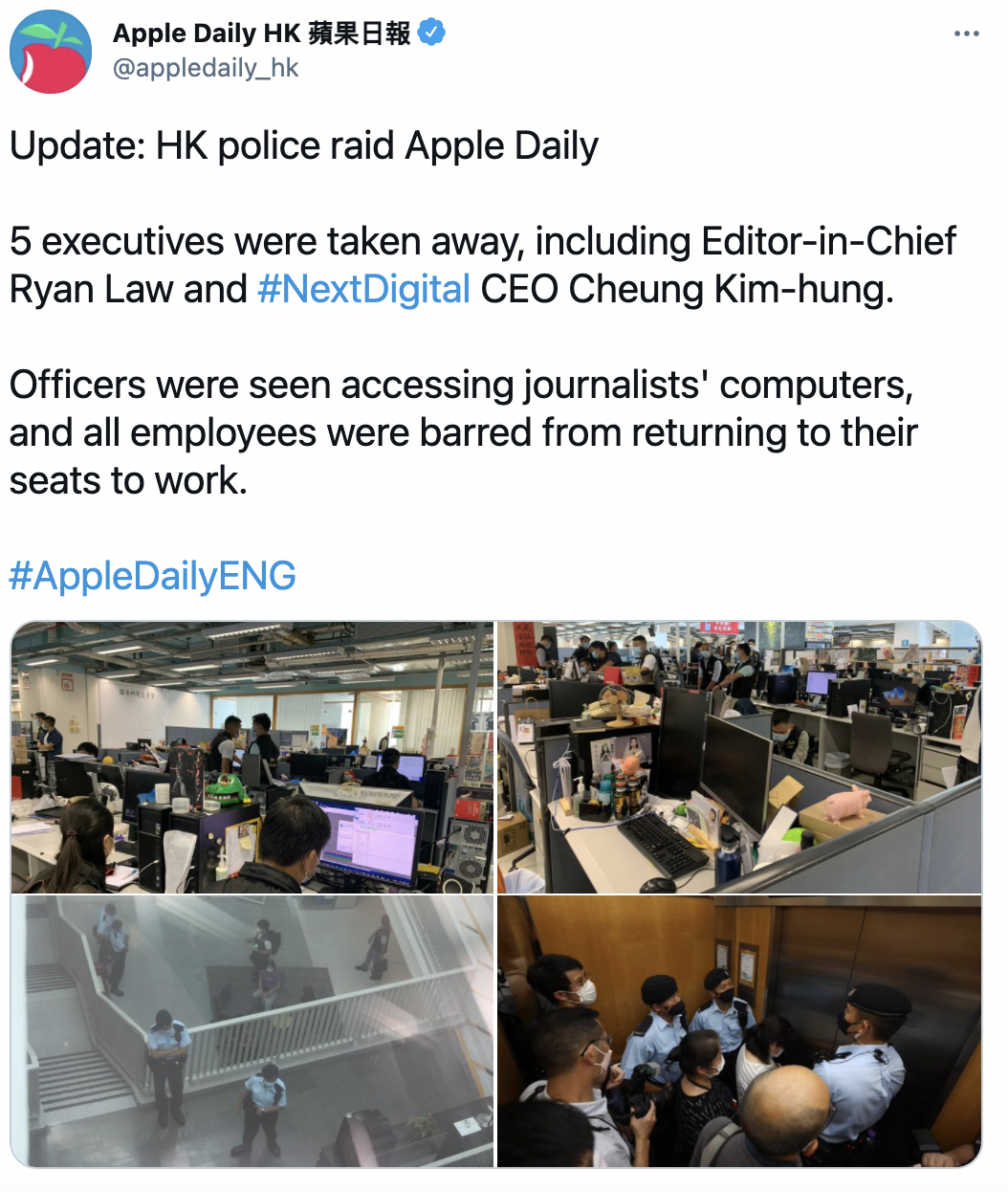 The raid and subsequent arrests were yet another reminder that under the national security law Beijing enforced last year, Hong Kong is increasingly no longer a democratic autonomous city that enjoys broad freedom of speech protections.
Apple Daily's founder, Jimmy Lai, was arrested last year for his role in last year's pro-democracy protests. Since then, pressure on the paper has been mounting, with government officials even singling out the paper. In April, Chris Tang, Hong Kong's police chief warned that Apple Daily would be investigated for endangering national security.
"But today's actions are still shocking," said Yuen Chan, a senior lecturer of journalism at City, University of London who previously worked for Hong Kong media outlets, pointing to the raid and seizure of computers, among other things. "We have to remind ourselves that until very recently, a free press was regarded as 'normal' in Hong Kong."
The police said that they arrested five executives and editors at the newspaper and its parent company Next Digital for "collusion with a foreign country or with external elements to endanger national security." The authorities added that an investigation determined that over 30 articles published by Apple Daily encouraged foreign countries to place sanctions against China andHong Kong.
Under the national security law, calling for sanctions amounts to collusion with foreign countries.
"We have very strong evidence that the articles in question play a crucial part in the entire conspiracy scheme, providing talking points to foreign countries or overseas institutions to impose sanctions," Li Kwai-wah, a senior superintendent in the police's national security department, said at a news conference.
Li went on to warn the public against sharing articles by Apple Daily.
"As a law enforcer, I would advise you not to invite suspicion," he said, but did not specify the articles people should not share.
However, according to free speech and press freedom advocates, the government accusations hold no water.
"We just can't see how articles or reports carried by news media would constitute a threat to national security," said Chris Yeung, the chair of the Hong Kong Journalists Association. "It gives rise to fear that speech can be seen as acts and are vulnerable to the national security law."
Next Digital and Apple Daily's accounts were frozen, and their shares suspended following news of the arrests on Thursday morning. With the accounts frozen, the paper is likely going to struggle to pay its staff of about 700.
"We're having an incredibly tough time," said Mark Simon, Lai's aide. "I don't know what's going to happen. I think they're going to keep coming."
But despite the raid, and potential ongoing pressure from authorities, journalists at Apple Daily are determined to continue with their work. In fact they were filming the raid as it went on, and when they were commanded to stop, they continued filming it from a distance.
The paper posted more than a dozen articles about the raid, and said it would print half-a-million copies on Friday, more than five times its average daily print circulation of 90,000 copies.
"As difficult as the current circumstances may be, we will carry on with our jobs with the aim to publish our papers as normal tomorrow," the Next Media Trade Union wrote in a statement.
However, the paper did acknowledge its future is not guaranteed.
"In today's Hong Kong, we are unfamiliar and speechless," the Apple Daily said in a letter to its readers, posted on its website. "It seems that we are powerless to deal with it, and it is difficult to prevent the regime from doing whatever it wants."