The shareholders of Apple Inc have voted down an attempt by the National Centre for Public Policy Research to make Apple more conservative. The organization made a shareholder proposal that required the nominees for the Board of Directors to reveal their 'ideological perspective.' 98.3% of the shareholders were against the proposal while 1.7% of the shareholders were in favor.
This incident took place in the annual shareholder's meeting at Steve Jobs Theatre in Cupertino, California. A handful of shareholders argued that Apple's board of directors need more conservative voices. At one point of time, the discussions became heated when Apple's diversity policy was called 'sexist' and 'racist' by the conservative shareholder advocate Justin Danhof.
"These things to us aren't political things, they're policies," says Tim Cook, according to Ian Sherr from CNET.
Tim Cook responded to the arguments and said that Apple does not hold any political beliefs and it only believes in policies. He highlighted the fact that Apple does not have any POC. Even in the future, Apple won't be donating a single penny to any political campaign.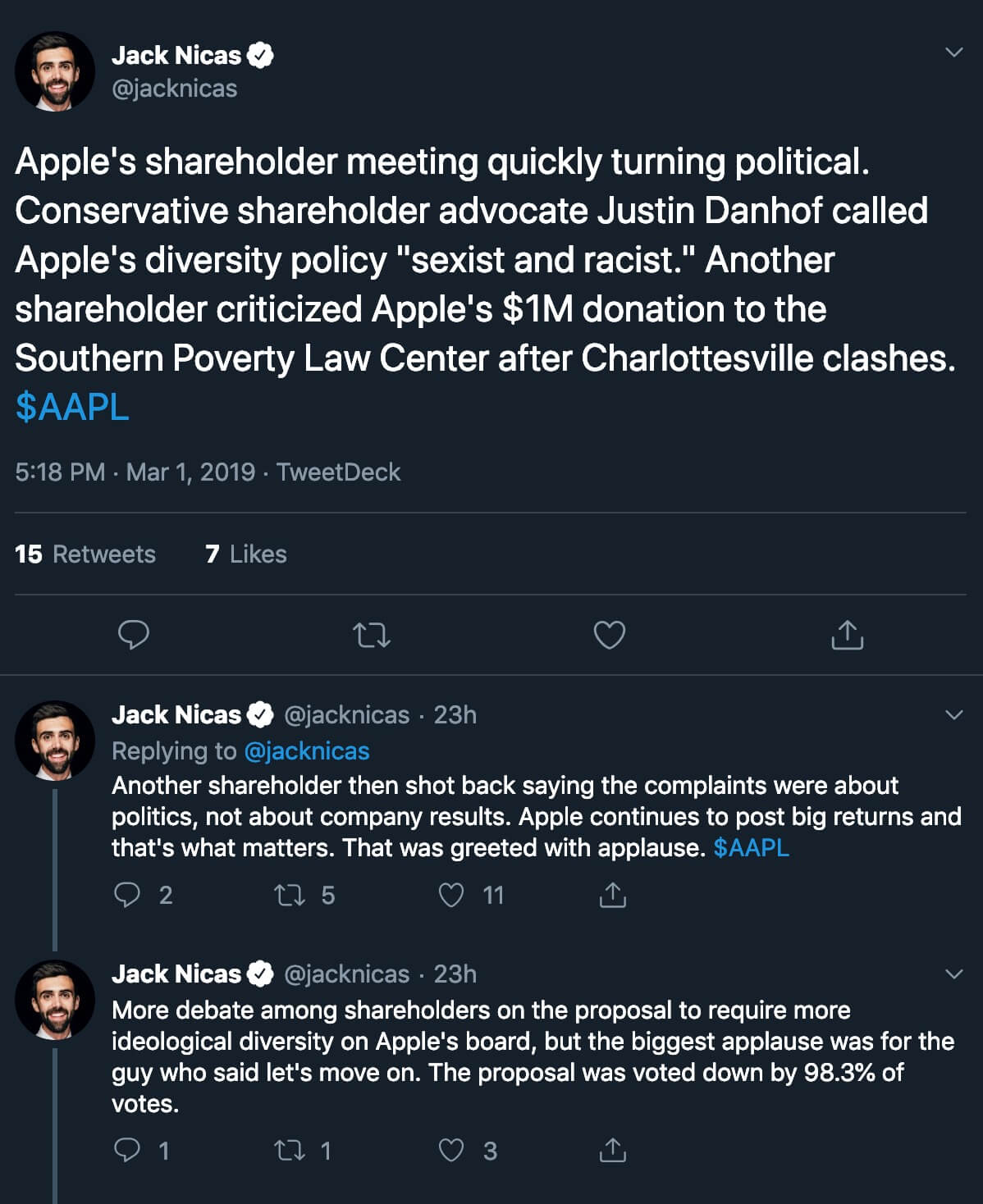 Though Tim Cook highlights about being politically neutral, many of the policies at Apple can be considered anti-Republican in nature. For instance, the recent donation of $1 million to the Southern Poverty Law Centre, an organization that is considered far left, anti-Christian and anti-conservative appalled many conservatives.
Apple runs on renewable energy and strives towards promoting environmentally friendly practices. For climate change deniers, these practices do not cultivate a positive outlook towards Apple.  With Apple's policies encouraging immigration and diversity led to conservatives believing that Apple is leaning heavily towards left-wing politics.
During the proposal, shareholder advisory firms Glass Lewis and Institutional Shareholder Services have advised the shareholders to vote against the proposal. While there was a debate with arguments supporting as well as opposing the notion, the proposal was nevertheless defeated with an astounding opposition.
The National Centre for Public Policy Research is a communications and research foundation that supports free-market solutions and strong national defense.