Apple often attempts to distinguish itself from its competitors by focusing on privacy. While Facebook, Google, and many of the other tech giants gobble up and monetize large amounts of user data, Apple claims that it collects as little user data as possible and consistently positions itself as the best option for privacy-focused consumers. Now, in what appears to be part of this privacy-focused branding, Apple has registered the domain PrivacyIsImportant.com.
This domain registration was first spotted by Elliot Silver of DomainInvesting.com. In the post, Silver noted that:
The domain was registered by Apple on March 4
The domain hasn't previously been registered
This is the second time Apple has used an unbranded domain, with the first being iCloud.com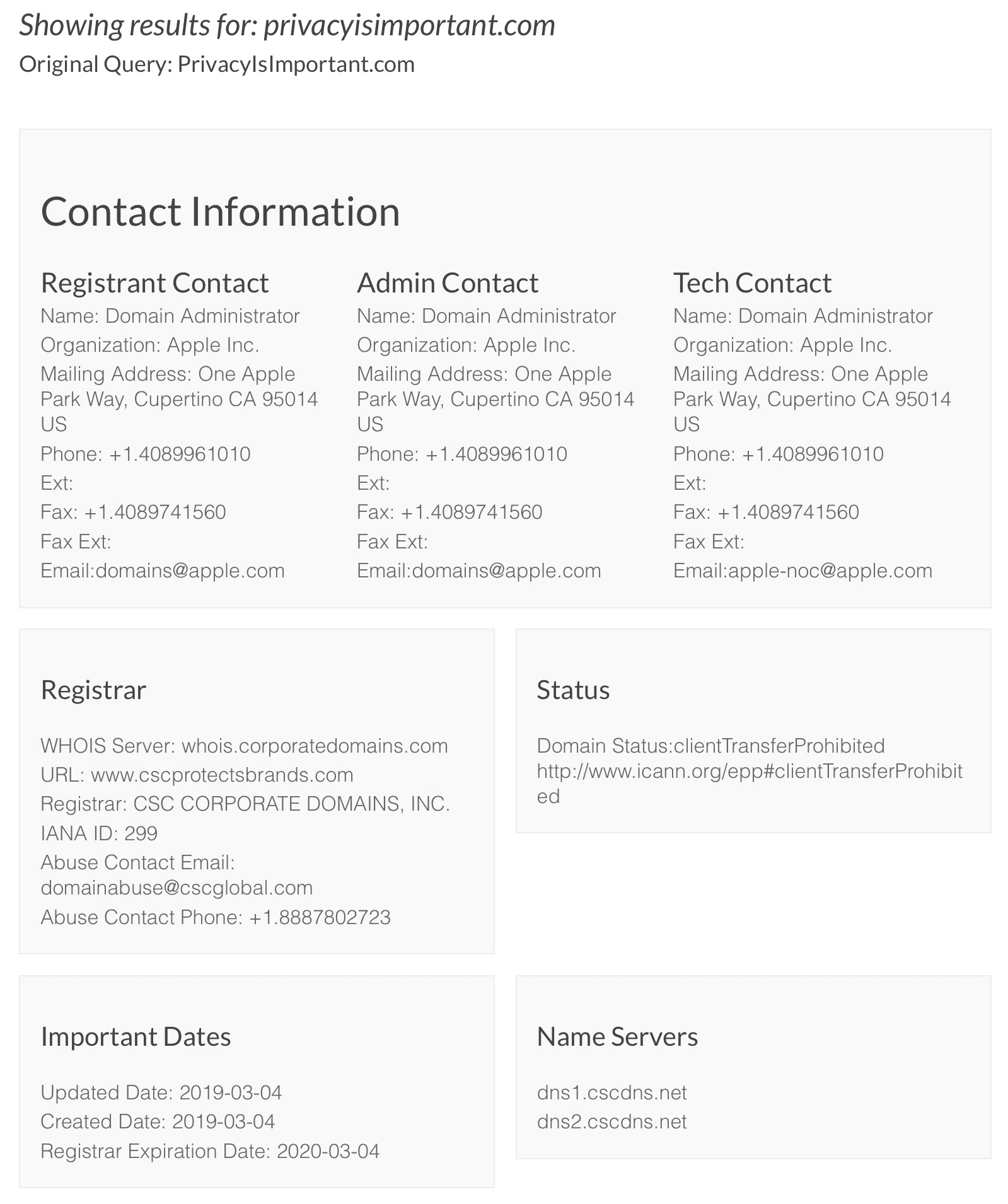 The domain isn't currently being used but it's likely that the domain "PrivacyIsImportant.com" or the phrase "Privacy Is Important" will start to be utilized as part of an upcoming Apple marketing campaign which directs users to this new domain.
While Apple often talks a good game when it comes to privacy, its actual practices are mixed.
On the one hand, studies have shown that Apple's iOS devices collect far less data than Google's Android devices. Apple also doesn't use customer data to target ads and generally does more than the other big tech companies to anonymize the data it collects in order to stop it being used to easily identify individual users.
However, Apple makes it very difficult to use its devices without connecting them to an iCloud account. Once this connection is made, Apple collects a significant amount of data on how customers use the device and the apps on the device. Apple has also removed VPN services from the iOS App Store in China and handed over its iCloud operations in China to a state-owned company – two decisions that give the Chinese government much easier access to their citizens' private online data.
It's great to see a company with the scale of Apple stand up for consumer privacy and hopefully the campaign associated with this new domain will include meaningful actions that further protect consumer data. However, actions speak louder than words. We'll have to wait and see whether this is a marketing stunt from Apple or a practical campaign that actually improves user privacy.