Archive.today is one of the Wayback Machine alternatives, an archiving site that takes snapshots of webpages and preserves them regardless of the status of the original. The service keeps a record of webpages and provides a powerful research tool.
What sets Archive.today apart from, for example, the Wayback Machine is that it is indexed by search engines, while the tool ignores robots.txt file and has access to many websites unavailable to the Wayback Machine.
But like its bigger and better-known competitor, Archive.today, a privately-funded project, is coming across problems pertaining to the content uploaded to its servers – and sometimes, like it appears to be the case here, the service falls victim to malicious actors.
"Domain problem again: http://archive.fo is shutting down. Other mirrors are safe," Archive.today announced on Twitter, attaching a screenshot of its correspondence with the .FO Council, the name registry for the top level domain for the Faroe Islands.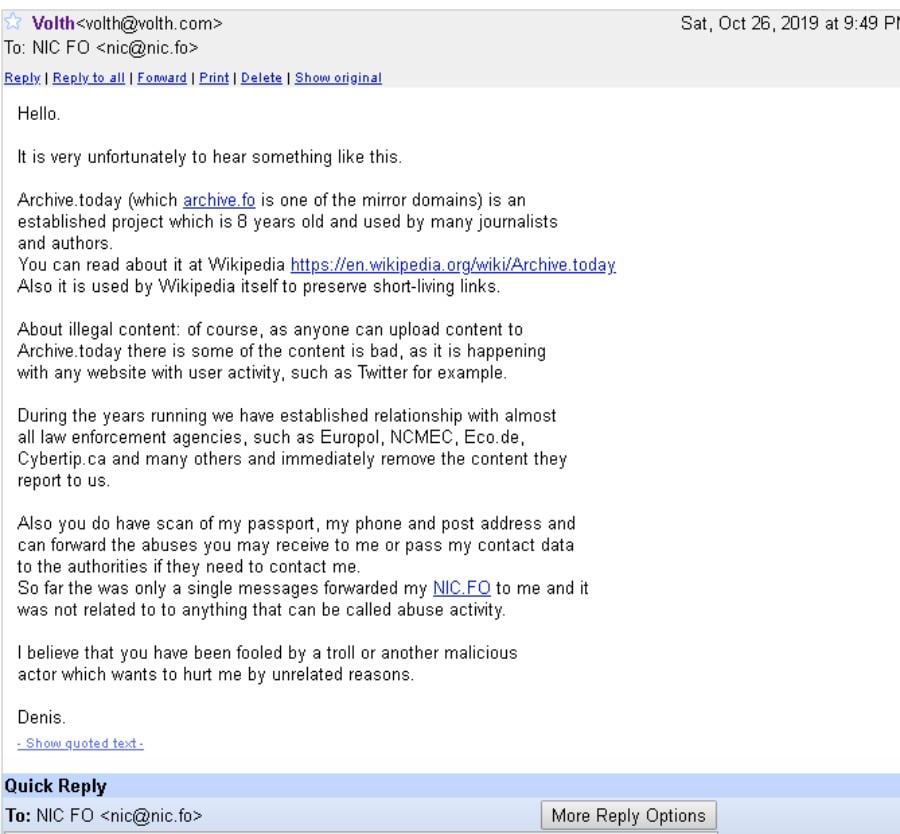 The Council informed Archive.today that archive.fo – one of its mirror domains – would be suspended because of "a high level of abuse activity reported related to content found under the domain."
The Council said it expected an appeal to take into account its terms of service and conditions, and if the projects fails to convince, the domain would be "promptly suspended" on November 1.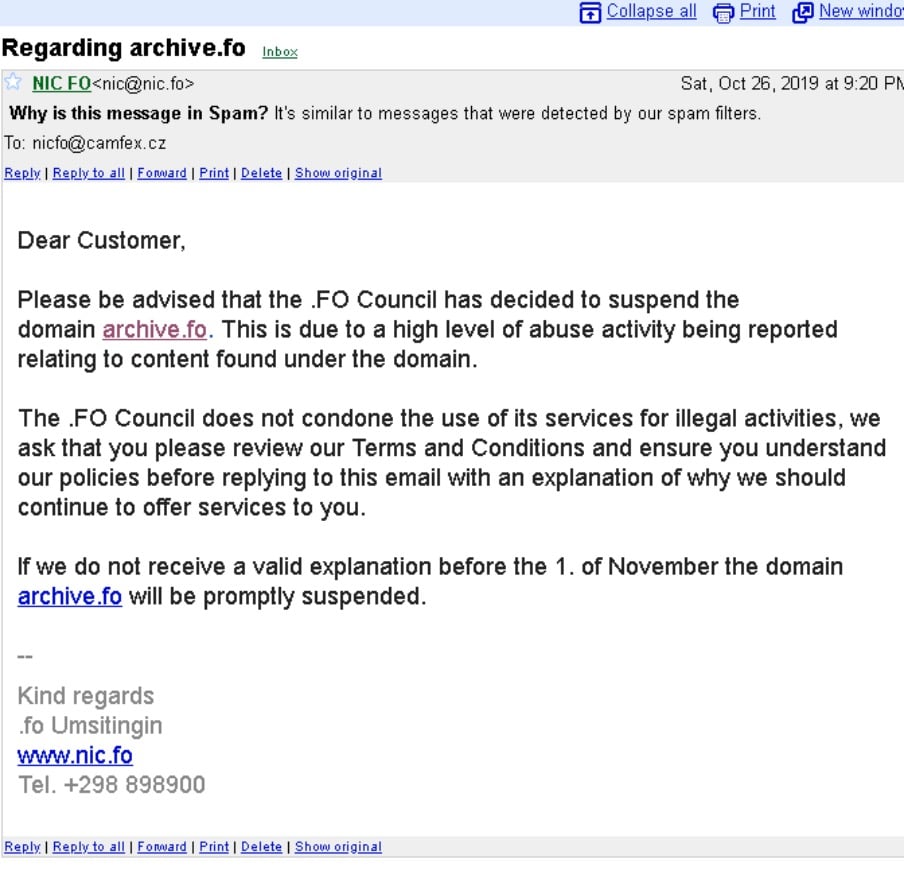 In the reply, Archive.today described itself as an 8-year-old project used among others by journalists, authors, and by Wikipedia for short-lived links. But even more importantly, Archive.today explained, the nature of the service, that allows anyone to upload content, means some of it can be abusive or illegal.
Here, the email draws a parallel with Twitter and other similar services – who are not legally liable for the content they host under safe harbor provisions granted to platforms that are not publishers.
However, Archive.today noted that they cooperate with law enforcement agencies to remove illegal content upon receiving reports of it. However, the email to the .FO Council concludes with these words:
"I believe that you have been fooled by a troll or another malicious actor who wants to hurt me for unrelated reasons."
In a reply to a comment on Twitter, the project further clarified they were not optimistic that their arguments would be taken into account, adding, "the attacker knows they found a vulnerable registry and all they need to do is to be more annoying with it."
In the past, Archive.today was blocked by Australian ISPs after the Christchurch massacre, and remains blocked in China.