Armando Salguero, a sports columnist for the Miami Herald, said players protesting what they see as racial injustice were "America-bashing." But while the paper came out in support of the players for their free speech, they didn't do the same for Salguero and his opinion – in fact, they distanced themselves from him.
The United States peaked in chaos again after the shooting of Jacob Blake in Kenosha, Wisconsin, as well as the aftermath. Players from the NFL, NBA, MLB, and WNBA, have been protesting by boycotting games and releasing videos explaining the boycotts while wearing Black Lives Matter shirts.
On Friday, Salguero retweeted a video by the Tennessee Titans, where Ryan Tannehill, the team's quarterback, said the country was established on racist ideas. Salguero said he was getting tired of people bashing America, yet they would never live anywhere else. Salguero is Cuban and has previously explained how his family escaped communism in Cuba to come and live in the US.
"Ryan Tannehill says the United States of America 'was founded upon racist ideas'…I am so sick of the America bashing by people who have never lived and would never live anywhere else," he wrote in the tweet.
According to Salguero, because the constitution and the Declaration of Independence support free speech and equality, the country was not founded on racist ideals.
The Miami Herald's management and workers quickly pointed out that they do not share the same opinion.
Colleen Wright, a reporter at the Miami Herald, apologized to the public on behalf of Salguero. She wrote:
"It should be clear — and sadly, it STILL isn't clear to my colleague — black lives matter. Armando's tweet is so gaslighting & as a Miami Herald reporter, I am so sorry. Our readers deserve better."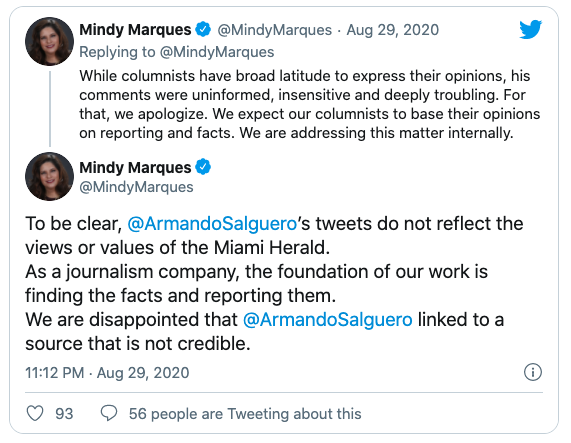 Mindy Marques, an Executive editor at Miami Herald, tweeted, "His comments were uninformed, insensitive and deeply troubling…For that, we apologize. We expect our columnists to base their opinions on reporting and facts. We are addressing this matter internally."