Social media outrage and backlash against a media figure has claimed another victim. This time, it was an easy target: the manager of a student radio station has been fired for what seemed like promoting some basic rules of journalism (such as considering a multitude of sources and context).
What's considered as offense these days in the US are tweets saying things like, "(There's) always more to the story, folks."
It's a humbling experience for any actual or aspiring journalist to actually ever admit to that simple truth these days – but it appears that Arizona State University Blaze Radio's manager Rae'Lee Klein found the strength to do that – only to see it turn against her in the worst possible way.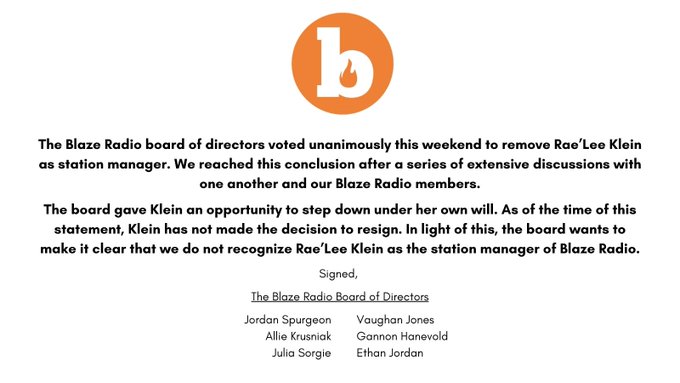 As if to add insult to injury, the student radio station is operated by what's known as the Walter Cronkite School of Journalism and Mass Communication.
(Both journalism, and Cronkite might just be turning in their graves right now.)
The gist of this story is that Klein ventured to "zoom out" and see the big picture of some big news – specifically that of the shooting of Jacob Blake by the police in Kenosha, Wisconsin, that according to reports left him severely injured.
The case, once again involving the shooting of a black man by law enforcement, seemed clear-cut at first – but then reports emerged to paint the bigger picture of the incident – that might have informed the way the police officers reacted on the day. Namely, that Blake had earlier been accused of committing sexual assault.
And here we need to say "thank you" to Big Tech for pushing into the mainstream – even if undefined by any consensus and thus unaccountable – the notion of "reputable journalism." Namely, a key reason the National Association of Black Journalists VP at ASU, Nicole Shinn, quoted when seeking Klein's removal – was her reference to a New York Post article. (Apparently, not one of the "reputable" ones.)
Another reason was this:
"She (Klein) was trying to scapegoat a victim, she was trying to undermine the Black Lives Matter movement. To me, it seemed like she didn't care," said Shinn.
Eventually, Klein felt compelled to delete the tweet, and apologize by saying her intent was not to minimize the harm done to Blake – but to provide "additional perspective."