YouTube commentary channel AugieRFC has been permanently demonetized after YouTube accused it of violating the platform's controversial "harassment" rules.
The channel's host Augie said he was removed from the program with no warning or strikes on the channel.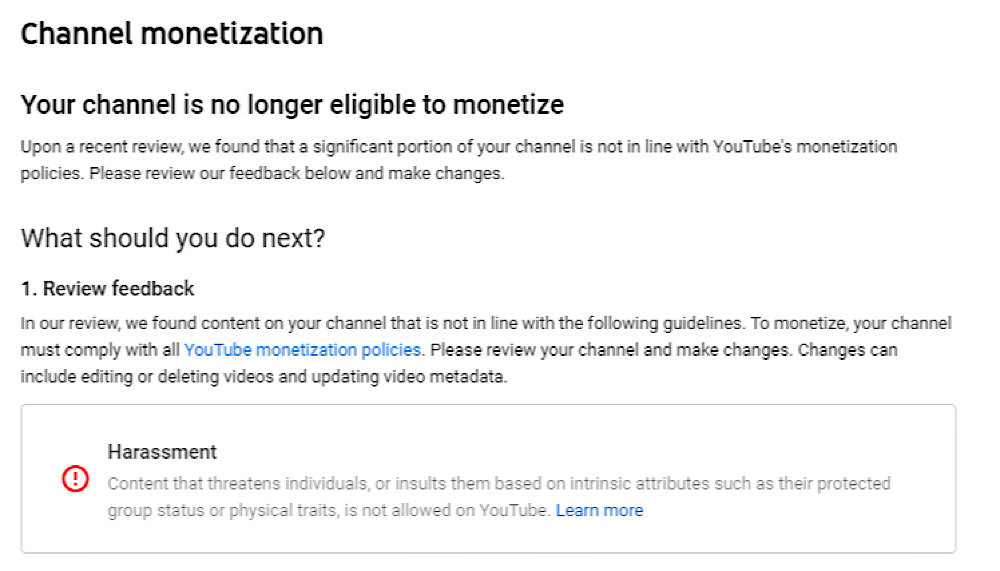 In his response to the channel's demonetization, Augie also echoed the concerns many creators had raised when these updated harassment rules were first introduced last December:
"Comedy is dead, criticism is dead, satire is dead, it's all gone. Commentary itself might as well be dead."
The rules hit creators with harsh punishments for going "too far" with language such as insults, mockery, and even jokes.
At the time, YouTube's most subscribed solo creator PewDiePie had warned that these harassment rules would slash out edgy content and create an environment where only "mediocre humor" is allowed.
Augie said he was "heartbroken" by the demonetization and accused YouTube of withholding $2,000 that he has sitting in his Adsense payout.
As a result of being demonetized, the AugieRFC channel will also be unable to earn ad revenue on its videos and will not be able to receive viewer donations via Super Chats during live streams.
Augie has been streaming on Twitch since being demonetized but plans to get remonetized and return to streaming on YouTube.
The demonetization of AugieRFC is the latest sign that comedy, commentary, and criticism are no longer welcome on YouTube.
Since introducing its updated harassment rules, YouTube has demonetized Carl Benjamin's commentary channel Akkad Daily channel and removed several commentary videos under these rules.
And outside of these harassment rules, YouTube has made other changes over the last year which have caused collateral damage to many creators and started to ?slowly kill comedy, commentary, and criticism on the platform.