Social media outrage at fictional books is causing contrite writers to revise their lines post-publication. Critics are ignoring the fact that what fictional characters say and do does not represent the ideologies of the author or publisher.
Elin Hilderbrand faced backlash on Instagram for a passage in her new summer 2021 book, The Golden Girl. The passage is an exchange between two teenagers, Savannah and Vivi, where they discuss how Vivi will hide in the attic of Savannah's home without Savannah's parents knowing.
"You're suggesting I hide here all summer?" Vivi asks. "Like… like Anne Frank?" she adds. The narrator then says, "This makes them both laugh – but is it really funny, and is Vivi so far off base?"
The passage was criticized through a post on the Instagram page of Little, Brown and Company, Hilderbrand's publisher. The original post, which has since been deleted, described the passage as "horifically antisemitic," and demanded an apology from both the publisher and Hilderbrand.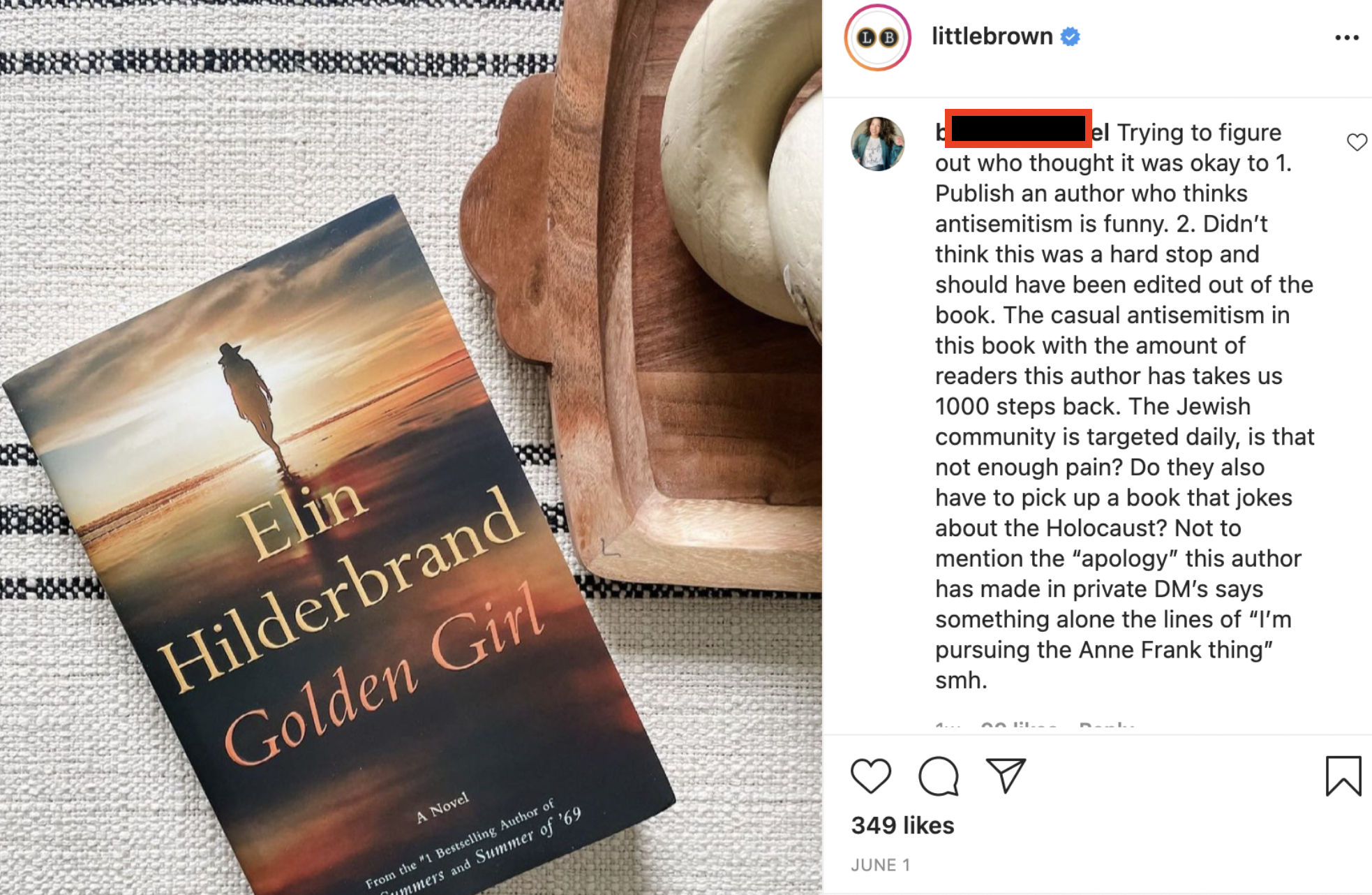 Others accused Hilderbrand of thinking "antisemitism is funny," described the passage as "gobsmacked in every way with insensitivity," and "disgusted."
The backlash forced the author to apologize, promising to remove the passage from all future printings.
"In a flashback scene in GOLDEN GIRL, p. 144, my main character Vivi compares herself to Anne Frank," Hilderbrand wrote in her apology, posted on Instagram Stories. "I want to wholeheartedly apologize for this. It was meant as hyperbole but was a poor choice, that was offensive and tasteless. I have asked my publisher to remove the passage from digital versions of the book immediately and from all future printings.
According to Publishers Weekly Hilderbrand made the public apology after attempts to apologize through DMs.
She also publicly apologized to one reader: "If you read my novel SUMMER OF '69, you know that I absolutely REVERE the story of Anne Frank. The line was not a throwaway quip. It was an expression of angst from someone who felt marginalized socioeconomically. But nonetheless if I offended you and/or anyone else, I owe you a huge apology."
As noted by Slate, this was not the only time in the past month that an author has faced backlash for the words of their fictional characters. On Twitter, a user posted a passage from Casey McQuiston's Red, White & Royal Blue, a popular 2019 romance novel, where a supporting character says: "Well, my UN ambassador fucked up his one job and said something idiotic about Israel, and now I have to call Netanyahu and personally apologize."
The Twitter user believes the passage was unnecessary, with one supporter of her sentiments insisting the passage "normalizes the genocide & war crimes done by Israel that will always be backed up & unashamedly supported by America."
Another one explained that "mentions of Israel (especially when they're completely unnecessary as well, such as in books/films/shows) normalize the occupation of Palestine. All mentions, even ones that don't outwardly seem bad, are wrong."
McQuiston explained that the line was "not a statement of my beliefs" but "a dig at US presidential diplomacy." Like Hilderbrand, she caved to the backlash and stated that the line has "been changed from all future printings."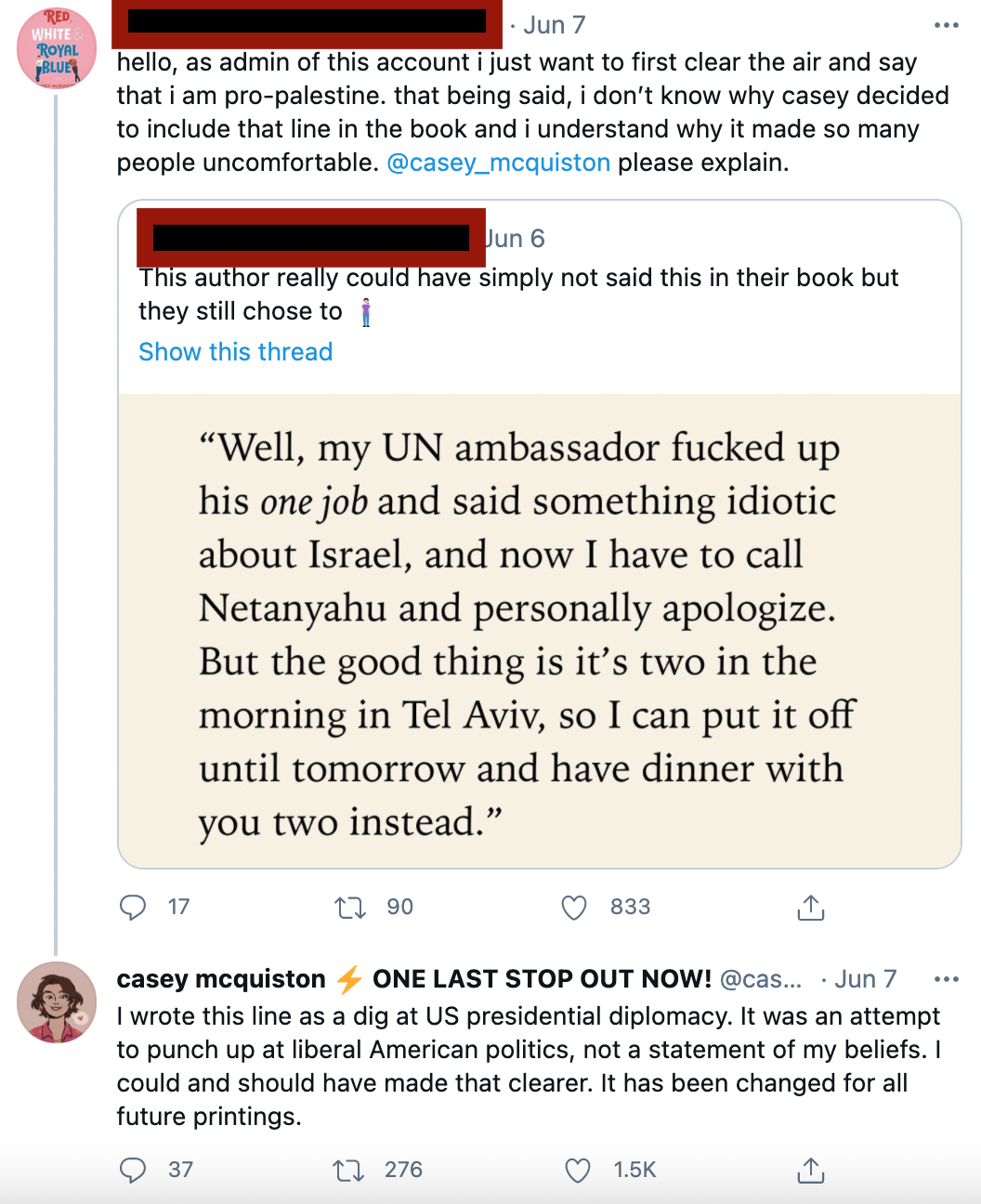 Both McQuiston and Hilderbrand were criticized for what their fictional characters said, which obviously does not represent their beliefs. The criticism, however, is not surprising, as it was only a matter of time before the rapidly spreading climate of intolerance and entitlement reached fictional works.