BBC's war on classic comedy series continued when the broadcaster decided to "censor" a 1971 film version of classic sitcom Dad's Army.
The way the BBC has gone about this is to place a label warning viewers of "discriminatory language." The sitcom takes place in the WW2 setting, makes references to Nazis and uses the word "frogs" – a jargon expression for the French – reports are now recalling, trying to figure out what the discriminatory language might be.
The warning also refers to the term "fuzzy-wuzzies," used by British soldiers to describe people from the Sudan.
The broadcaster itself does not seem to have stated what unacceptable language was in the movie that might have offended some of its viewers.
A spokesman for the BBC said that the decision was made in order to keep this content in line with a guidance issued "due to a specific discriminatory remark."
But what certainly caused offense was the warning itself and BBC's behavior. Dad's Army is a highly popular classic sitcom that pulled in as many as 18 million viewers per episode during its 1968-1977 run. The franchise included the said feature film, and a stage show.
It remains popular to this day in many markets around the world, and now many of those who watched the movie on BBC's iPlayer saw the "soft censorship" applied against it as a futile overreaction.
Taking their surprise and disappointment to Twitter, these Dad's Army fans had many questions for the BBC, including whether this was the best way to spend the fee money the corporation collects in the UK, what the actual offense was, speculating that it might now be controversial to namecheck the Nazis, while one Twitter user summed it up as, "Dad's Army is a national treasure whereas the BBC are a national disgrace."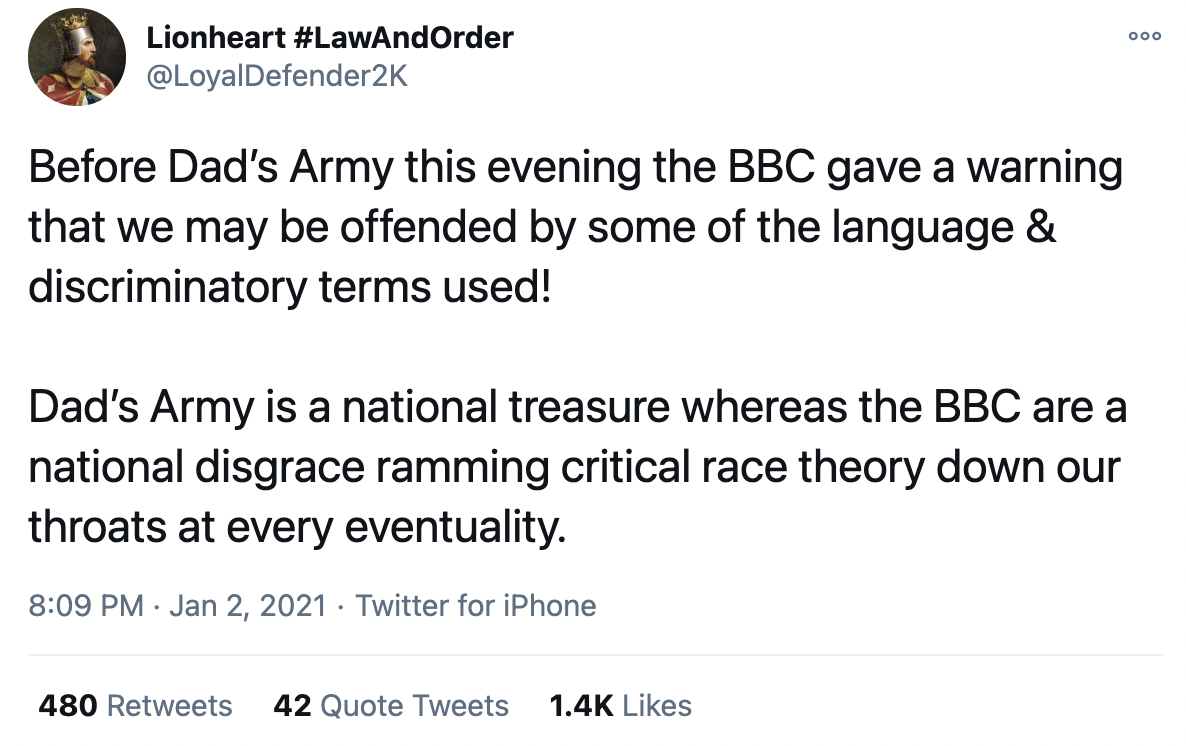 The broadcaster's struggle to stay atop the ever-changing and more stringent politically correct rules, even when it comes to something that should be uncensorable by definition like comedy, is not new or isolated to this one case.
Last year, warning labels had been put on series like High Hopes, The League Of Gentlemen and The Mighty Boosh – all as a reaction to BLM protests and resulting pressure.
Little Britain and Fawlty Towers fared even worse, when the BBC removed episodes of the sitcoms, causing harsh criticism from free speech and comedy lovers.