BBC contributors are concerned about the newly-announced restrictions on their use of Twitter and other social media platforms. The BBC announced the new rules in an effort to be more impartial as, like with many other news outlets, presenters and reporters are increasingly growing partisan and it's becoming too easy to guess which political party they support.
On Thursday, the new Director-General Tim Davie announced several rules aimed at impartiality. He said, "If you want to be an opinionated columnist or a partisan campaigner on social media then that is a valid choice, but you should not be working at the BBC."
The broadcaster has long been accused of left-wing and anti-populist bias. Its contributors have often expressed views that revealed their political standing.
In March, the Secretary of State for culture, media, and sport Oliver Dowden accused BBC of "failing to reflect the changing views of the country." He said the news outlet needed to shift from a "narrow urban outlook" and become more "genuinely impartial."
On Thursday, Davie continued to explain that, "Importantly, it is not simply about left or right…It is about being free from political bias. This is more about whether people feel we see the world from their point of view. Our research shows that too many perceive us to be shaped by a particular perspective."
The rules will apply to some of the most influential BBC contributors.
Historian Bendor Grosvenor also expressed his disappointment with the new rules, which he thinks are impractical.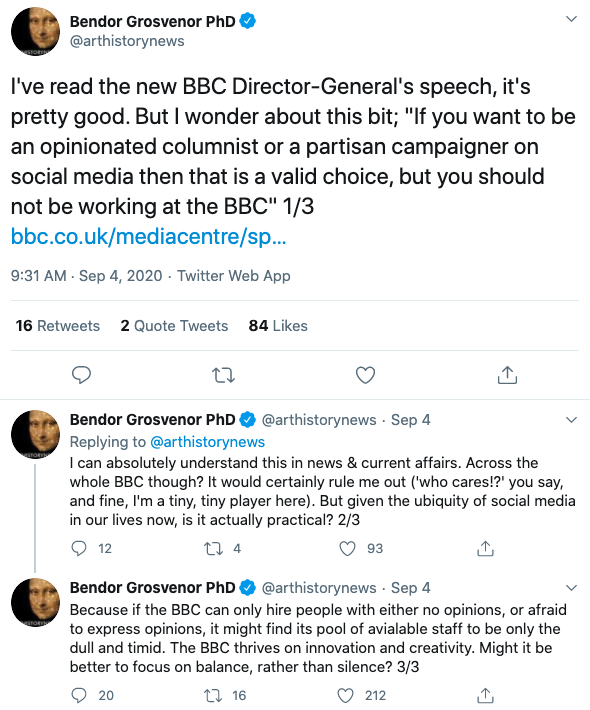 "I can absolutely understand this in news and current affairs," Grosvenor wrote on Twitter.
"But across the whole BBC? It would certainly rule me out. (Who cares?, you say, and fine, I am a tiny, tiny player here) but given the ubiquity of social media in our lives now, is it actually practical?
Because if the BBC can only hire people with either no opinions or afraid to express opinions, it might find its pool of available staff to be only the dull and timid. The BBC thrives on innovation and creativity. Might it be better to focus on balance, rather than silence?"
The Guardian highlighted examples of bias from broadcasters, such as Andrea Catherwood, whose Twitter account has a pinned tweet that expresses anger about the government's handling of education during the lockdowns.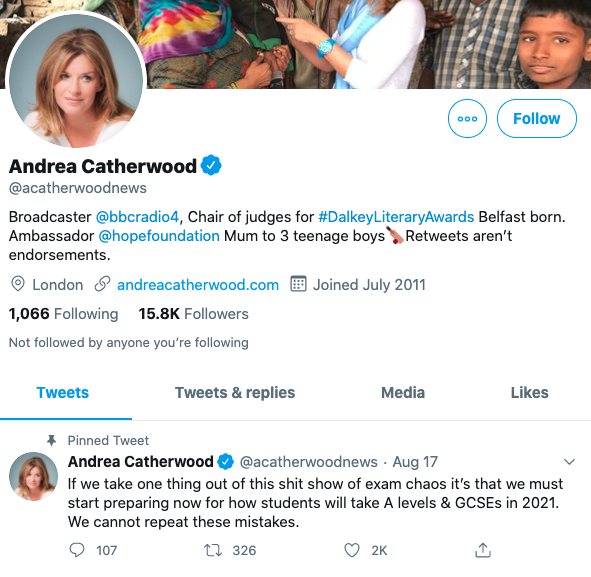 She writes: "If we take one thing out of this shitshow of exam chaos, it's that we must start preparing now for how students will take A-level and GCSEs in 2021. We cannot repeat these mistakes."
This likely wouldn't be allowed under the new rules.
However, those who don't report on news and current affairs won't be affected by the new crackdown – including presenter Gary Lineker whose political hottakes are amongst the most disliked.