The British Columbia Ecosocialists party leader, Stuart Parker, has resigned as a result of backlash after he supported J.K Rowling.
On September 12, Nicola Spurling, a leader of the BC Green party and its candidate in the 2017 provincial election, posted on Facebook that she was disappointed with Judy Graves, who was once an advocate for homelessness, for supporting J.K Rowling.
The Harry Potter author has been vocal about her beliefs that activists are trying to remove the idea of biological sex and has been facing backlash by those activists for her views.
Graves took to social media to support the "I [Heart] JK" billboard in East Vancouver. Showing support for the billboard was translated as supporting Rowling's "transphobic" views.
"Today she made it very clear that she supports transphobia by supporting the J.K. Rowling billboard and the people who paid for the ad," part of Spurling's long post read.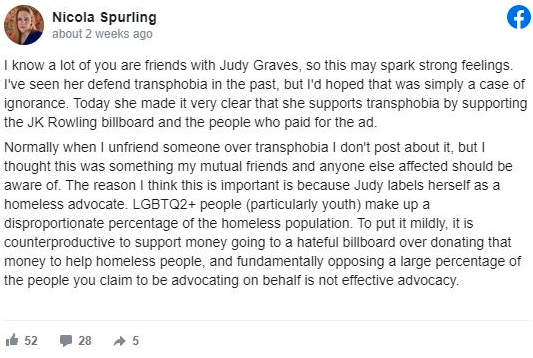 The billboard was removed on September 12, just a day after it went up. It had already been vandalized with paint.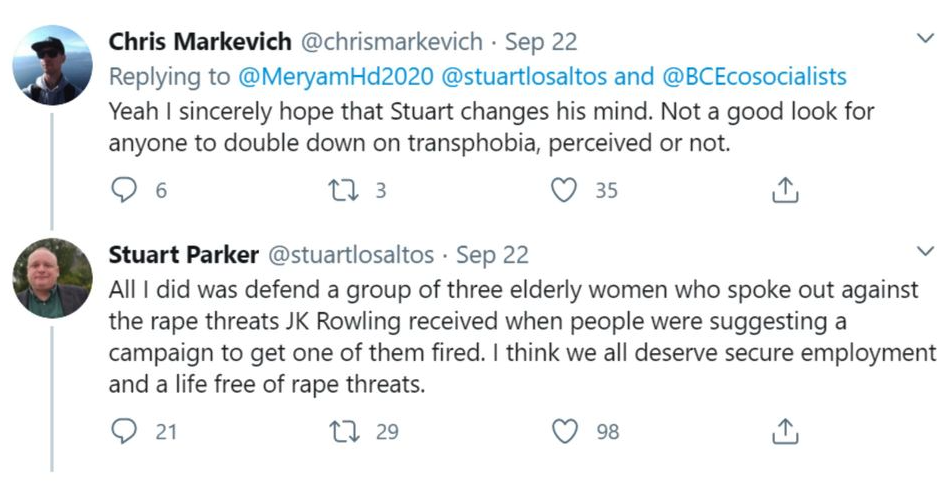 According to Parker, his comment was meant to defend Graves, since Spurling's post suggested that the retired homelessness advocate be fired. He also said he was defending Rowling, who has received rape threats for her views.
"There was a debate happening on Nicola Spurling's Facebook page about whether she and her friends should campaign to get Judy Graves fired," Parker said, speaking to The Tyee.
"I intervened. I said this is where these women are coming from, and I think this is a real tactical error. You're driving feminists away from the cause of trans equality and pushing many people who were — like me — early adopters of trans equality, away."
However, Spurling, who is trans, said she did not advocate for Graves to get fired; neither did she support the threats against Rowling.
"I think that was just a way he could enter the conversation and spout transphobia while trying to hide behind the fact that [Rowling's] receiving these hate comments," Spurling said.
She added that, while it is not surprising to receive blowback for posting "transphobic" content online, it is "completely inappropriate" when the blowback comes in the form of rape threats.
Parker's remarks would have probably gone unnoticed had his party not received an endorsement from Green Party of Canada leader Meryam Haddad.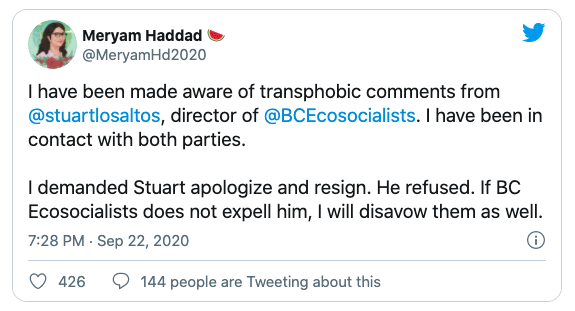 Spurling commented on Haddad's tweet, referring her to Parker's comment on her Facebook post and a blog he posted on transgenderism. Unsurprisingly, Haddad posted another tweet condemning Parker for his remarks. Haddad also demanded that Parker should apologize or risk her denouncing BC Ecosocialists.
In a statement announcing Parker's resignation, the BC Ecosocialists party claimed it supports the rights of transgender people.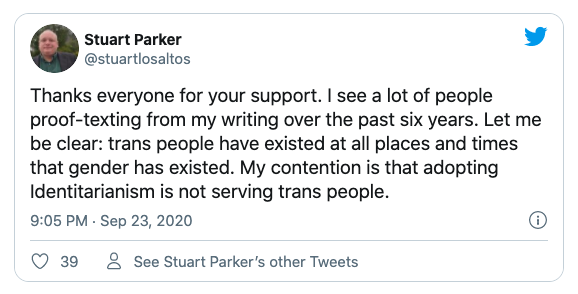 Parker also announced his resignation via his website on Wednesday, insisting people misinterpreted him.
"I see that B.C.'s two counterfeit left parties have chosen their strategy for derailing our campaign. A slew of false allegations of transphobia are being circulated against me and being used to tarnish the party and derail the important work of the coming campaign," Parker wrote.
"So, it is with regret and reluctance that I am tendering my resignation as director, leader, and candidate effective midnight tonight."