The founder and chairman of one of UK's largest digital marketing and advertising companies, Gordon Beattie, was forced to resign over a badly-worded LinkedIn post.
"At Beattie Communications, we don't hire blacks, gays or Catholics," the post reads. "We sign talented people and we don't care about the colour or their skin, sexual orientation or religion," the post continued. "That's the way it should be with every company – only hire people for their talent, experience, knowledge, and wisdom."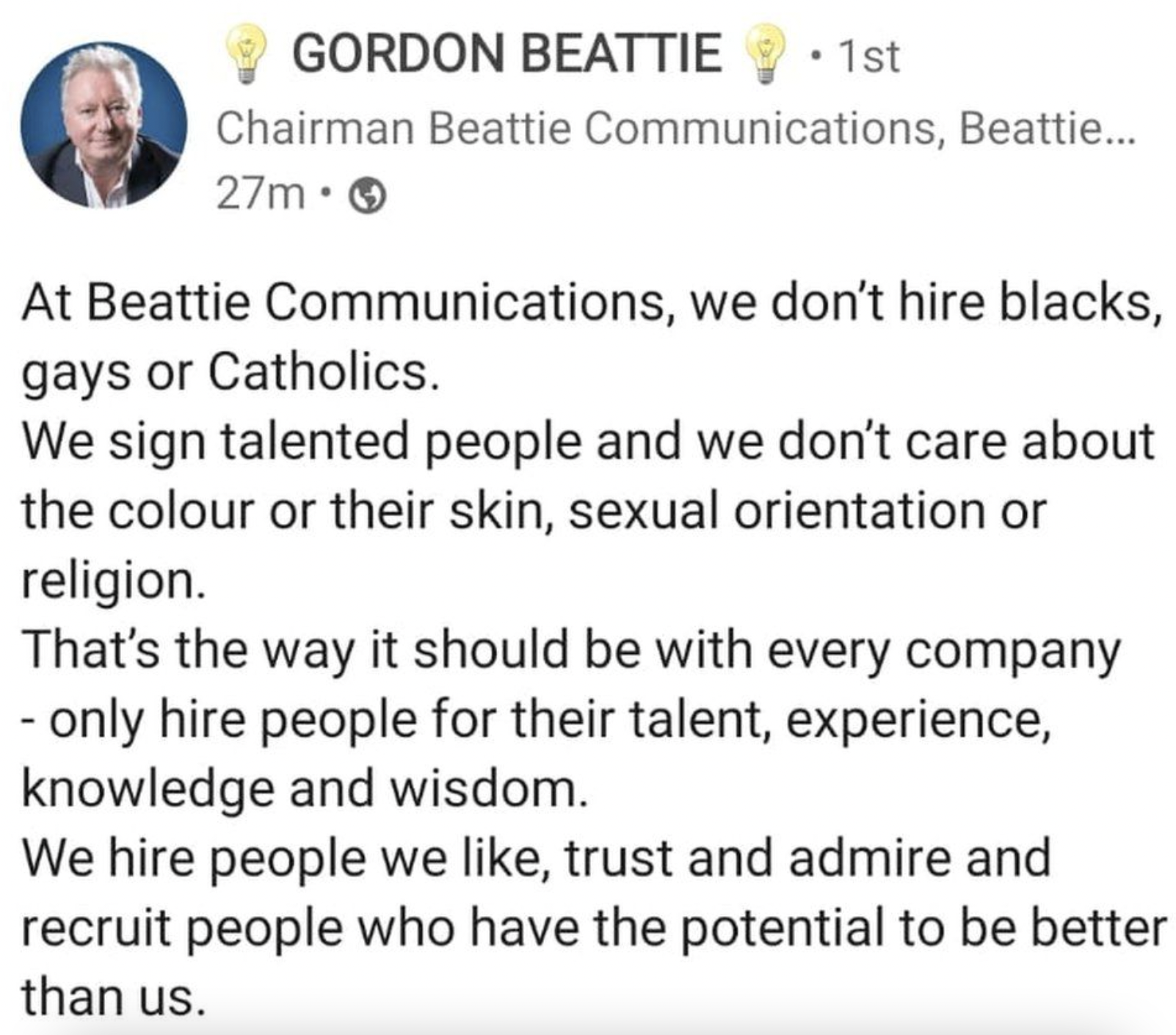 Online activists took issue with Beattie's well-intended post, focusing only on the first sentence without the wider context.
The post was received with heavy criticism by anti-racism advocates and some in the media industry. The backlash led to Beattie's resignation as chairman in the company he founded. In a statement, the company said that Beattie was "standing down as a consequence of a tone deaf social media post."
After caving, Beattie apologized for the "inappropriate" language he used in the post. He added that the content was uploaded with the "best of intent" but failed to factor in the "complexities of creating a level playing field."
"The language I used was inappropriate. I am truly sorry for the embarrassment I have caused the wonderful team across the business and our clients, and for the offense it has clearly caused," he said.
"I have always hired people based on their potential, talent and ability, and done my best to equip them with the skills to succeed.
"It's a wrench to step down as chair but I feel I have no alternative. The time is right to go."
Laurna Woods, the CEO of Beattie Communications said the whole company was devastated by the consequences of the post.
"There can be no excuses for the language he used or provocation exercised and he acknowledges that his actions, however well intentioned, were not only reckless, but out of touch," Woods said.
"I'm personally saddened that he has chosen to resign as I have worked closely with him for 25 years and I can testify that he does not have a prejudiced bone in his body.
"But he was determined to draw a line in the sand so that the agency can look to the future."