In a lengthy Facebook post, Lancaster Police Chief Jarrad Berkihiser's wife defended him after being forced to resign over a Facebook post she wrote. The post confirmed that the police chief was being forced to resign for a post made by his wife on Facebook regarding President Trump's visit to Pennsylvania.
She wrote that she would vote for Trump again because, "You don't see him [Trump] meeting with Jacob Blake's family and speaking to him by phone."
You can read our previous coverage of the incident here.
The post was perceived as a direct attack on the Democratic Party's Presidential candidate Joe Biden, who visited Blake's family in early September.
Kristy Lynne, Berkihiser's wife, on Monday, posted a lengthy post on Facebook defending her husband. In the post, she said the Lancaster Police Chief "did nothing wrong," and insisted that "it was my post and apparently his unwillingness to censor me."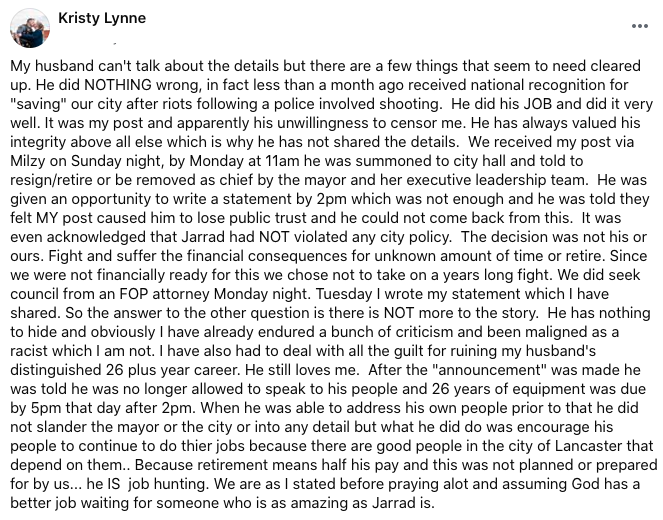 "This is completely unfair. It's a violation of freedom of speech, and so if we don't stand up now, to protect that right, we may lose it," Katie Fisher said, speaking to CBS's Local News 21 TV.
Fisher is the one who launched a petition on Change.org calling for the reinstatement of the chief. At press time, the petition had more than 14,000 signatures.
Public opinion regarding the issue seems to be in favor of the police chief, who was given until the end of October by the city council to vacate his position.
Fisher also reached out to the Mayor's office but was not given an audience. Apparently, the issue of the police chief was not on the agenda of yesterday's council meeting. However, she did submit some comments to be read during the meeting.