The Biden administration is facing backlash over the rollout of facial recognition technology at Transport Security Administration checkouts at airports. The technology is similar to the one used by the Customs and Border Protection (CPB) to scan the faces of outgoing and incoming international passengers.
The facial scan eliminates the need for handing over a boarding pass, driver's license, or passport at checkpoints but has raised many privacy concerns.
Related:  You legally have the option to not have your face scanned at an airport. But the pressure to comply is growing.
"Biometric technology has the potential to enhance security effectiveness, improve operational efficiency, and yield a more streamlined passenger experience at the TSA checkpoint," TSA spokesman Daniel D. Velez said when the program was launched. "TSA recognizes that biometric solutions must be highly usable for all passengers and operators, considering the diversity of the traveling public."
The TSA claims the program, which has rolled out quietly but we've covered it many times at Reclaim The Net, allegedly deletes the photos taken once a match is found. The agency also insists that the technology is more accurate than manual scanning by humans and it could reduce wait times at airports. However, this technology has raised concerns on both sides of the political spectrum.
"Countries like China and Russia use facial recognition technology to track their citizens," Rep. Jim Jordan (R-OH) tweeted on Jan. 6. "Do you trust Joe Biden's TSA to use it as well?"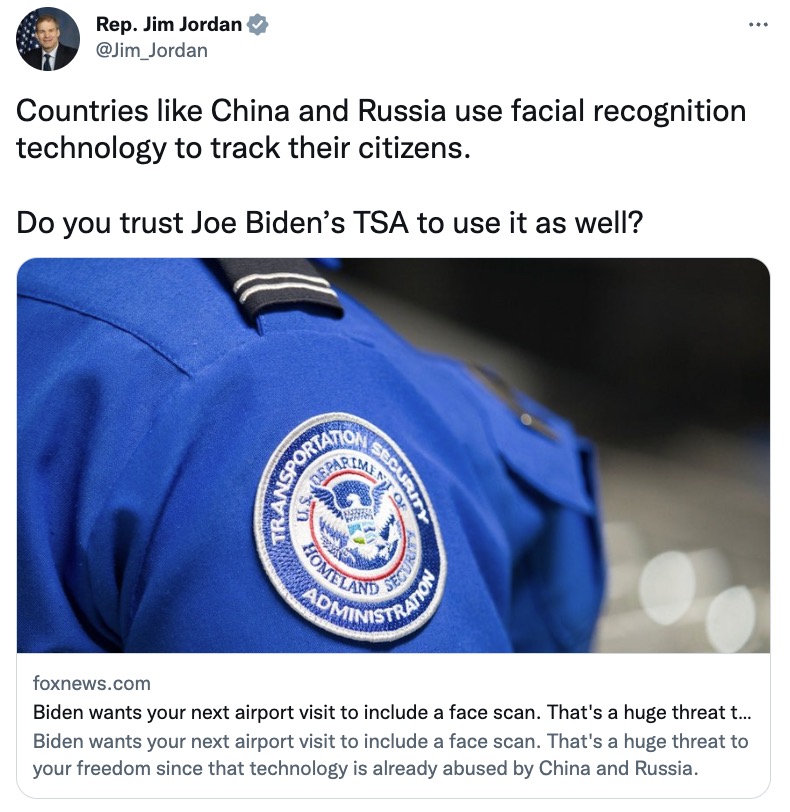 Related: ? In 2023, everyone wants to scan your face
Some are concerned about the inaccuracies of the technology in working on those with darker skin.
"Critics have raised concerns about the racial inaccuracies, especially for Asians and African Americans, when it comes to this technology," a reporter asked during a White House press briefing.
"What is the White House's response to those racial disparities?"
White House Press Secretary Karine Jean-Pierre said that the TSA would ensure that the technology does not have a "demographic differential" related to gender and race.