For all its fundamental ills as a business based largely on unchecked data mining and thus privacy undermining, Facebook has been attempting to maintain a semblance of an unbiased platform during this heated US election season.
Not that the tech behemoth has not been censoring conservative voices – but compared to, for example, Twitter, this hasn't been coming across quite so forcefully as an open and unabashed policy of taking sides. And that, in turn, certainly hasn't gone unnoticed by the leftist portion of US politics in general, and the presidential campaign of Democrat Joe Biden in particular.
Give them a finger, and they'll take the whole hand, the old saying goes. And now, regardless of how many conservatives of various kinds Facebook has silenced and deplatformed over the past years – the Biden camp would like this globally dominant social media giant to basically get involved in some campaign footwork on its behalf – and shut down Donald Trump himself.
Biden's campaign grievances – and a "promise" to keep relentlessly piling on pressure on Facebook until the election – came in a 3-page letter signed by campaign manager Jen O'Malley Dillon.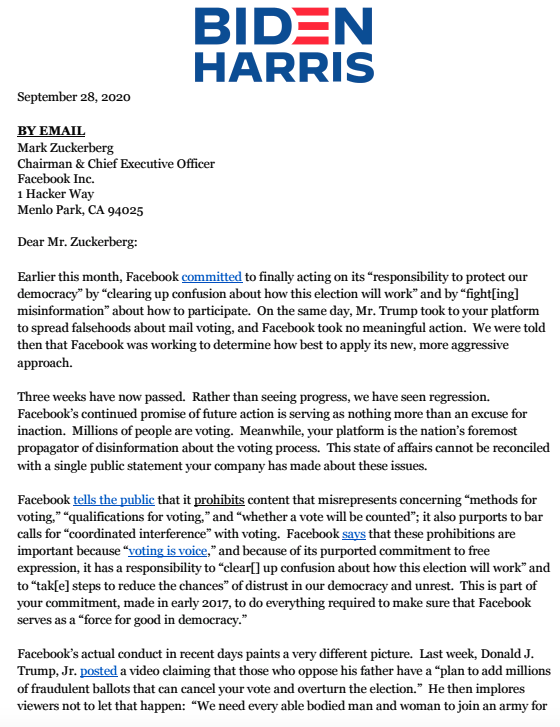 Read the full letter the Biden campaign sent to Facebook here.
In the letter, Trump is accused of using the platform to spread misinformation, particularly regarding the voting process and controversies like mail-in voting – while Facebook is accused of not doing enough to silence him, regardless of allegedly recently making a commitment to work towards this goal.
In fact, the criticism here is stronger than the good old, "do better" – Biden's campaign says Facebook has not only failed to make progress in the direction they prefer, but has in fact displayed "regression."
"Earlier this month, Facebook committed to finally acting on its 'responsibility to protect our democracy' by 'clearing up confusion about how this election will work' and by 'fight[ing] misinformation' about how to participate," the email said.
"On the same day, Mr. Trump took to your platform to spread falsehoods about mail voting, and Facebook took no meaningful action.
"We were told then that Facebook was working to determine how best to apply its new, more aggressive approach.
"Three weeks have now passed. Rather than seeing progress, we have seen regression."
Dillon also curiously mentions Facebook's "responsibility" to protect democracy in the US, even though each past attempt by conservatives to call out the company for not protecting US Constitution-guaranteed free speech standards has been dismissed as inapplicable – since Facebook is a private company.
The Biden campaign letter was sent to Axios, that also allowed Facebook an opportunity to respond. In a revealingly worded statement, a spokesperson said, "We've faced criticism from Republicans for being biased against conservatives and Democrats for not taking more steps to restrict the exact same content."
The spokesperson added that existing rules would continue to be applied "impartially."